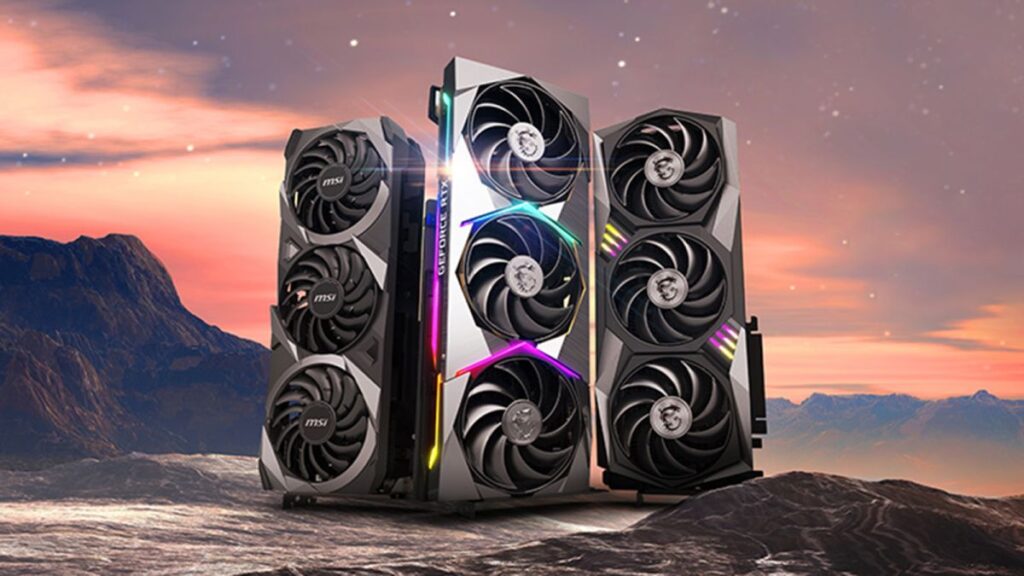 Huang Renxun, CEO of Nvidia, has publicly stated that there is a problem of excess inventory and they are selling video cards at a lower price. Graphics card manufacturers including ASUS, MSI, GIGABYTE, ASRock, Huanxun, Leadtek, Biostar and Chengqi will also continue to face the pressure of price cuts and stock adjustments in the second half of the year.
Huang Renshun said that Nvidia has a problem with excess inventory and the company will sell them at a lower price. The main reason is to try to sell the current RTX 3000 series graphics cards before the next generation of RTX 4000 series graphics cards hit the market. The market indicates that the price reduction may not be over yet.
Judging by the dynamics, prices for graphics cards, including NVIDIA and AMD, continued to fall in August, by an average of 6%, and prices for high-end models also continued to fall at a greater discount than the recommended retail price. Manufacturers actively reduced their inventory through various price promotions.
Second-tier board manufacturers including Biostar, Leadtek and Huanxun suffered losses in the second quarter. Chen Jianwei, general manager of Huanxun, said frankly that he had previously placed excessive orders. Many manufacturers are lowering their prices and looking at the sales dynamics of their graphics cards in the second half of the year conservatively. Graphics card sales this year will definitely not be better than last year.
Blocksbridge indicates that mining complexity could rise by almost 7% this week – to its all-time high. Bitcoin's mining complexity adjusts about every fortnight. Blocksbridge also believes it will not be profitable for most miners to mine digital currencies on older equipment if the BTC rate stalls at $20,000 or drops even lower.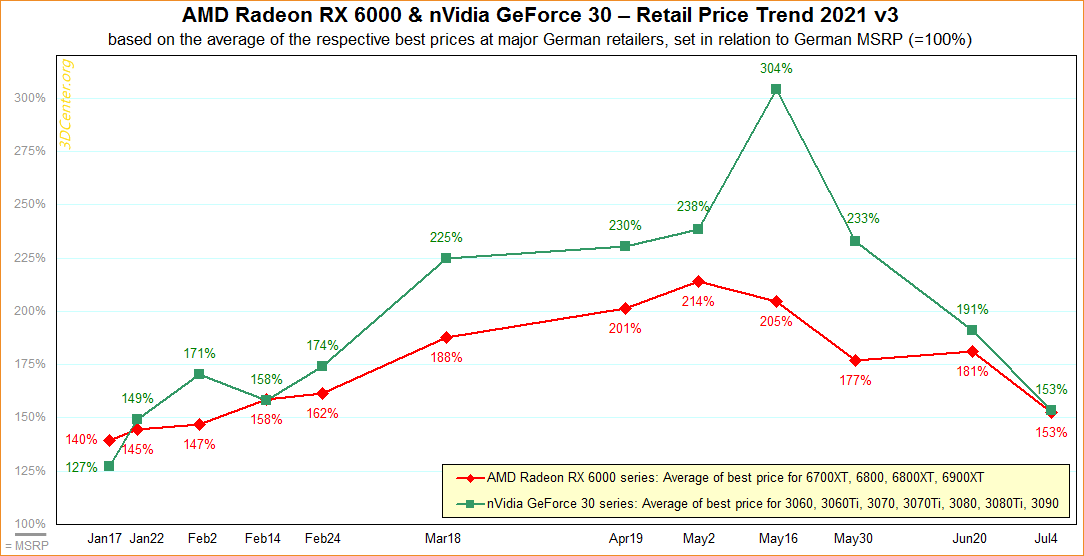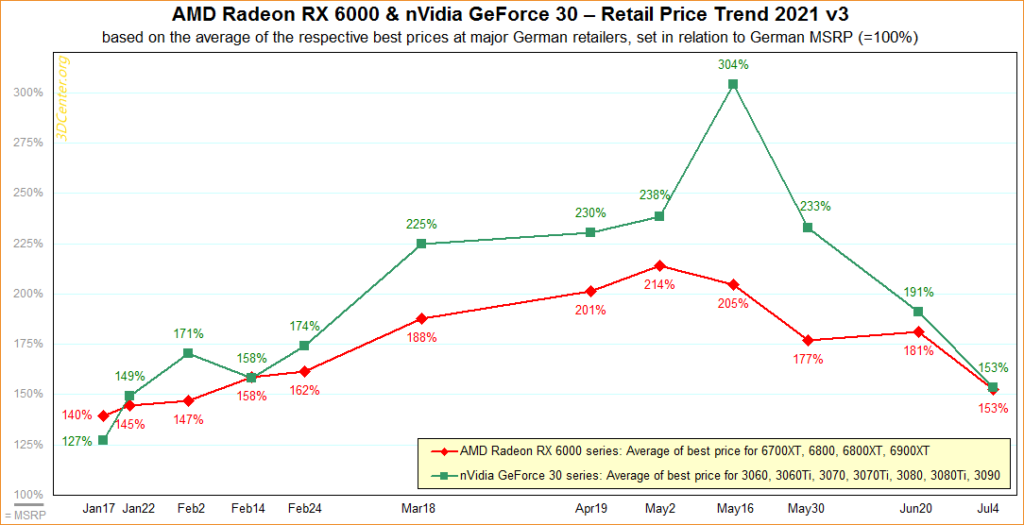 NVIDIA and AMD partners are ready to offer more serious price reductions on graphics cards
A few days ago WCCF Tech reported that NVIDIA and AMD are preparing for a new price reduction on their video cards to be released by their partners. Apparently, however, the latest price cut did not do much to reduce inventory, so both companies are preparing for even more serious price cuts, promotions and discounts on their existing video card lines.
The latest report comes from MyDrivers, quoting industry sources in Taiwan and a major Taiwanese economic publication. It is claimed that the current price cuts have not reduced inventory as much as NVIDIA and AMD along with their partners had hoped. Thus, another price reduction is imminent. The following is their statement:
Rumours of lower graphics card prices have been heard for some time, but many users are not aware of it. According to revelations from the Taiwan Economic Daily, the main reason is that manufacturers are still discussing better incentives with dealers.
According to the latest news from the same Taiwan Economic Daily, the situation in the industry is not as good as expected. Video card manufacturers will start a new wave of price cuts from September, mainly for NVIDIA and AMD products, and the price reductions will far exceed previous price cuts, which may be better for reducing price pressure.
It is reported that this new price reduction will take place in September and will mainly affect the existing stock of chips from the vendors. NVIDIA and AMD have asked their partners (both vendors and retailers) to get rid of excess video card inventory to make room for next generation graphics cards. NVIDIA is already working on eliminating existing graphics cards with CEO Jensen Huang saying they will do so over the next few quarters.
The overstock situation is not expected to change for the better until 2023, given the economic situation and the general decline in demand in the PC segment. In addition, due to crypto-zima (which has caused many used graphics cards to appear on the market), there is quite little reason for consumers to buy a brand new graphics card this late in its life cycle. Previous price cuts are already in effect for various video cards from AMD and NVIDIA, but for those who really want to buy a video card and can't wait until the next generation, the WCCF suggests waiting until next month – to see how serious the price cuts will be.
Also, as WCCF mentioned earlier, NVIDIA and AMD graphics card prices will continue to fall across the board, so don't be surprised if in a few weeks the RTX 3090 costs less than $1000.
---
Read more articles about cryptocurrencies and mining at COOL-MINING.ORG.
Do you like to read similar articles about cryptocurrencies and mining, do you want to support me as an author or ask questions? Be the first to know the news, subscribe to my telegram channel CRYPTO WIKIES | Bitcoin & Altcoins Mining