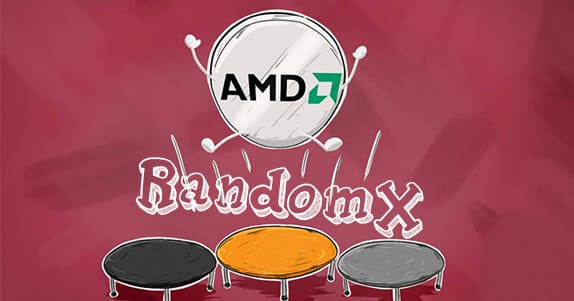 Mining Monero (RandomX) on AMD Ryzen
We already know that AMD Ryzen is great for mining Monero (RandomX) and produces about 13,000 H / s during overclocking. Thus, the AMD 3900X processor looks good in terms of performance, but there are some features that are not reflected in these tests and which some users may not be aware of.
We already know that AMD Ryzen is great for mining Monero (RandomX) and produces about 13,000 H / s during overclocking. Thus, the AMD 3900X processor looks good in terms of performance, but there are some features that are not reflected in these tests and which some users may not be aware of.
The reason for this is that for mining on the GPU you do not need such a fast and expensive processor as the Ryzen 9 3900X, for mining you would most likely buy a much cheaper processor (in order to save and quickly pay for itself).
motherboards
The AMD Ryzen 3000 processor series uses motherboards with an AM4 socket, but they require a newer motherboard, although some motherboard manufacturers have released BIOS updates for their 300/400 series products, which also claim support for the latest Ryzen processors.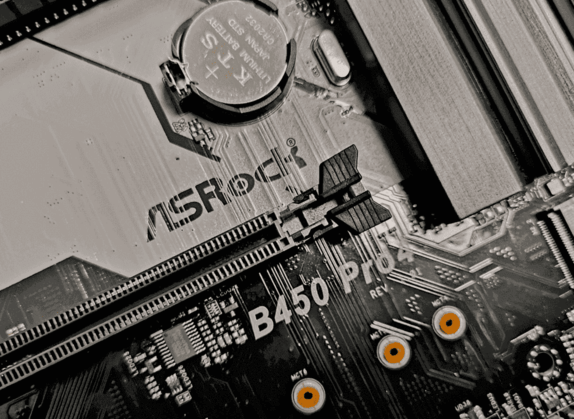 Yes, it is, but you may have some unexpected problems with the Ryzen 3000 Series processors, as our own experience shows.
For example, the AsRock B450 Pro4 motherboard, which we will use for testing, worked adequately with the Ryzen 5 3600 processor in the usual configuration with one GPU, however, the AsRock Fatal1ty B450 Gaming-ITX model had serious problems, even when booting with the same CPU 3600 but there was no problem using the 3900X.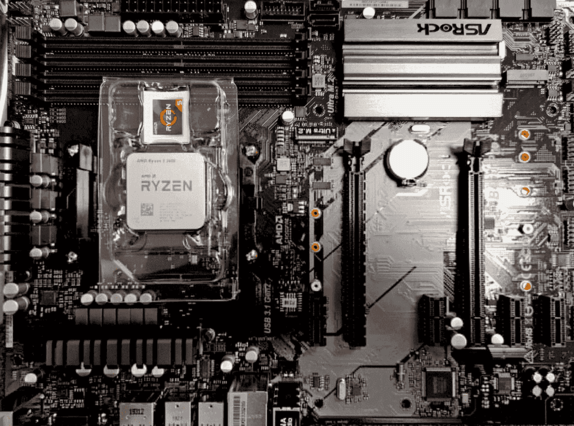 We chose AsRock motherboards to test them in mining with a 6x GPU and Ryzen 5 3600 processor due to the fact that they offer more affordable B450 based motherboards with 6x PCI-E slots, and most other motherboard manufacturers assemble with a maximum of up to five PCI-e slots.
Of course, in the case of AsRock, one of the M.2 slots is shared with one of the PCI-e slots, so you cannot use both at the same time.
Keep in mind that not all motherboards may be updated to the latest BIOS, or at least the Ryzen 3000 series processor-compatible version, and this will mean that you probably need an older AMD AM4 processor in order to flash the board to work with the new processor.
In our case, the AsRock B450 Pro 4 already had the latest BIOS P3.60 firmware installed, and it worked "out of the box" with the Ryzen 3600 processor, but this is not always the case, so if possible, consult with your motherboard seller.
This is necessary in order to make sure that he will be ready for work with the 3000 series, and if not, you can ask the seller if he can flash the motherboard, otherwise you will have to find the 1st generation Ryzen, available for downloading and 2000 series firmware. Processors may also not start on some old motherboards with old BIOS.
With AMD Ryzen 5 3600 processors, as well as other higher-end processors of the 3000 series, which you can use for mining, you need to remember some other important things to avoid a headache.
They relate to the need for at least one external video card, since only the two slowest models have a built-in graphics processor (APU), and these are the Ryzen 3 3200G and Ryzen 5 3400G (note the G at the end – this is the graphics).
Everything, starting with Ryzen 5 3600 and higher, does not have an integrated GPU and they need an external GPU to work, so make sure you have one even if you build a PC only for mining on a CPU with a processor 3600 or higher.
Please note: despite the fact that we call the 3200G and 3400G lower models, they are still quad-core processors, so they can still be very useful for mining on a GPU farm.
Cooling
Proper cooling for the Ryzen processor is also another key point to be well prepared for.
Forget about the standard (complete) cooler 3600, since during the mining process this just will not be enough if you download all the processor cores for round-the-clock mining of the RandomX algorithm or another algorithm optimized for the CPU.
The Ryzen 3600 processor will quickly reach 95 degrees Celsius as an operating temperature and begin to reduce performance, and this is definitely not the temperature that is suitable for continuous operation. Switching to a more expensive, but high-quality cooler, for example, AMD Wraith Prism for the Ryzen 3600 will provide the best performance at a lower operating temperature (low temperature 70 degrees).
RAM
Thirdly, this is RAM, and this is mainly associated with obtaining optimal performance, since the Ryzen 3600 will work even with cheap DDR4 2133/2400 MHz memory – however, this is worse in terms of performance.
After some tests, we came to the conclusion that the DDR4-3200 CL16 should be the best price / performance solution for the Ryzen 3600 processor.
Mining on CPU and GPU RandomX in the same farm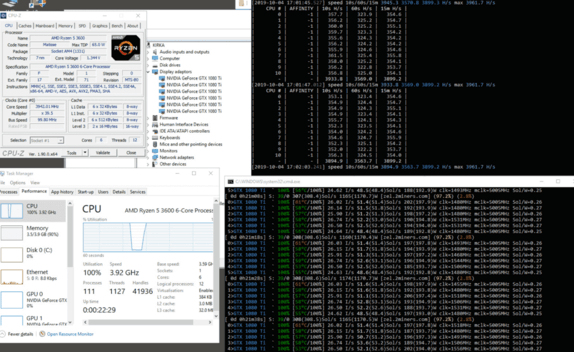 Did we manage to start mining on the AMD Ryzen 5 3600 processor along with 6 graphics cards for mining RandomX on the AsRock B450 Pro4 motherboard?
Yes, we really managed, but it was not easy and not so stable to recommend this type of mining.
This is a game in which you play with a large number of BIOS settings (some act contrary to what you expect from them) and play PCI-E "punch", where you have six connected video cards, and then when it finally works, after reboot, they do not work again. As they say you are waiting for "dancing with tambourines."
In the screenshot above you can see that everything works normally with 11 randomX mining threads on the processor and six Nvidia GTX 1080 Ti GPU mining ZEL cryptocurrency in a specific case.
One processor thread is left for the GPU mining process, so as not to damage the GPU hashrate, although this also means that we lose about 350 H / s on the CPU.
When the GPUs are idle and use only the AMD Ryzen 3600 processor with 12 mining threads, we got about 4300 H / s instead of 5000 H / s with one GPU.
This is below the expected 6000 H / s due to the fact that the test was conducted with cheap DDR4-2400 MHz memory. Replacing the Nvidia GPU with the AMD RX 570/580 GPU, unfortunately, does not help to ensure stable and trouble-free operation, therefore it is not the video cards that are to blame.
Conclusion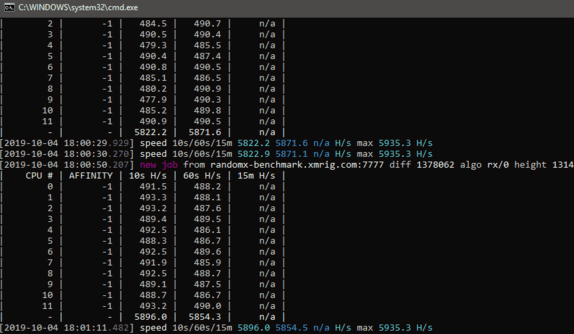 Using the DDR4-3600 MHz CL17 memory increases the performance to 5900 Hz / s for RandomX, and you can get similar results with the CL16 3200 MHz or 3000 MHz memory modules.
Note that even 4 GB is quite suitable, although 8 GB would have been better, a little free memory is only a plus.
Thus, although the Ryzen 3600 processor with a B450-based motherboard and six GPUs may seem like a good idea for a more versatile CPU + GPU mining platform, it does not seem so simple to assemble and work without problems at the moment.
On the other hand, if you are building a new PC and want to have a good processor that can work well in mining RandomX, then you better choose a more expensive model, such as the 3900X or even the future 3950X.
It seems that motherboard manufacturers may take some time to improve support for multiple GPUs on their AM4-based motherboards, as the new Ryzen processors seem to be able to work only with x6 graphics cards. We just need the right motherboard and BIOS support.
Not that AMD is currently experiencing a lack of demand for its Ryzen 3000 series processors, but since RandomX is gaining momentum by the end of this year, there may be an increase in demand from miners as well.
Personally, we would rather build good mixed farms for mining directly on the CPU + GPU than collect them separately, and the Ryzen 3600 seems like the perfect choice!
Recommended Related Articles: