This post is also available in:

Русский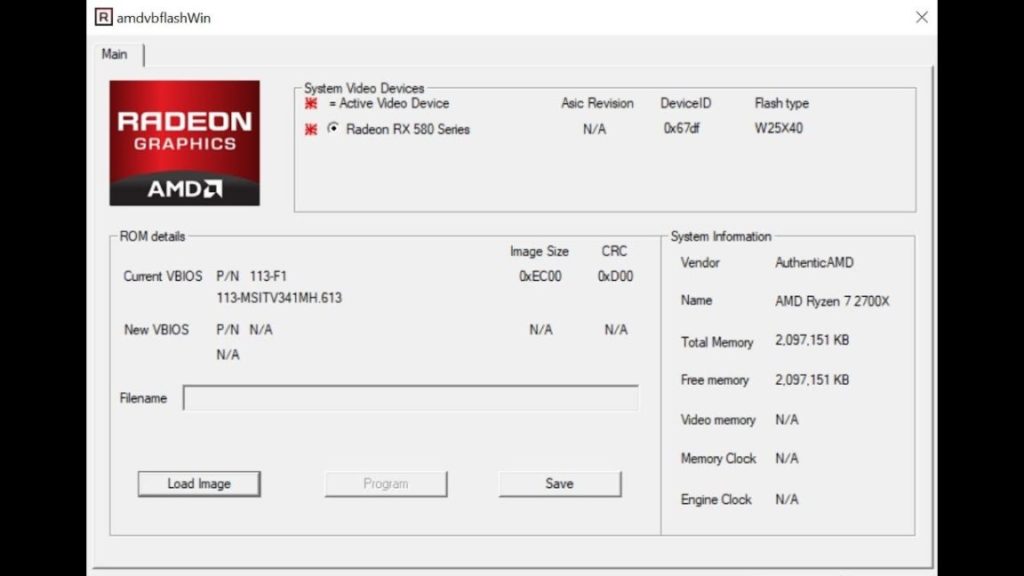 ---
ATIFlash & AMD VBFlash
ATIFlash & AMD VBFlash v2.93 is used to flash the BIOS of the video card. The ATI version was called ATIFlash, or simply WinFlash. It supports all AMD Radeon graphics cards such as RX 5700, RX 5600, RX 5500. You can also flash BIOS for all AMD Radeon RX Vega, RX 580, RX 480 and all old ATI cards. VBFlash BIOS update software works under Windows. ATIFlash – A program for flashing the BIOS of video cards based on AMD (ATI) Radeon chips for Windows.
The archive includes a command line version of ATIFlash for Windows and ATI WinFlash with a graphical user interface. The command line version is recommended. ATIFlash 2.84 is not intended for use in DOS. The latest DOS version can be found on the ATIFlash for DOS page.
In 2013, ATI WinFlash 2.6.6 included a version of the utility (console version, which cannot work in DOS, only for Windows) with the same name and version number, continuing the chronology of ATI WinFlash utility versions. In 2015, starting with version 2.7.1, the unified distribution containing ATI WinFlash with GUI and ATIFlash for the Windows command line was renamed by the developer to ATIFlash. The console version of ATIFlash is based on the developments of ATI WinFlash and is a further development of the latter. Despite the fact that ATIFlash and ATI WinFlash contained in the same archive have the same modification date, the developer recommends using the command line version of the program.
If your atiflash program gives the error subsystem id mismatch , then most likely you have chosen the wrong firmware, or it has the wrong size (instead of 512kb – 256kb), in this case I usually copy all the data through Polaris BIOS Editor I copy the data into a normal 512kb file, you can ask for more details in the comments.
Common Problems and Solutions
If atiwinflash does not start (after clicking nothing happens) then most likely you have windows 10 and an old version of the program, download the latest version and everything will work.
If the program does not see the video card or " adapter not found ", check in the device manager if everything is fine with it.
If you have an error " cannot find discrete ati video card" and does not flash the card, try inserting the video card directly into the PCI e x16 port without a raiser, and also program the cards separately.
The " failed to read rom " error usually means that the firmware file is not correct.
ChangeLog:
v2.93
Adds support for flashing Navi Radeon RX 5700 Series BIOS
v2.84
This version supports BIOS flashing for AMD cards under Windows 10 Build 1803
v2.77
Recommended New Articles:
New Atikmdag Patcher v1.5.0 & Windows x32/x64 (AMD & ATI Pixel Clock)
Download and Configure the new PhoenixMiner v5.0b ( AMD / NVIDIA GPU miner)
z-enemy v2.6.2 (Dk & Enemy) Download Nvidia GPU miner for Windows/Linux
T-Rex v0.15.7: Download NVIDIA GPU miner for Windows