This post is also available in:

Русский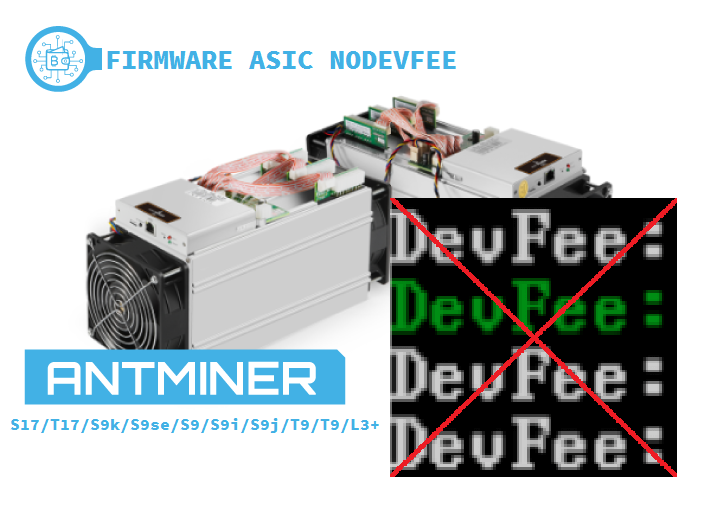 ---
Download and install firmware NoDevFee Antminer S17/T17/S9k/S9se/S9/S9i/S9j/T9/T9/L3+. Up to ~+30% performance increase and ~-30% downvolt capability. Now you can install ASIC firmware for a long time = You no longer need to pay Dev Fee on an ongoing basis ➡️ The new 9th series S9k / S9se has been released.
⚡️ Antminer S17(обычный) до 70-74Th/s (~3150-3300w)
⚡️ Antminer S17Pro 60-74Th/s (~2150-3300w)
⚡️ Antminer T17 до 51-56 Th/s ( ~2780-3300w)
⚡️ Antminer S9k ~ (16-18Th/s)
⚡️ Antminer S9se
⚡️ Antminer S9/S9i/S9j = 12th-950w / 16,2th-1433w / 17th-1573w
⚡️ Antminer T9 = 10.5Th (1-1,2w) / 12.9Th (1,5-1,6w) / 13.5Th (1,6+)
Firmware Features ASIC NODEVFEE firmware:
Custom informative Dashboard
Overclocking each chip individually-
AutoTune system implemented
Possibility to set fans speed manually
AsicBoost system implemented
No developer fee (dev fee) at all
Pool address protected
Completely covered software holes
Auto restart on falling hash rate
Additional adjustable commission function for mining hotels.
Day-night mode
Rental feature for ashik
Mass switching to another pool or stopping miners feature
Overclock the S17(normal version) to 70-74 Th/s with ~3150w consumption 👍
Antminer T17 boost to 55.8 Th/s with ~+-2780-3300w consumption 💪
Разгон Antminer T17 (52шт.) до 53-54 Th/s с общим хешрейтом 2779 Th/s
S17 (Pro version) overclocked to 61.2 Th/s with good downvoltage and consumption of only 2150w
Antminer S9k overclocked to 16.8 Th/s with consumption ~1570-1610w
Antminer S9 accelerates to 16.5 Th/s with 1500w consumption 😎
ready-made profiles for S9 overclocking. For all tastes :).
How to flash ASIC Antminer
The Antminer firmware is installed through the "upgrade" section, and then in the "Mining Configuration" section you can choose the profile that you need. The "Asic Boost" mode you can turn on at will also in this section.
Within an hour after selecting the profile, chip autotuning takes place. Chip autotuning is a function that allows you to automatically adjust the frequency of the chips on the board, lowering the frequency on the red or orange, thus allows you to achieve optimal chip performance.
In some cases the boards hash rate drops to 0, in this case you need to reboot s9 manually, unplug the ashik and pull out all the pins, then plug them back in, solves the problem in most cases. Pressing CTRL+F5 on the main page helps with the 404 error.
When installing the ashik in immersion fluid the ashik s9/s9i/s9j can be overclocked up to 20-21 th/s. In this firmware it is possible to adjust the rotation speed of the fans, as well as the Fan Check function.
Full list of Antminer software Bitmain: https://service.bitmain.com/support/download
---
Read more articles about cryptocurrencies and mining at COOL-MINING.ORG.
Do you like to read similar articles about cryptocurrencies and mining, do you want to support me as an author or ask questions? Be the first to know the news, subscribe to my telegram channel CRYPTO WIKIES | Bitcoin & Altcoins Mining
Is this a complete introduction to Ethereum (ETH) mining? Mining ETH with GPU in 2022. How is Ethereum mined and what exactly is it mining? What do you need to mine Ethereum? mining processes and types of mining. Let's look at the profitability of Ethereum mining in 2022.

The Ethereum token, often known as EthereumPOW, ETHW or IOU, has undergone a split. Due to the hard fork, the currency first appeared on September 15, 2022. As some miners refused to accept the upgrade to PoS, the Ethereum network split and the ETHPoW coin emerged with a precarious future (IOU).

The cost of graphics processing units (GPUs) has risen significantly as a result of the semiconductor shortage caused by the 2020-2021 pandemic. Videocards are increasingly purchased by miners on the secondary market. Used GPUs are 30-50% cheaper than brand new ones. However, there is a chance of getting a faulty gadget that has almost used up all its resources. For this reason, you must learn how to evaluate the mining and performance of a video card. A processor that you buy on your own without first evaluating it can cost you money. The card goes through a thorough testing process that includes verification, document analysis, BIOS firmware analysis, and stress testing using specialized software.