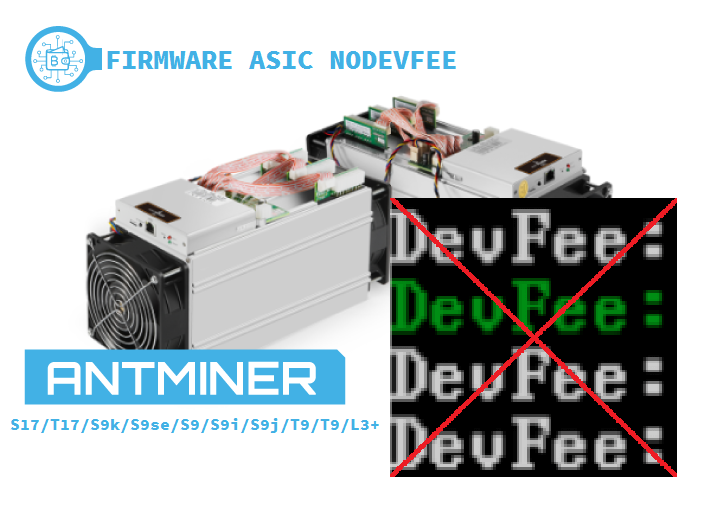 ---
Download and install firmware NoDevFee Antminer S17/T17/S9k/S9se/S9/S9i/S9j/T9/T9/L3+. Up to ~+30% performance increase and ~-30% downvolt capability. Now you can install ASIC firmware for a long time = You no longer need to pay Dev Fee on an ongoing basis ➡️ The new 9th series S9k / S9se has been released.
⚡️ Antminer S17(обычный) до 70-74Th/s (~3150-3300w)
⚡️ Antminer S17Pro 60-74Th/s (~2150-3300w)
⚡️ Antminer T17 до 51-56 Th/s ( ~2780-3300w)
⚡️ Antminer S9k ~ (16-18Th/s)
⚡️ Antminer S9se
⚡️ Antminer S9/S9i/S9j = 12th-950w / 16,2th-1433w / 17th-1573w
⚡️ Antminer T9 = 10.5Th (1-1,2w) / 12.9Th (1,5-1,6w) / 13.5Th (1,6+)
Firmware Features ASIC NODEVFEE firmware:
Custom informative Dashboard
Overclocking each chip individually-
AutoTune system implemented
Possibility to set fans speed manually
AsicBoost system implemented
No developer fee (dev fee) at all
Pool address protected
Completely covered software holes
Auto restart on falling hash rate
Additional adjustable commission function for mining hotels.
Day-night mode
Rental feature for ashik
Mass switching to another pool or stopping miners feature
Overclock the S17(normal version) to 70-74 Th/s with ~3150w consumption 👍
Antminer T17 boost to 55.8 Th/s with ~+-2780-3300w consumption 💪
Разгон Antminer T17 (52шт.) до 53-54 Th/s с общим хешрейтом 2779 Th/s
S17 (Pro version) overclocked to 61.2 Th/s with good downvoltage and consumption of only 2150w
Antminer S9k overclocked to 16.8 Th/s with consumption ~1570-1610w
Antminer S9 accelerates to 16.5 Th/s with 1500w consumption 😎
ready-made profiles for S9 overclocking. For all tastes :).
How to flash ASIC Antminer
The Antminer firmware is installed through the "upgrade" section, and then in the "Mining Configuration" section you can choose the profile that you need. The "Asic Boost" mode you can turn on at will also in this section.
Within an hour after selecting the profile, chip autotuning takes place. Chip autotuning is a function that allows you to automatically adjust the frequency of the chips on the board, lowering the frequency on the red or orange, thus allows you to achieve optimal chip performance.
In some cases the boards hash rate drops to 0, in this case you need to reboot s9 manually, unplug the ashik and pull out all the pins, then plug them back in, solves the problem in most cases. Pressing CTRL+F5 on the main page helps with the 404 error.
When installing the ashik in immersion fluid the ashik s9/s9i/s9j can be overclocked up to 20-21 th/s. In this firmware it is possible to adjust the rotation speed of the fans, as well as the Fan Check function.
Full list of Antminer software Bitmain: https://service.bitmain.com/support/download
---
Read more articles about cryptocurrencies and mining at COOL-MINING.ORG.
Do you like to read similar articles about cryptocurrencies and mining, do you want to support me as an author or ask questions? Be the first to know the news, subscribe to my telegram channel CRYPTO WIKIES | Bitcoin & Altcoins Mining
If you are choosing your first mining program, NiceHash Miner is one of the best options. Here you don't have to go through the command line, edit config files, or search for pool addresses. All you need to do is enter your Bitcoin wallet and click on the "Start Mining" button. The software configuration for each cloud mining algorithm is selected automatically.

There are three types of confirmations: deterministic, NC, and rational. Each offers guarantees weaker than the previous one, but in return may offer other advantages. For example, the Nakamoto consensus can be decentralized, while there are currently no decentralized technologies that offer fast objective finality, and rational confirmations can be instantaneous, while the Nakamoto consensus requires waiting for a transaction to be included in a block, and burying that block under the next few.

This program will help you to configure overclocking and downvoting of your video card in more detail. MTP is being actively developed and beta versions are currently available for Windows.