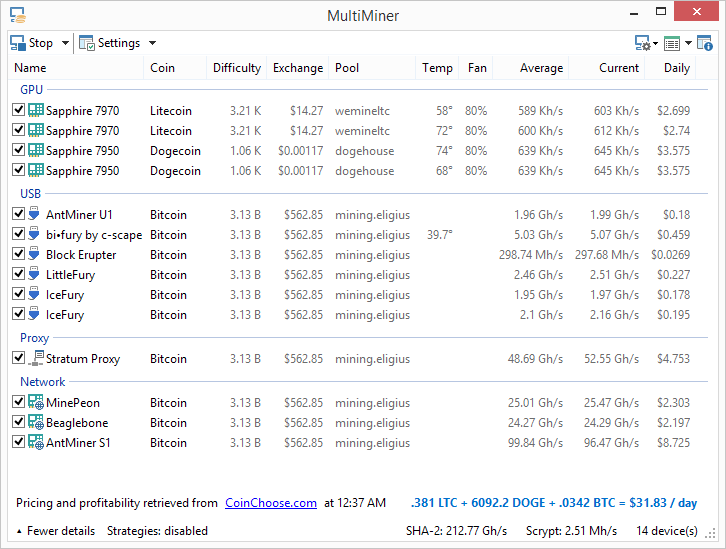 MultiMiner is one of the most versatile PC mining software that will suit even new users. The miner has a very simple graphical management interface. Optimized for Windows, but if necessary, by installing additional software, it is also compatible with Linux. Let's take a closer look at MultiMiner.
MultiMer supports a huge number of algorithms such as timetravel, tribus, wildkeccak, aergo, anime, exosis, kawpow, c11, dedal and many more. MultiMiner is compatible with ASIC, FPGA, CPU, GPU. Thanks to such undeniable advantages, with the help of this miner you can mine almost any coins.
During the first run, the miner will ask you to provide data about the pool, and will also offer a series of hints, explaining potentially unknown terms.
​In MultiMiner, you have the opportunity to choose the intensity of mining by time or depending on the workload of the equipment. There is also a mobile application with which you can remotely control the miners from your mobile device. Plus, the miner has the function of daily profit forecasting.
When you first launch the application, it will allow you to see the status of all connected devices. First of all, information about the speed of currency production is displayed. The technical condition of the farm is also indicated. From applied load to heating temperature. Based on the data obtained, the utility allows you to see how cost-effective this process is.
Initially, the user will need to connect to the mining pool. With its help, you can get money for the power provided. This can be easily done with a dedicated step-by-step wizard. Next, you need to adjust the supplied power, and you can start working. You can change the currency mining strategy, the pool, and even the currency itself at any time. You can mine both known and rare types of cryptocurrency.
Pros and cons of MultiMiner
The main advantages of the program:
Convenient and simple interface.
Ability to use different mining strategies.
Integration with online platforms.
Ability to manage multiple devices at the same time.
The ability to mine almost any coin.
Profit forecasting function.
Suitable for both beginners and experienced miners.
Disadvantages: There were no obvious cons.
You can download MultiMiner
---
Read more articles about cryptocurrencies and mining at COOL-MINING.ORG.
Do you like to read similar articles about cryptocurrencies and mining, do you want to support me as an author or ask questions? Be the first to know the news, subscribe to my telegram channel CRYPTO WIKIES | Bitcoin & Altcoins Mining