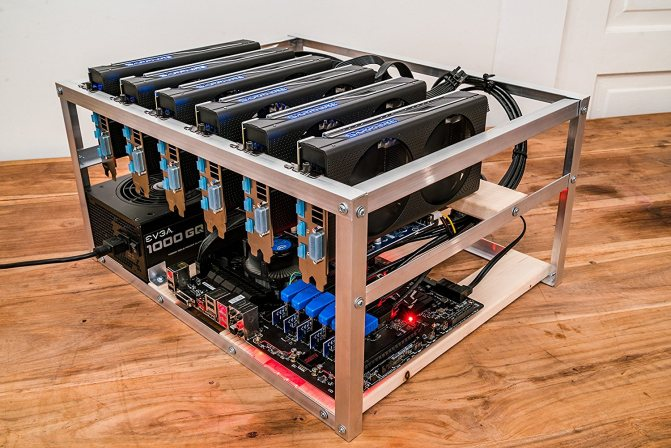 The frame of a mining farm is needed if you use video cards. Asics farms are mounted like a server rack. There the frame is not required. Mining on video cards is beneficial for those cryptocurrencies where asics of the corresponding algorithm does not exist. There are many such forks, capacities are small and archaic mining on video cards there is very profitable. Strange as it may seem, the second-generation cryptocurrency Efirium has fallen into this row. Asic miner on ethash algorithm has not yet been released.
In terms of frames, three structural options are considered:
aluminum bar, angle or square profile;
steel angle, profile pipe;
wood frame.
Profile frame
The most technologically advanced frames are made from a steel profile for plasterboard and stretch ceilings, a profile for glass, and assembly of shop windows. This profile differs from the typical one in that it has notches or perforations. It is easy to attach video cards, power supplies and motherboard to it. There are pre-drilled holes for self-tapping screws. No drilling or marking required. We count the pitch of the holes and select the desired distance. For making in the kitchen, where there is no grinder and drill, this is the best option.
The steel or aluminum profile is cut into sections of the required length and they can be assembled immediately into a volumetric frame. Production time is two hours. Steel and aluminum do not require painting. The most difficult stage is marking and drilling holes for self-tapping screws. This should not be done without a drawing. Here are the data on the frame for a mining farm, dimensions for GTX, RX video cards:
4-5 video cards 500х3500х330.
6 video cards — 600х350х330.
8 video cards — 800х400х330.
Thickness of wooden bar, aluminum or steel angle 20×20 and 25×25 mm. The angle is equal-sided, the bar is square. For materials of other cross-sections, recalculate the dimensions so that the video cards fit inside the frame. Home farms have non-standard equipment, which should take into account the frame for mining farm, the drawing is supplemented with the necessary elements. Inexpensive and rational refinement – the use of an industrial power supply for 12 volts with a large capacity. Unlike computer ones, they have excellent reliability. Large power supplies are hanged on the outside of the frame.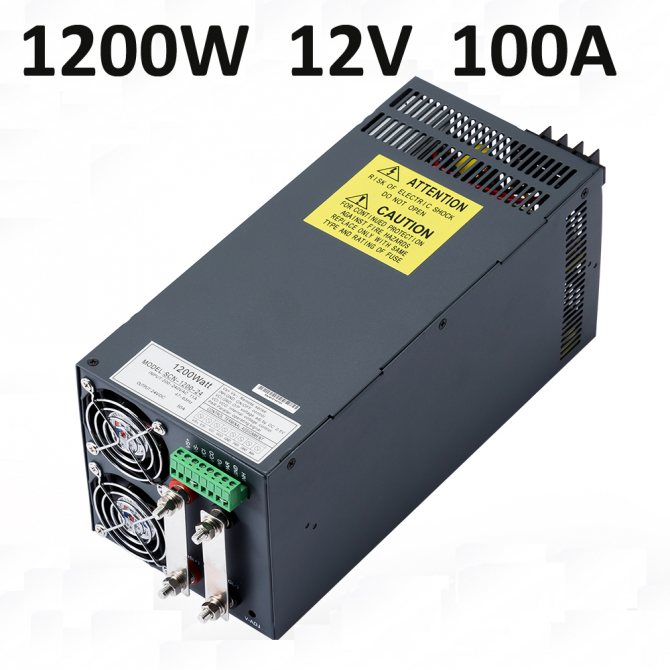 Hull or frame
Many novice users, when building a farm on their own, ask themselves what is better to choose – an enclosure or a frame? Here we can note that for a mining farm, the use of an enclosure is not very suitable.
The air circulation in such a construction is very poor. For the full functioning of the farm, such circulation is very important, in its absence, the installed equipment will quickly fail. It is not recommended to buy a ready-made PC case, but to make it with your own hands.
Corner connections
The frame for a mining farm does not use the stiffness of a triangle. There are no braces, the stiffness is sufficient. Connections are made at right angles using bolts, self-tapping screws, glue and rivets. Glue is used only for wooden bars. For metal it is superfluous. Angle and ruler (or tape measure) are the only necessary measuring tools. If you don't have a garage, summer house or construction site, use the "school" version: a plastic angle and ruler.
A properly made frame has no effect on cooling. If video cards are placed too close to each other, the temperature regime will be spoiled. Thermal protection will be triggered, hashrate will decrease, and profitability will drop. Observance of elementary assembly rules will keep you from these troubles.
How to assemble an enclosure for a mining farm
The frame can be made of different materials – aluminum, wood. Aluminum is advantageous for fast cooling and durability, and wooden is affordable. As for the design features, a frame open on all sides is suitable for a home farm, on which all purchased equipment will be installed.
As the main equipment can be used standard video cards and special chips, pre-sharpened for a particular algorithm for mining cryptocurrency. The choice between chips and video cards should be made by the user himself. The level of knowledge of a novice miner and his material capabilities matter here.
Lower shelf
Necessary for installing the motherboard. The material for manufacturing is OSB, or steel sheet. Fasteners are placed on either of them. The set is taken from the board (included in the sales kit), and in case of second-hand components, they are purchased separately. This hardware is not designed for screwing into wood, but it holds quite well.

The power supply unit is fixed on the bottom shelf. Technical regulations require grounding. That is why all computer, server and industrial power supplies are made in metal cases. They can be mounted on a wooden shelf only with the help of hardware: corners, strips, brackets.
Dimensions and drawing of a mining farm for 3 video cards
The main components of the system are attached to the completely finished frame. The size of the structure should be such that everything can be placed as freely as possible. If you plan to build a device for 3 video cards, the size of the case can be relatively small, if you plan to build a device for 6 cards, you will need to build a large frame.
If you have spare money, you can buy a good frame for about 1000 rubles. In the absence of funds and if you have free time, you can easily build the frame with your own hands. For a farm of three video cards, it is worth observing such dimensions of the construction as:
Height 30 см;
Width 30 см;
Length 60 см.
Aluminum profiles can be used as the main elements. The construction will turn out to be strong, quite beautiful, neat, but also expensive. One meter of aluminum corners costs about 5 dollars. For this reason, many people give preference to wooden structures. The dimensions are exactly the same.
Timber frames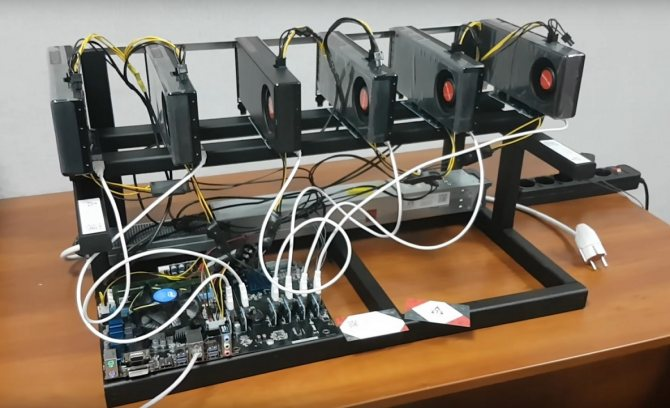 They are popular among amateurs and are not used by professionals. The scheme of the framework of a farm for mining made of wood is similar to a steel or aluminum one. There is no need to finalize anything. You use ready-made drawings for video cards. Typical project is designed for standard video cards with air intake from the surface and outlet from the end and sides. The motherboard is placed on the bottom shelf or on the side vertically. The power supply unit is secured with a corner.
The corner joints of the timber frame are made according to all carpentry rules. If you have tools and skills, you can make a stud connection. In other cases, a steel angle with self-tapping screws is optimal. For corners there is a three-dimensional corner. This is an inexpensive hardware. It is purchased in any store of furniture components.
Wooden frameworks look like a collective farmhouse. Assemble them carefully, following all the rules of carpentry. With power tools, this is not difficult. If the mining farm is located on a balcony (the optimal place in terms of temperature characteristics), the bar should at least be painted.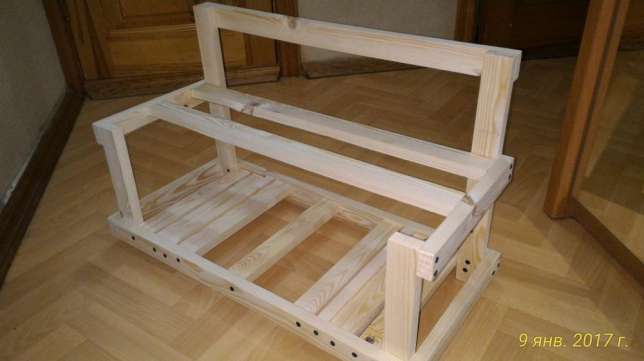 Materials for the production of video cards, asics, chips are flame retardant. There are no flammable materials inside the server. Even polyvinyl chloride for wires has additives to increase fire resistance. If you opt for a wooden frame, be aware that it is flammable. Impregnate the wood with fire-resistant impregnation, apply fire retardant paint. All this is done in domestic conditions with the purchase of chemicals in hardware stores. Drying of the frame is carried out on the balcony or dacha.
There is an opinion that wooden frames have less noise and vibration. This makes sense, as wood absorbs vibration better, but mining farms are rarely placed in residential areas, so the noise is not critical.
What are the different types of mining rigs?
The term "rig" in mining is used in two meanings:
Rig is the rack that holds the mining equipment.
A constituent part of a farm, a single bundle of video cards (not necessarily a rack). Small farms may have 2-3 rigs, very large farms may have hundreds and thousands, and such cryptocurrency mining centers are called mines.
You can buy a ready-made rig, it will cost 500-3500 rubles, and Uncle Vanya, a locksmith, will assemble it even faster, cheaper and better than the businessmen who earn money from those who want to engage in mining. You can also assemble a rig with your own hands, you don't need any special physical strength.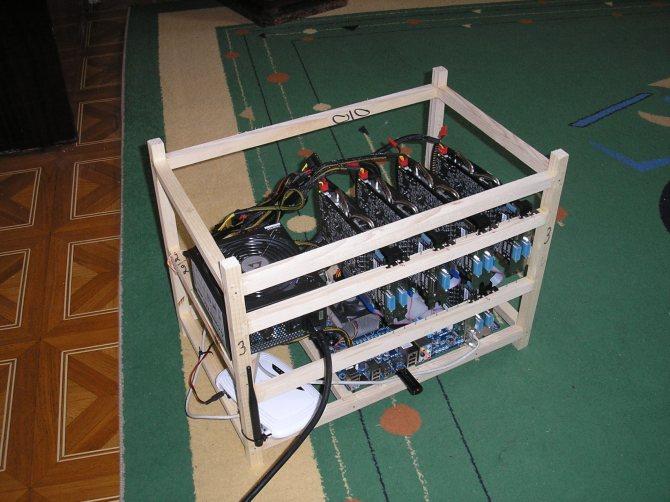 Photo of a wooden rig for mining.
Different materials can be used to make regs:
Wooden sanded timber. This is the most popular option. It has disadvantages: it is easily inflammable, dries out in dry air, swells in humid air. In the garage or on the balcony on it can get mold and wood bugs. Some successful miners believe that this is an option for poor students, because such a rig costs about 500 r.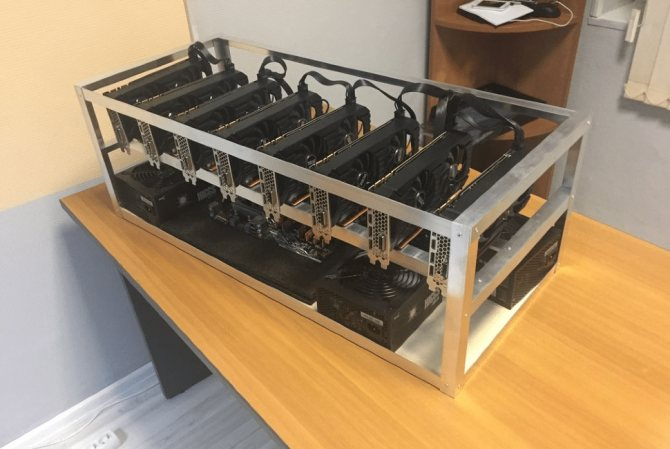 Photo rig from the corners.
Aluminum corners. They vary in thickness and length, you can avoid sawing them at home with a bolgar. Resistant to fire, do not mold, are not affected by insects, do not react to humidity, easy to wash. Rig from corners will cost 600-1500 p. depending on the size and on the place of purchase of materials.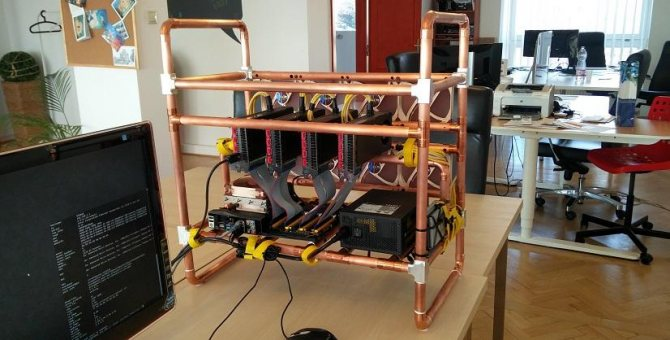 Photo of a rig made of pipes.
Exotic materials such as pipes. Price is individualized.
There are also combined variants, for example, a frame made of corners, and inside the shelf made of wood.
In fact, the material can be anything, the main thing is that the stand should be stable, durable and beautiful. It is better not to use plastic, as the equipment can get quite hot when mining.
---
Read more articles about cryptocurrencies and mining at COOL-MINING.ORG.
Do you like to read similar articles about cryptocurrencies and mining, do you want to support me as an author or ask questions? Be the first to know the news, subscribe to my telegram channel CRYPTO WIKIES | Bitcoin & Altcoins Mining