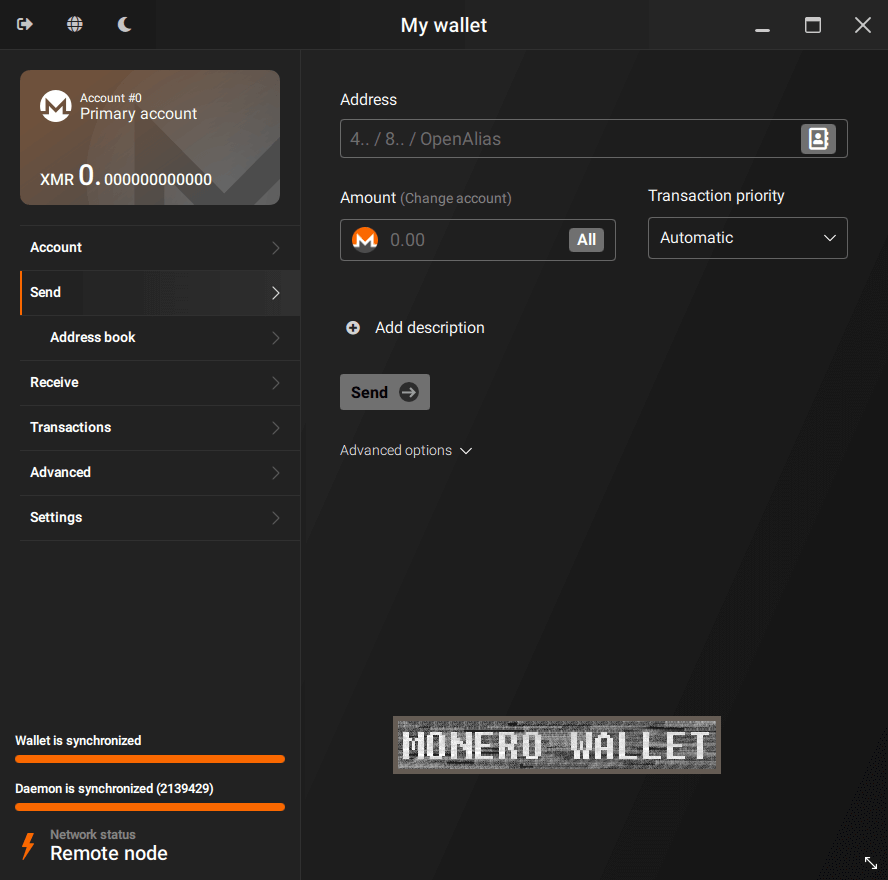 ---
Monero XMR GUI Wallet
Open Source Graphical User Interface (GUI) Wallet developed by the Monero XMR community, completely free to use, suitable for beginners and advanced users alike.
Simple mode. Created for less technical users who want to use Monero in the easiest and fastest way. Open a wallet, automatically connect to removed node, send/receive XMR, done!
Extended mode. With all the advanced features you may need. Ideal for experienced Monero users who prefer full control of their wallet and node
Monger Page Get XMR for your business, easily
Compatible with hardware wallets such as Trezor and Ledger
in-app fiat conversion. No more need to check the value of your XMRs online
Blockchain pruning. Not enough disk space? Just use trimming to load only 1/3 of the blockchain
30+ languages available
Monero (XMR)
Monero (XMR) is a decentralized cryptocurrency. It uses a public distributed ledger with privacy-enhancing technologies that mask transactions to achieve anonymity and interchangeability. Observers cannot decipher monero trading addresses, transaction amounts, address balances or transaction histories. The protocol is open source and is based on CryptoNote, a concept described in a 2013 paper authored by Nicholas van Saberhagen. The cryptographic community used this concept to develop monero and deployed its mainnet in 2014. Monero uses ring signatures, zero-knowledge proofs and "hidden addresses" to hide transaction details. These features are built into the protocol, though users can optionally share their browsing keys for third-party auditing. Transactions are validated through a network of miners running the RandomX proof-of-work algorithm. The algorithm issues new coins to miners and has been designed to be resistant to ASIC mining. Monero has the third largest developer community among cryptocurrencies, behind bitcoin and Ethereum. Its privacy features appeal to cryptocurrency developers and users who want privacy measures not found in other cryptocurrencies. Cryptocurrency is increasingly being used in illegal activities such as money laundering, darknet markets, ransomware and cryptojacking. The U.S. Internal Revenue Service (IRS) has announced a reward for contractors who can develop technology to track monero.
Installing Monero Wallet on your computer
In order to use a wallet from Monero, you need to visit the official website of the cryptocurrency "Getmonero". It has different versions of the wallet, both for Windows and other operating systems like Linux. It is important to clarify that installing monero wallet on linux is exactly the same way as on Windows. After downloading the necessary program, the installation will not take more than 10 minutes:
You need to unzip this archive, which was downloaded by the user.
You need to run the "monero wallet gui" file.
Allow access to the utility.
Select the language of your choice that best suits the user.
The next choice is to create or restore the old wallet.
When creating a wallet, you need to specify the name of the wallet, and create a password. It is desirable to generate it with the help of special services.
Then you have to wait for the installation of blocks, which can take a couple of hours, depending on the speed of the Internet.
How do I find out the address of my wallet – my address to receive monero?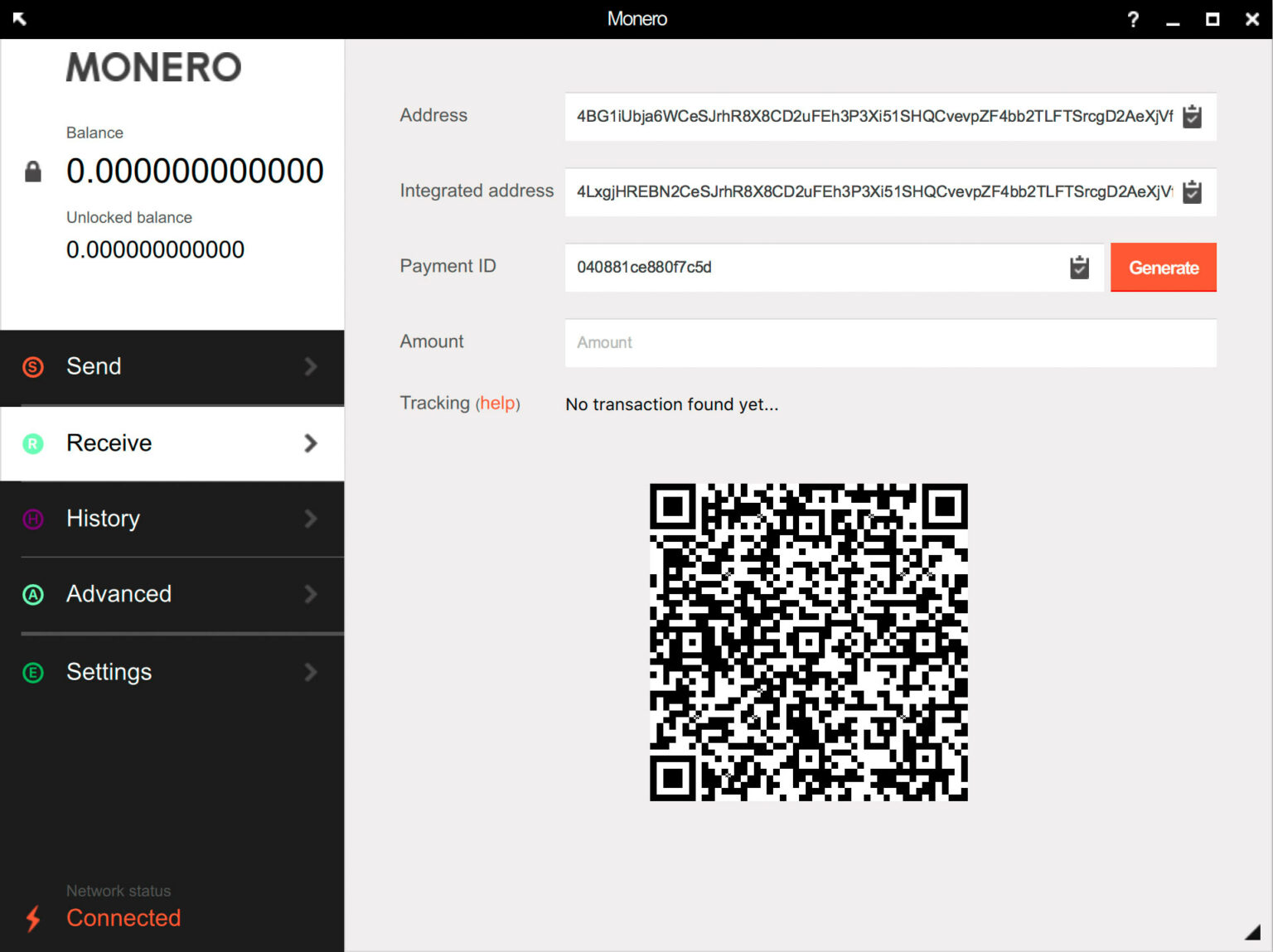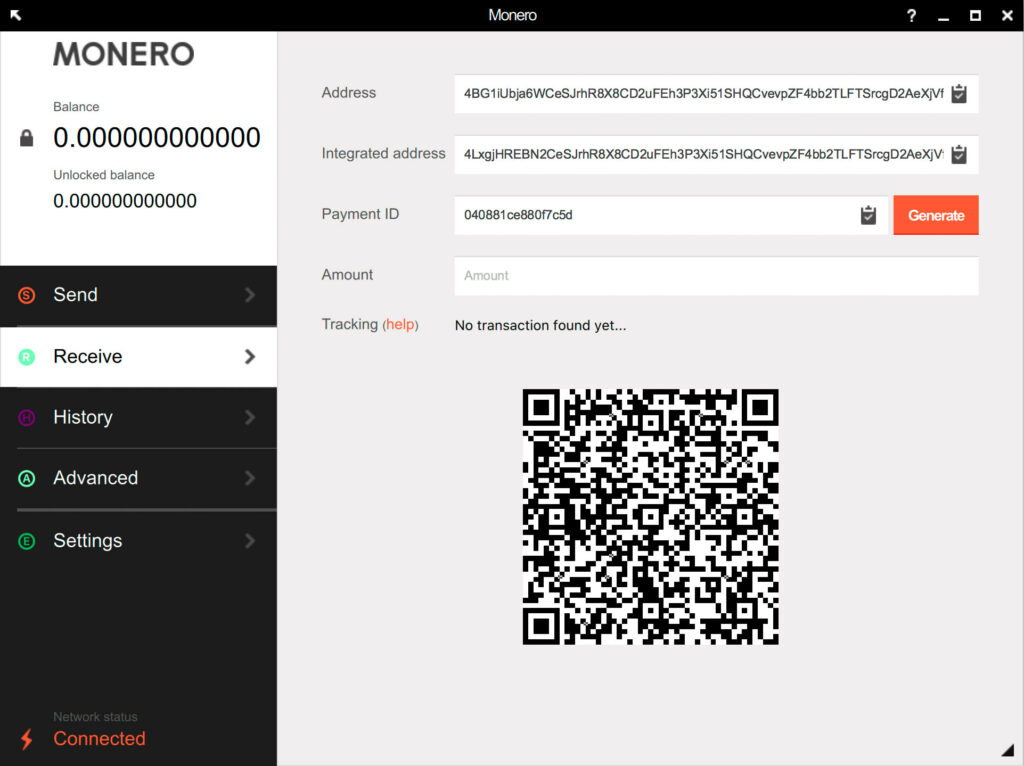 Go to the tab "receiving" and see our address. To transfer funds, click to go to the appropriate tab, where you specify the recipient's address and Payment ID
Monero XMR Blockchain Import
If you prefer to use a raw blockchain instead of synchronizing from scratch, you can use the latest version of bootstrap. However, a sync from scratch is usually much faster, and it also takes up much less RAM. If you want to continue anyway, check out the "Importing Monero Blockchain" user guide for step-by-step instructions for Windows.
Link to download the monero blockchain: https://downloads.getmonero.org/blockchain.raw