The LongHash project, which monitors the statistics of the Chinese blockchain industry, has nearly 80 thousand companies registered in the industry. But only 26 thousand of them are fully engaged.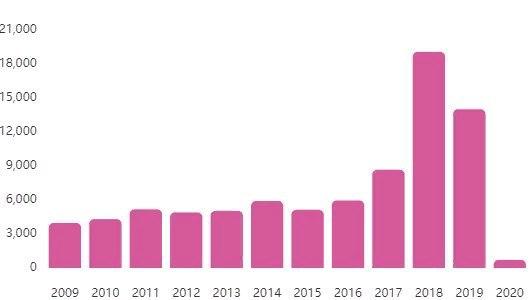 The largest number of blockchain firms – 22636 – are registered in the coastal province of Guangdong in the south-east of the country. Following are Yunnan with 5301 companies and the Xinjiang Uygur Autonomous Region with 5105 enterprises.
It is noteworthy that a significant number of industry companies are registered in cryptocurrency mining centers, the provinces of Inner Mongolia and Sichuan, – 4,594 and 4,070, respectively.
Despite the fact that Chinese President Xi Jinping in October called on the country to become a leader in the development of blockchain technology, 2019 was significantly inferior to the previous year in terms of the number of new legal companies in the industry – 14014 against 19072.
The amount of investments in the Chinese blockchain sector last year amounted to $ 3.5 billion, which is also almost 50% less than in 2018.
Recommended Related Articles: