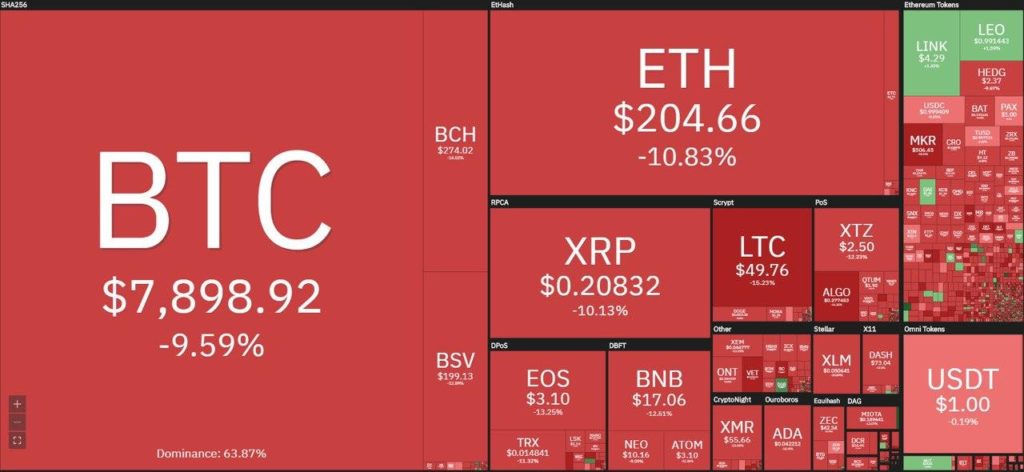 The price of bitcoin has reached a new local minimum below $ 7,700 at the same time as the resumption of a downward movement in global financial markets.
At the time of publication, Bitcoin is trading around $ 8,000, shortly before being at $ 7,684.70 paired with Bitstamp. During the day, the decrease was 10%.
The fall of cryptocurrency occurs simultaneously with a sharp decline in traditional markets. March 9, trading in Brent oil opened with a collapse of more than 30%. Such bidders have not seen since 1991. Asian stocks went down for oil. In addition, Dow Jones Industrial Average futures fell by 4.2%, S&P 500 futures – by 4.5%, Nasdaq Composite futures – by 4.4%. In the Forex markets, the dollar soared to 73 rubles, the euro – to 83 rubles.
At the same time, a steady increase in the amount of computing power and mining complexity continues to be observed in the bitcoin network. The next recount of complexity will take place in 4 hours. According to estimates, the value will reach a new maximum, rising by more than 7%. The data from the Poolin mining pool indicates that some popular miners, such as AntMiner S9 and Avalon 851, at the current price of bitcoin and competition no longer bring profit to many owners and can be disabled.
The crypto-investor greed and fear index for the first time since the end of last year dropped to mark 17, which corresponds to the description "extraordinary level of fear".
Global finance expert and eternal adversary of bitcoin Nuriel Rubini, commenting on today's market movements, writes: "Bitcoin has declined by 8%, more than global capital. This is another confirmation that Bitcoin is not a good hedge against high-risk assets when market participants seek to get rid of risks. In fact, in such periods, it falls more than high-risk assets. "
Most altcoins lose 10-15% each. The exceptions among the largest market assets were Chainlink and Bitfinex UNUS SED LEO's own token – they are still kept in the green zone.
The segment's capitalization fell to $ 225 billion. Over the past two days, it has decreased by 15%.
Recommended Related Articles: