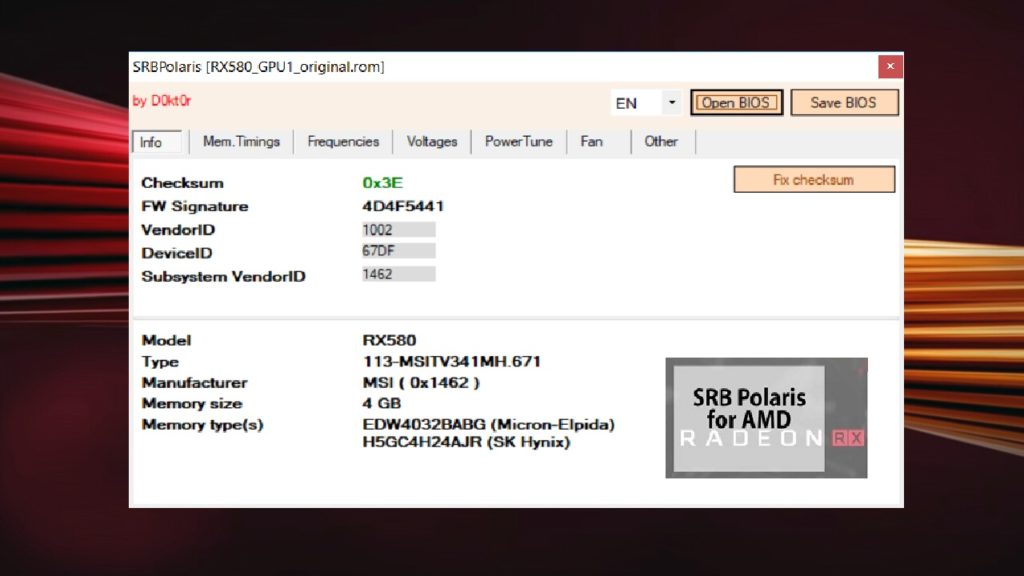 ---
SRBPolaris V3.5 (BIOS editor for AMD RX4XX, RX5XX) – This program was created in order to edit bios on cards manufactured by AMD. Supported cards: RX460, RX470, RX480, RX560, RX570, RX580.
Download Link: https://bitcointalk.org/index.php?topic=1882656.0
Features of SRBPolaris
SRBPolaris V3.5 is the latest BIOS editor for RX 460/470/480, RX 550/560/570/580 video cards.
unlock additional shaders on the RX460;
copying / changing memory timings;
set the factory parameters of the cards;
set GPU voltage parameters (VRM dependent);
cooler speed;
And much more.
Important! After flashing the cards, you need to reinstall the drivers using DDU.
Functional
Analogue Polaris Bios Editor
Built-in timings from the developer;
Quick and easy copying of timings;
Timing Editor;
Unlock additional shaders RX460;
GPU and MEM default frequency editor;
GPU voltage editor;
Other useful features.
Description for use SRBPolaris
Such a program provides the ability to flash video cards, which guarantees you subsequently stable operation without interruptions and other problems. This is necessary to increase the performance of a gpu in mining and not only. Variety of cards are supported: from and to RX580.
The main features of SRBPolaris are:
unlocking the backup shaders;
Copy memory straps fast and easy
copying / editing time periods of work,
Memory timing strap editor – make your own custom straps
Unlock RX460 additional shaders
Set GPU voltage
Set default GPU and MEM clocks
Lot's of useful stuff
This program is considered convenient, easy to use, and, importantly, it is more suitable for beginners or those who are busy with other things, and who has no time to delve deeply into something and study.
Acceleration of the video card is achieved by changing the initial settings in the BIOS of the video card, which are used by the operating system and application programs that are read during the initialization of the equipment immediately after turning on the computer.
The firmware of video cards for mining gives a significant increase in performance, for example, the flashed RX 570 gives out 30-40% higher speed when mining, in contrast to the non-flashed version. Bypassing the firmware of video cards, you will most likely need to improve the drivers of the operating system.
After flashing, it is extremely simple and convenient to monitor and control the characteristics of the video card using the GPU-Z and HWinfo programs, the main task of which is to demonstrate the voltage, frequencies, load on the video card and many other information that will be extremely useful.
Overclocking can be easily checked in HWinfo by monitoring video memory errors. With a large number of these errors, it is necessary to reduce overclocking by decreasing the operating frequency of the video memory or flashing less aggressive timings.
How to use SRBPolaris
Step 1 – Download the program
Official sources for download only: GitHub and the forum of the author of the program – BitcoinTalk.
Step 2 – Configure the program
Open the BIOS file of your video card.
If you want to lower the voltage of your card or add extra vdroop parameter correction, you need to do one more thing, and that is to change the offset. The easiest way to do this is to open SRB Polaris v3.5, load the firmware image into it and click the "Voltages" tab.
In the lower left corner you will see a dropdown box where you can select an offset. After selecting just save the image of your BIOS. Keep in mind that SRB Polaris has a nasty habit of automatically interfering with video card speed and voltage, especially with modified firmware images, so save a copy of your firmware and compare them to the PBE to "fix" anything that SRB Polaris messed up.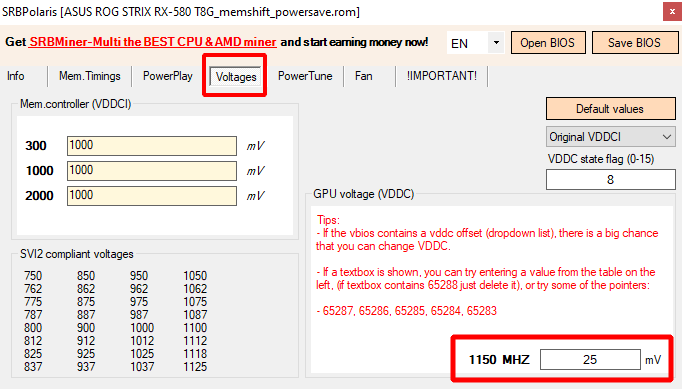 Step 3 – Start flashing Bios
You have now successfully completely modified your Polaris graphics card and reduced the voltage.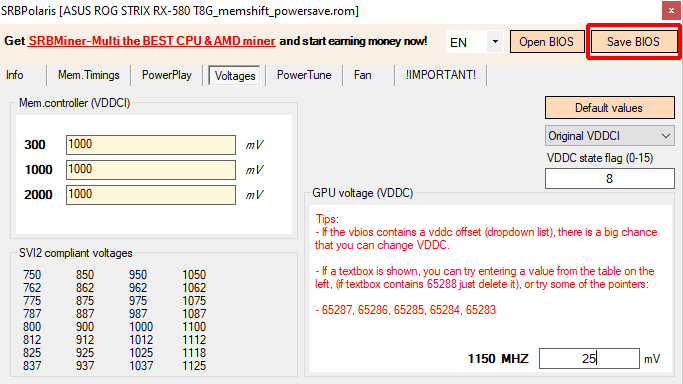 Changes Log
V3.5
– Donat removed – Added support for several more maps – This is the latest version, happy use
V3.4
– Added power control limit – Added mode selection for fan – Med-High temp and PWM are now editable. – Added fan sensitivity and maximum limit – Error correction
V3.3
– Added support for RX550 cards – Minor bug fixes
V3.2
– Added support for bios having 3 types of memory – Added more options in the VDDCI drop-down list
V3.1
– Added installation option `Vddc state flag` (pointer status), in some cases changing this value may help you change the voltage – Added support for several more maps
V3
– Unlock additional shaders RX460 – Added support for Sapphire RX460 2G and 4G cards – Added support for Sapphire RX560 2G and 4G cards
V2.65
– Added support for PowerColor RX460 2G – Fixed bug with changing VDDC pointer
V2.64
– Added support for PowerColor RX560 4G – Added support for Xfx RX560 4G – Added support for the Msi RX560 4G
V2.63
– Added support for several more maps – Added some voltage manipulation tips
v2.62
– More efficient way to find vddc pointer – Fixed bug when editing vddc
v2.61
– Added support for RX 460/560 Baffin cards – Added support for NCP81022 VRM – In addition, added support for multiple 4XX / 5XX cards
V2.6
– Editable parameters: VendorID, DeviceID and VendorID Subsystem – Added Low Power option for Powertune – Added option "Number of hours of stretch marks" for Powertune
v2.56
– Added support for ASUS Expedition RX570 – Added support for XFX RX580 GTR – Added more options for VDDC dropdown menu
v2.55
– Some bugs fixed – Added more VDDCI voltages to voltage modification type
v2.53
– Added support for ASUS RX470 8G – Added support for XFX RX580 8G – And also added support for SAPPHIRE PULSE RX580 4G
v2.52
– Now added support for SAPPHIRE PULSE ITX RX 570 4G – Added support for MSI RX570 ARMOR 4G OC – Added support for HIS RX570 4G – Changed manufacturer detection code
v2.51
– Added support for Sapphire RX570 4G Pulse – Added support for MSI RX570 ARMOR 4G OC – And also added the length (in bits) displayed next to each field in the ribbon editor
V2.5
– Added memory time reference editor (BETA) – Added support for Asus RX570 4GB cards
V2.41
– Added support for XFX RX570 4 GB cards – Added support for editing unknown BIOS files (except def.frequencies and voltage)
V2.4
– Added two types of modifications for changing voltage
V2.3
– Added experimental support for RX5XX cards – Added option to set target temperature
Recommended Related Articles: