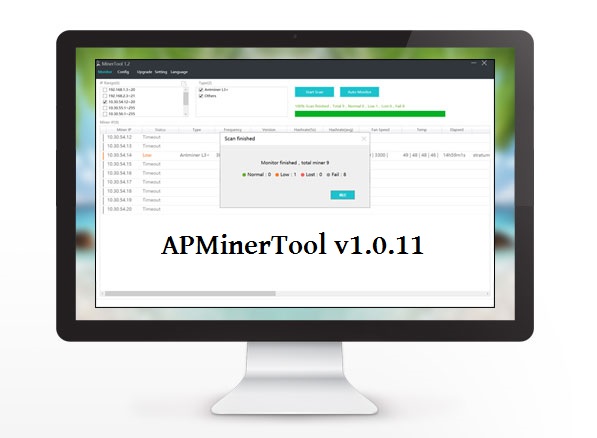 ---
A brief introduction on why APMinerTool is needed
APMinerTool – This tool is applicable only to AntMiners and does not support miners of other brands.
Features of APMinerTool:

monitoring the condition of miners;
static IP setting;
firmware update and restart miners.

This tool requires Windows7 or higher system. It cannot be used in XP and iOS system2. The instrument language automatically adapts to the system. It will be displayed in Chinese when the system language is Chinese, and displayed in English when no other system is used.
If a virus warning appears during boot, it is recommended that you try a different browser. The file is completely safe. Extract the file before using it, otherwise there will be errors.
The computer on which the tool is running must be on the same network as the miners.
User Guide APMinerTool
Thistool is only applicable to AntMiners and doesnotsupport miners of other brand. Brief Introduction:Batch monitoring status of miners; configuring static IP; upgrading firmware and restarting miners.
1.This tool requires Windows7 or above system. It cannot be used in XP and IOS system
2.The tool languageis automatically adapted according to the system. It will display in Chinese when system language is Chineseand display in English whenbeing usedinnon-Chinesesystem.
3.If warning of virus pops up by downloading, it is recommended to try another browser. The file is completelysafe.
4.Extract the file before using it,otherwise there will be errors.
5.The computer running the tool should be in the same network with the miners.

Is this a complete introduction to Ethereum (ETH) mining? Mining ETH with GPU in 2022. How is Ethereum mined and what exactly is it mining? What do you need to mine Ethereum? mining processes and types of mining. Let's look at the profitability of Ethereum mining in 2022.

The Ethereum token, often known as EthereumPOW, ETHW or IOU, has undergone a split. Due to the hard fork, the currency first appeared on September 15, 2022. As some miners refused to accept the upgrade to PoS, the Ethereum network split and the ETHPoW coin emerged with a precarious future (IOU).

The cryptocurrency market allows ordinary people, company owners and entrepreneurs to earn money. Mining coins and tokens is one of the ways to make money. You can get digital money by completing a unique task. In February 2022, video cards and ASICs will become common hardware. Only ASIC equipment is used for bitcoin mining. But not everyone knows how to link an ASIC to a mining pool. Certain abilities are required to configure the equipment.