The Osprey Electronics E300 14 GH/s kHeavyHash was the first KASPA FPGA miner on the market, but other miners will follow. We can expect more KAS FPGA and ASIC miners in the near future.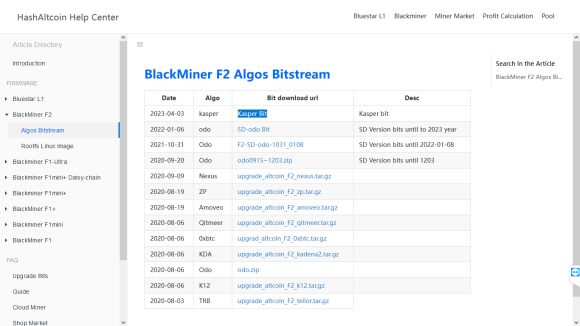 The E300 was originally priced at $4,999 USD and is now available at $5,199 USD with delivery in late May with 400-500W power consumption, but it looks like the device now faces competition from the MultMiner M2 FPGA (apparently a rebranded Blackminer FPGA from HashAltCoin with kHeavyHash support) offering a hash rate of 8 GH/s at 1 kW or 10 5 GH/s at 1.3 kW, and support for DigyByte, Tellor, Qitmeer and Kadena at $2000+ USD. Another new option appears to be called the SuperScalar K10 kHeavyHash ASIC miner, which promises a hash rate of 30 GH/s with a power consumption of 1700W and a price of around $8500-$10000 USD.
All those FPGA and ASIC miners for KASPA (KAS) are quite expensive, and while they are superior to the GPUs that most of us use to mine KAS nowadays, they still cannot be a good investment, and the reason is quite simple – KASPA (KAS) is the only coin that currently uses the kHeavyHash algorithm, and the reward per block is steadily decreasing every month (see emission curve for details) and the hash rate and complexity are constantly increasing.
So, buying a very expensive ASIC miner to mine kHeavyHash that can't mine anything else is very risky and can cause you to lose money, it's much wiser to invest the money you will pay for the hardware to buy KAS instead, which can be a much better investment. The situation with FPGAs is a bit better, as theoretically they can be reprogrammed to mine other algorithms and coins, but there is no guarantee that they will, so it is still quite risky, and again, it might be better to invest directly in KAS than to buy an FPGA or ASIC miner to mine with it.
If you have an old Blackminer F1, F1mini, F1+, F1mini+, F1-Ultra or F2 that you purchased at one time from HashAltCoin, you should pay attention to them because they received a firmware update to support KASPA (KAS), although the bitstream to support the kHeavyHash algorithm is oddly called "Kasper Bit". Go to the HashAltCoin support section to download new firmware updates for these devices that will give you KAS support and, depending on the hardware you have, you may be lucky enough to get "free" MultMiner M2 features.
Undoubtedly, this will be reason enough to revive these miners from the dead, even if it is just a small mini that is not that powerful, it will still be able to mine you some Kaspa coins at a profit due to the great energy efficiency of these FPGAs.
Note, however, that you may need to use a proxy or VPN to access the official HashAltcoin website and download firmware updates for the Blackminer.
---
Read more articles about cryptocurrencies and mining at COOL-MINING.ORG.
Do you like to read similar articles about cryptocurrencies and mining, do you want to support me as an author or ask questions? Be the first to know the news, subscribe to my telegram channel CRYPTO WIKIES | Bitcoin & Altcoins Mining