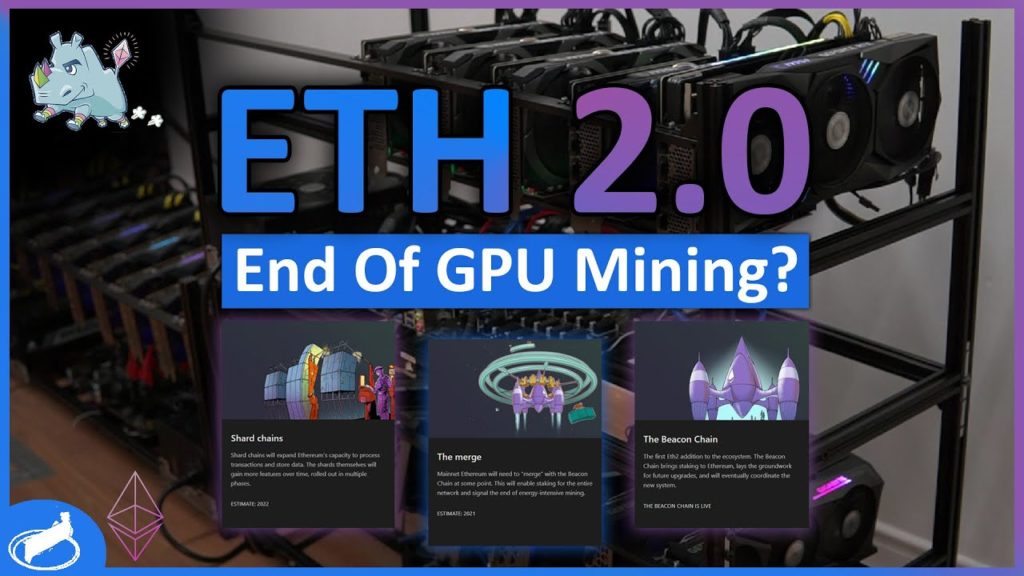 Is this a complete introduction to Ethereum (ETH) mining? Mining ETH with GPU in 2022. How is Ethereum mined and what exactly is it mining? What do you need to mine Ethereum? mining processes and types of mining. Let's look at the profitability of Ethereum mining in 2022.
It is possible to mine Ethereum, which uses the Ethash Proof-of-Work algorithm, effectively using both the GPU and the Ethash ASIC mining hardware. But in this case, we will only consider Ethereum GPU mining. We describe the required equipment, software used, its organizational principles and best practices for efficient Ethereum mining at home.
How to mine Ethereum has already been described in a number of Internet resources. However, most of the guidelines appear to be outdated and no longer maintained. The main justification is the upcoming transition of Ethereum to Proof-of-Stake.
Ethereum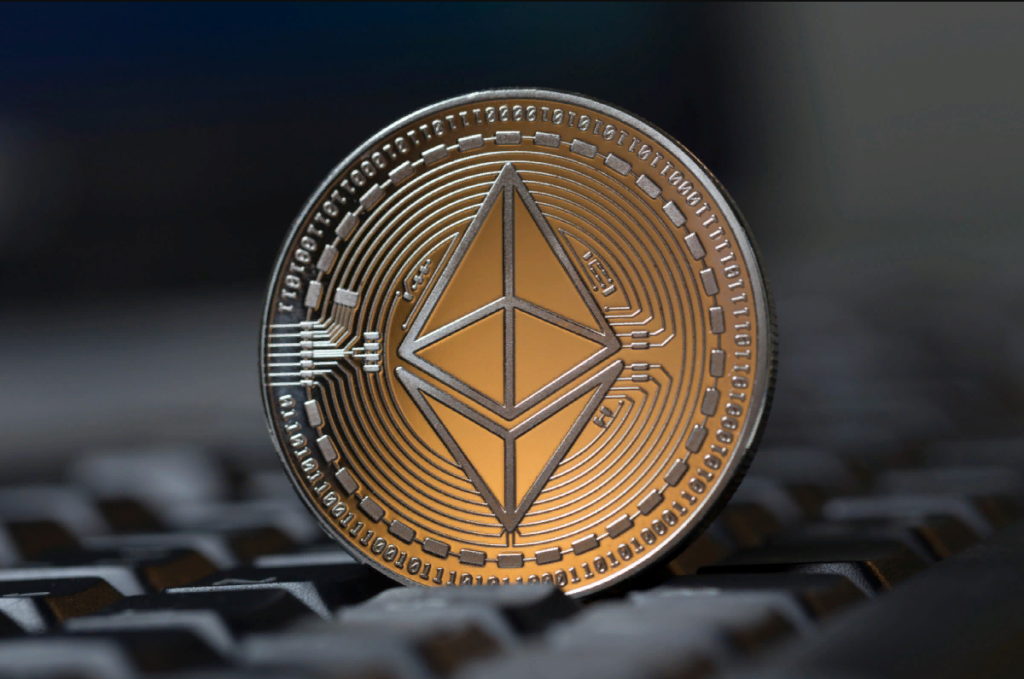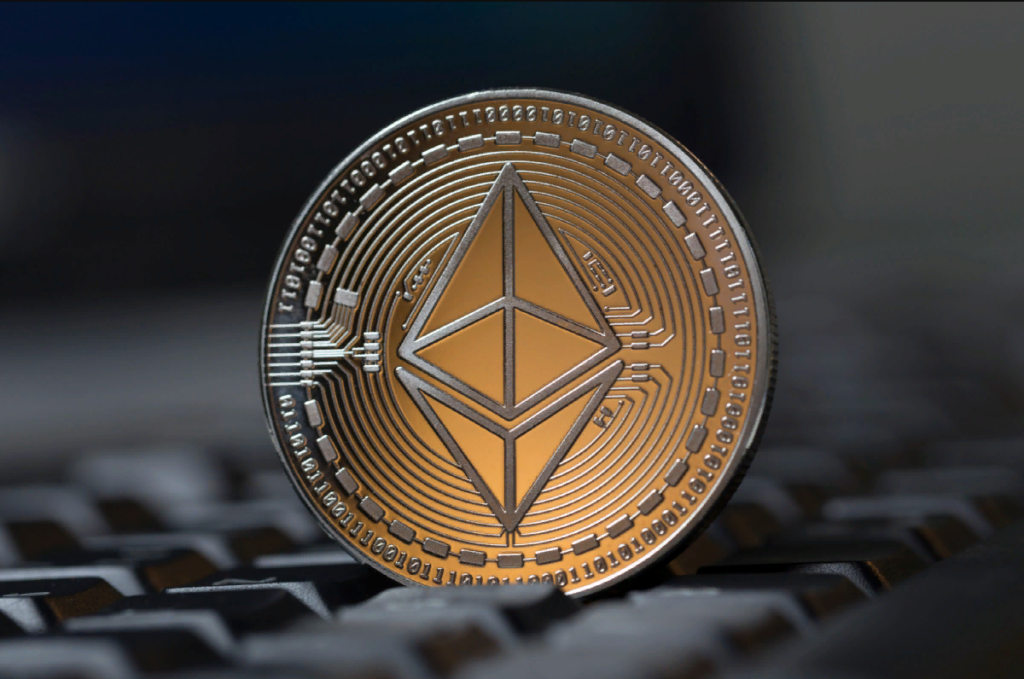 Among the proof-of-work networks, Ethereum is the second largest. The second largest market capitalization after bitcoin makes it the second most popular cryptocurrency.
It is an open source blockchain platform that supports distributed computing, which allows programmers to create and use distributed decentralized applications. Moreover, it is the first blockchain to include smart contracts.
The Ethereum network uses Ethereum (ETH) as its primary medium of exchange. It is used by decentralized applications, smart contract transactions, and peer-to-peer payments.
Ethereum now secures its network using a Proof-of-Work (PoW) consensus process similar to Bitcoin. Until the protocol transition to the Proof-of-Stake (PoS) algorithm is completed, miners will be able to continue mining Ethereum in the Proof-of-Work chain, where they now play a decisive role. By the end of 2022 or the first quarter of 2023, mining is expected to be replaced by ETH 2.0 with PoS consensus, making it obsolete. What do we understand now?
Ethereum Mining Explained
A transaction block is created during mining and added to the network. It allows you to create blocks, verify transactions, secure the network, and earn rewards.
Miners solve complex mathematical puzzles using their time and computing resources on specialized equipment. To process transactions and create blocks, they perform this activity. Each block of transactions is verified before being added to the Ethereum blockchain. This entire procedure protects the network from malicious attacks and keeps it up and running.
For each block, miners are rewarded with newly created currencies as compensation for confirming transactions, adding them to the public list, and protecting the blockchain. For each verified block, the miner is paid a certain amount of ether. The transaction fee is also paid to the miners from each mined block.
What is better ASIC or GPU mining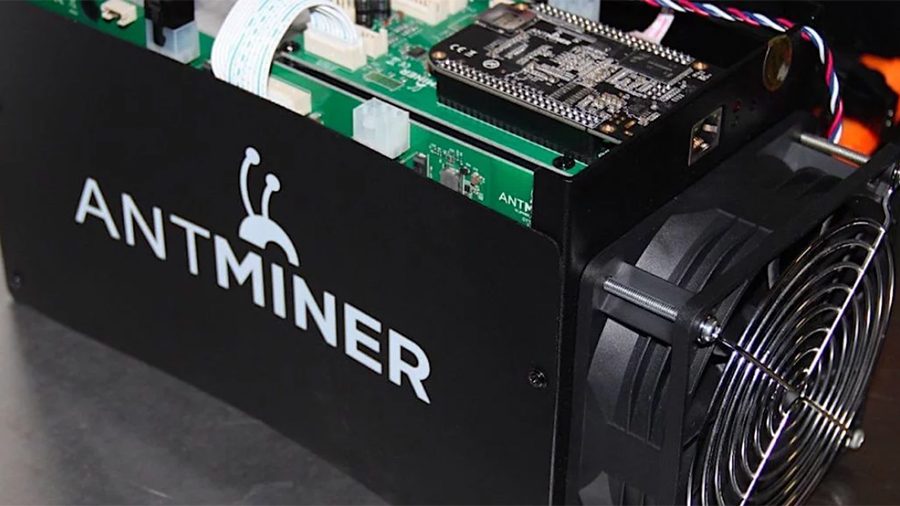 The Ethereum network is currently heavily dependent on miners and acts primarily as a base camp for GPU mining.
Anyone can start using their computer hardware to mine ETH on Ethereum. But not everyone can mine profitably. While it is true that anyone can install mining software on their computer, the average home PC is unlikely to be able to generate enough block rewards to pay the costs associated with mining. You need to purchase specialized equipment, i.e. the latest generation of NVIDIA, AMD or Ethash ASIC miners for profitable mining.
However, keep in mind that we do not recommend buying GPU or ASIC mining rigs now that the Ethereum network has adopted the concept of Proof-of-Stake. Deploying Ethereum 2.0 will not make your installations obsolete. Other PoW currencies will be available for mining, but getting a return on investment will be more difficult.
You can mine any Ethash proof-of-work coin such as Ethereum Classic, Metaverse, Musicoin, Ellaism, Pirl, Expanse, etc. using Ethash ASIC hardware. Look at the list of Ethash coins.
You can mine all currencies using GPU PoW if GPU mining is configured. A list of GPU currencies can be shown.
ASICs are often more powerful than GPUs in terms of hash efficiency, but they offer very little advantage over GPUs when it comes to Ethash mining method. Thus, GPU mining is the preferred method for mining Ethereum.
Is it worth investing in mining farms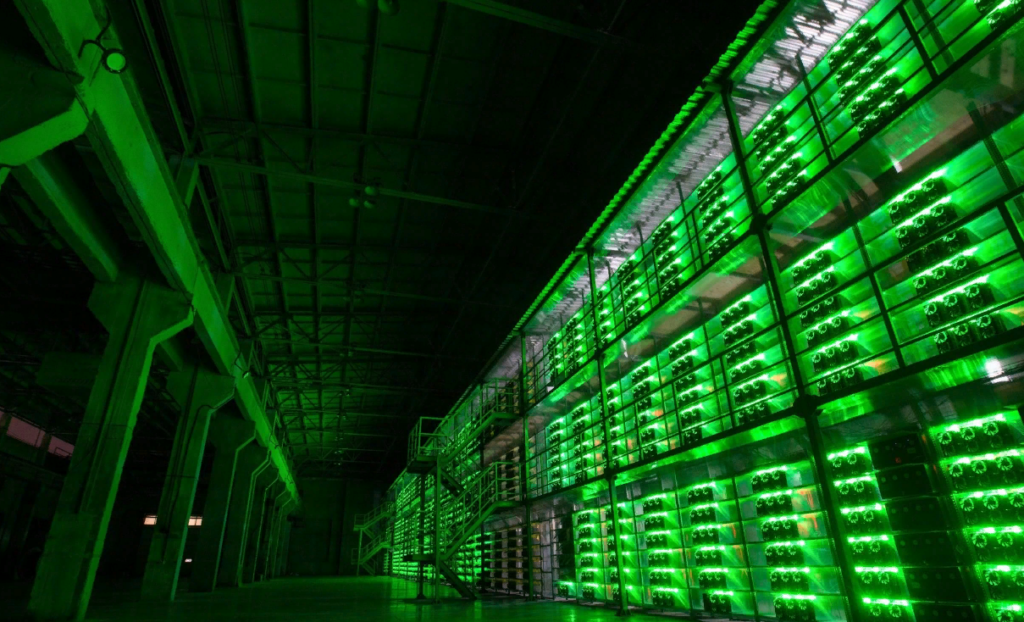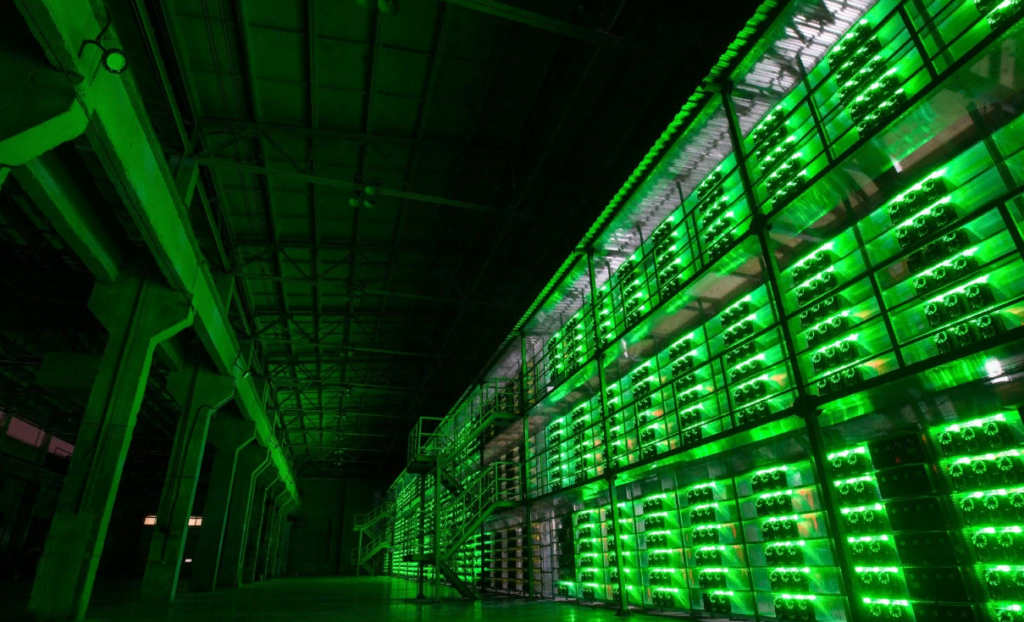 Around 2022 or 2023, the Ethereum network should move to a different reward scheme called Proof-of-Stake. This indicates that this coin can no longer be mined after switching to a PoS scheme.
Therefore, it is currently not recommended to invest in new mining hardware such as GPU mining farms or ASIC computers as this is unlikely to be profitable. Even current Ethereum miners have only a small chance of getting their initial investment back. Although GPUs can be used to mine different currencies, it is not clear if this will be successful and if you will get your money back. In addition, GPUs lose their value with intensive mining, so even if you want to sell them, their costs will only partially pay off.
Only those who already have access to an underused GPU and want to start mining Ethereum should read the following guide. For example, you can earn extra money by using your computer for production or gaming while it is not being used for mining.
ETH GPU mining is currently quite popular and is undoubtedly a worthy choice. especially if you are in an area where electricity costs are low. Thus, you can continue to mine ETH on your current hardware until you no longer need proof-of-work mining. After that, you can only bet in ETH.
Is Ethereum mining profitable?
First of all, don't expect to use a mining farm or gaming PC to mine 1 ETH every day. The days of ETH in single and double digits are long gone. In 2017, video cards can be used for mining for $10-$20 per day at 100 MHz/s. And today, with the 100 MHz you can get from one RTX 3090, two RTX 3060 Tis, or two Vega 64s, you can hardly make $3 a day, or about 0.0015 ETH. If you continuously mine ETH for more than a year, you will only produce approximately 0.5 ETH.
Of course, the winners were those who invested in Ethereum in 2015 and 2016. those who invested in ICO, both miners and investors. Pre-mining, which was done with early investors before mining was possible, accounted for almost two-thirds of all Ethereum in existence today. The pioneers and miners who started mining early and kept it in their hands all the time have made significant progress.
Ignore big wins if you are mining right now. Price increases are still possible, but this is just a guess. The era of highly profitable Ethereum mining has come to an end. In particular, with the future PoS model, you can directly invest in Ethereum if you think the price will rise, rather than setting up a mining operation.
In any case, you can mine ETH if you have a modern NVIDIA or AMD GPU and want to become part of the Ethereum network or think that the price of ETH will rise. However, don't think about quitting the mining business. It is difficult to get your investment back and keep in mind that the time available to mine ETH is limited.
Equipment characteristics
You just need a GPU to start mining Ethereum (GPU). But most importantly the GPU. This is really important. Mining generates income, but it also has costs (energy, equipment). If you are spending more money than you earn, using inefficient GPUs for mining can result in a negative ROI.
For mining, the choice of GPU is critical. You need the right hardware that will provide the highest hashrate with the lowest power consumption in order to mine profitably. These days, a GTX 1070 or GTX 1080 is required at least for profitable Ethereum mining. It's good if you have the latest generation RTX 30xx GPUs. Any latest generation GPU with more than 8 GB of RAM will do. However, mining is not for you if your GPU has less than 6 GB of RAM.
We recommend using whattomine.com to calculate your daily Ethereum mining power. Just select your GPU and enter the number of GPUs you have because you don't know your hashrate yet. To determine how profitable it is to mine Ethereum, first change the electricity cost to reflect your location and then click Calculate. Whattomine only shows a list of profitable GPUs. Therefore, we do not advise mining if your GPU is not mentioned.
Operating system
Here we will focus exclusively on Ethereum mining on the Windows platform, assuming you are using Windows (Windows 10/Windows 11). Of course, there are operating systems such as Linux and other mining operating systems, including Hive OS, Simple Mining OS, etc. However, Windows is the most comfortable operating system for beginners, and most home computers are Windows-based. .
Installing Windows is the easiest. Setting up the wallet, downloading the miner, setting up and running the batch code should not take more than 10 minutes.
Creating an Ethereum Wallet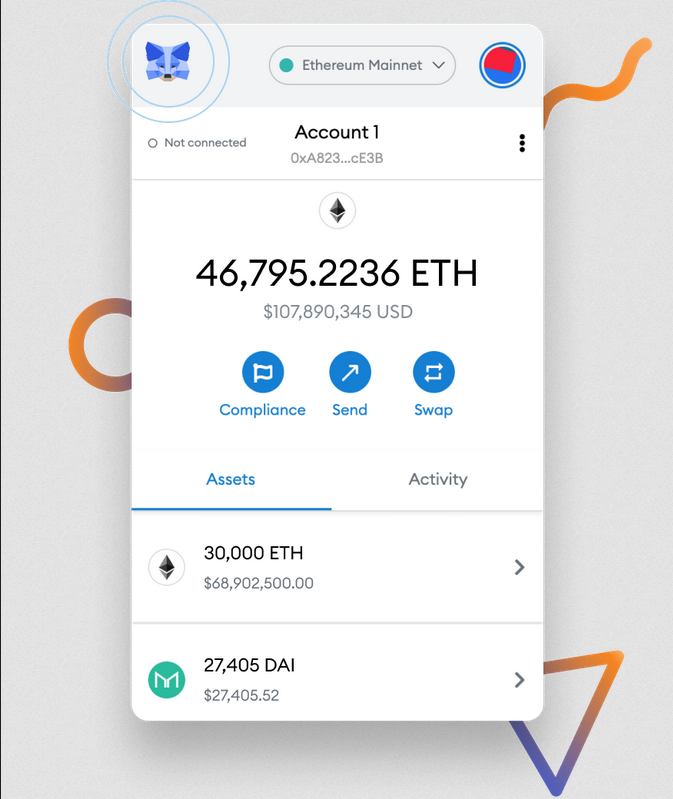 In order to receive mining payments, you must first have a wallet address. To do this, you must create an Ethereum wallet. The ethereum.org website shows a long list of wallet options. No need for a full node wallet. Use any thin wallet.
It is recommended to use MyEtherWallet online wallet or MetaMask browser plugin. Both options are easy to set up and use. Visit the metamask.io website and add the extension to your browser to create a metamask. Once installed, complete the wallet setup and get an ETH address. Here are the instructions for installing the metamask.
In addition, you can use the exchange to receive payments from mining. As a result, it is very easy to withdraw mining profits to fiat. We offer Binance, FTX or Bybit. You must be careful when choosing an exchange.
Next, you should update your graphics card driver after creating an Ethereum wallet address.
ETH mining program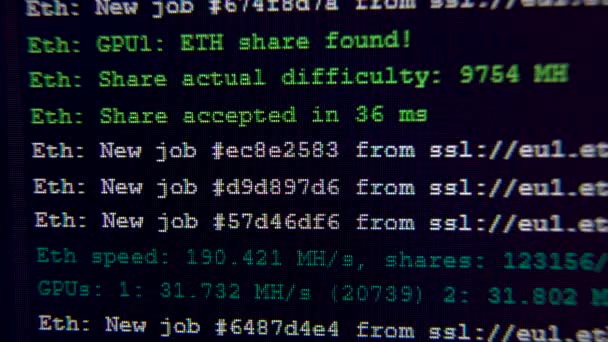 The next step is to find and install mining software. There are a number of miners for AMD and NVIDIA GPUs. There is ETHminer, T-Rex Miner, lolMiner, GMiner, Team Red Miner, Phoenix, NBMiner, etc.
This tutorial will use T-Rex miner for NVIDIA and lolMiner for AMD.
In this post about Ethash miners, we have listed the best Ethereum mining software and described how to choose the best mining software if you want to know more about these miners.
Your computer hardware is connected to the Ethereum blockchain only through mining software. After downloading the mining program, extract it. Soon we will start setting up the miner.
Please note that downloading the miner file may not be supported by your browser. Your antivirus software may also remove the downloaded item after the download is complete.
Good! The next step is to join the mining pool after installing the Ethereum mining software.
Joining a mining pool
There are several mining methods such as solo mining, combined mining and cloud mining. Other miners mine money for you when you use cloud mining. In this article, we will just discuss pool mining because it is the easiest and most straightforward method of mining ETH. Why?
Solo mining is inefficient. It is unlikely that you will be mining Ethereum before mining stops due to current network issues, even if you have a lot of high-end GPUs. Solo mining only offers the advantage that you are rewarded for the entire block plus transaction costs. The downside is that you need a sizable self-mining farm. You most likely won't get anything, even with many really powerful GPU mining setups.
People who don't have much gear can pool their mining resources into mining pools. A mining pool allows miners from all over the world to pool their computing power to increase the likelihood that Ethereum blocks will be solved. All miners in the pool share the block reward according to their hash power. A mining pool is the best option for most ETH miners who lack a lot of output power. Compared to mining alone, it will bring you more profitable results.
Ethereum mining pools are numerous. Among many others, they have Ethermine, Nanopool, 2miners, Sparkpool, F2 Pool, Flexpool, Hiveon Pool, and Binance Pool. You must select the mining pool you want to join.
When choosing a pool, the following factors should be considered: pool size, pool fee, hash rate, minimum payout, and payout type. Check out this article where we explain how to find the best Ethereum mining pool and prepared a list of the best Ethereum mining pools.
Payment criteria and payout system are the two main factors that small miners pay attention to. The minimum payout threshold depends on the pool, but usually starts at 0.1 ETH. This will take months at the current mining speed of 0.1 ETH per second on a single GPU. That is why we advise you to choose a low fee mining pool like Flexpool.
When using the Polygon Flexpool chain, it has a minimum payout of 0.01 ETH and 0.005 ETH. Yes, they also provide free withdrawals from the L2 Matic network.
Well! Getting the server location and setting up the miner file are the only remaining tasks.
Miner settings
First you must enter your wallet address. This can be the address of the recipient for the exchange or the address of your metamask. We recommend using a metamask address to withdraw money from the Polygon L2 chain. For the Polygon network, learn how to use Metamask.
The choice of your region occurs after entering the wallet address. Select the nearest server. As a result, you will show your best side.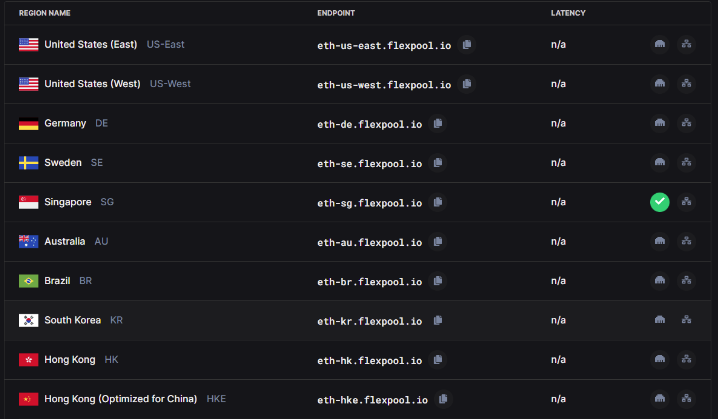 The next step is to give your employee a name. You can exclude this from the submission because it is optional. However, we advise you to identify your employees if you wish to link two or more mining farms to a pool. After that, you will have a complete understanding of how each of your mining rigs works.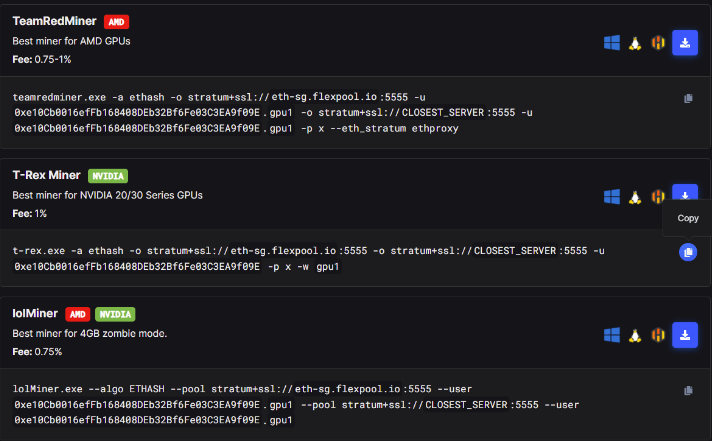 The code tells the miner which algorithm to use ( -a ethash), wallet address ( -u 0xe10Cb0016efFb168408DEb32Bf6Fe03C3EA9f09E), pool server to connect to ( -o stratum+ssl://eth-sg.flexpool.io:5555), password ( -p x) and the name of the worker if you specified (gpu1).
Since their installation is simple, all miners use the same syntax.
To use a command in a miner.bat file, all you have to do is duplicate it. Not using a table. Or duplicate the code from the Flexpool website. Your Ethereum address should be the following.
The procedure is as follows:
As a rule, you can find a sample in the folder after extracting the miner you downloaded. As you can see in the screenshot below, bat files.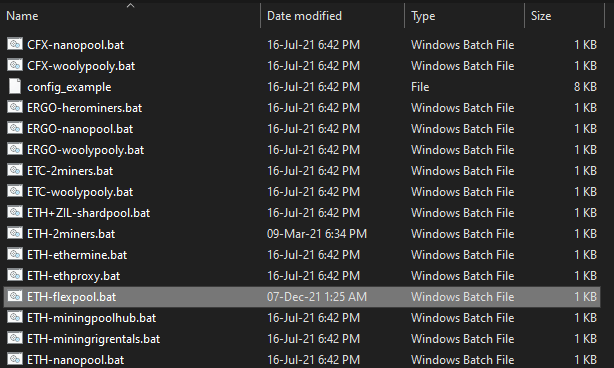 You can either create a new .bat file or edit existing ones. To launch notepad, right-click on the ETH-flexpool.bat file in the T-Rex miner and select Edit.
Then replace the current command with the copy of the T-Rex miner command that is displayed on the Flexpool. Use the command for the mining application of your choice.
Save the file after setting, then exit. Make sure the file extension is .bat and not .txt. What to do next Double-click the .bat file you just created or modified to start mining when you're ready.
That's all! As you mine ETH, the background bar below will appear.
Check the miner window carefully to make sure the hashrate is delivered to the pool first. He will succeed if he sends.
Check rewards and hashrate
You can track your GPU hashrate in the mining pool dashboard in addition to the hashrate reported by your miner.
Go to flexpool.io and enter your wallet address in the search box after some research. Your current hashrate and the mining rewards you have previously earned are displayed on the pool dashboard.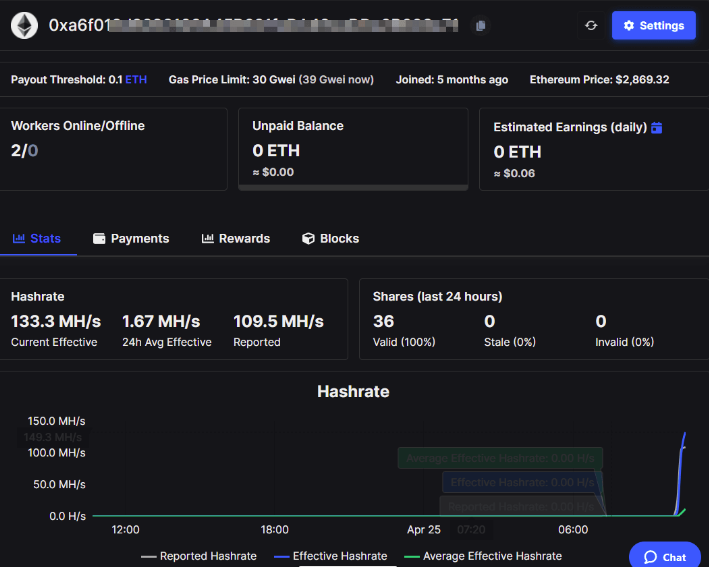 Your mining earnings can be manually delivered to the Ethereum address of your choice, or they can be automatically transferred once you reach the minimum level, depending on the pool. Once you hit the minimum, Flexpool will pay you right away.
You can also set up payment options on Flexpool. You can get paid through the Matic network instead of the ETH network. Learn more about L2 mining payouts, where we also covered how to change the network to Matic, set up minimum payouts, and set gas prices.
Mining reward calculation
The predicted daily income based on the processing power of your hardware is displayed on the dashboard of your mining pool. It displays your daily mining volume in both ETH and USD.
You can also calculate your income using mining calculators. The hashrate you have plays an important role in how much money you can earn and how much you can mine.
You must enter your hardware specifications in mega hashes per second (MH/s) in order to calculate your projected daily income. Enter this number in the whattomine Ethash field. Click "Calculate" after changing the utility bills for your region in the section below. The ETH Mining Calculator displays your expected mining payouts as well as your estimated mining earnings.
Your income is affected by mining issues, pool fees, and withdrawal procedures in addition to electricity and hardware costs. Use the calculator every day to determine your earnings as the difficulty of the network changes daily.
You can estimate the profitability of Ethereum mining using the numbers displayed on the mining dashboard and calculator.
To achieve high performance, it is extremely important to adjust the power consumption, clock speed and memory timings of GPUs. All of these advanced mining strategies such as BIOS flashing, GPU overclocking, undervolting, etc. have not been discussed in this article. This is not the purpose of creating a mining farm, which is beyond the scope of this article.
---
Read more articles about cryptocurrencies and mining at COOL-MINING.ORG.
Do you like to read similar articles about cryptocurrencies and mining, do you want to support me as an author or ask questions? Be the first to know the news, subscribe to my telegram channel CRYPTO WIKIES | Bitcoin & Altcoins Mining