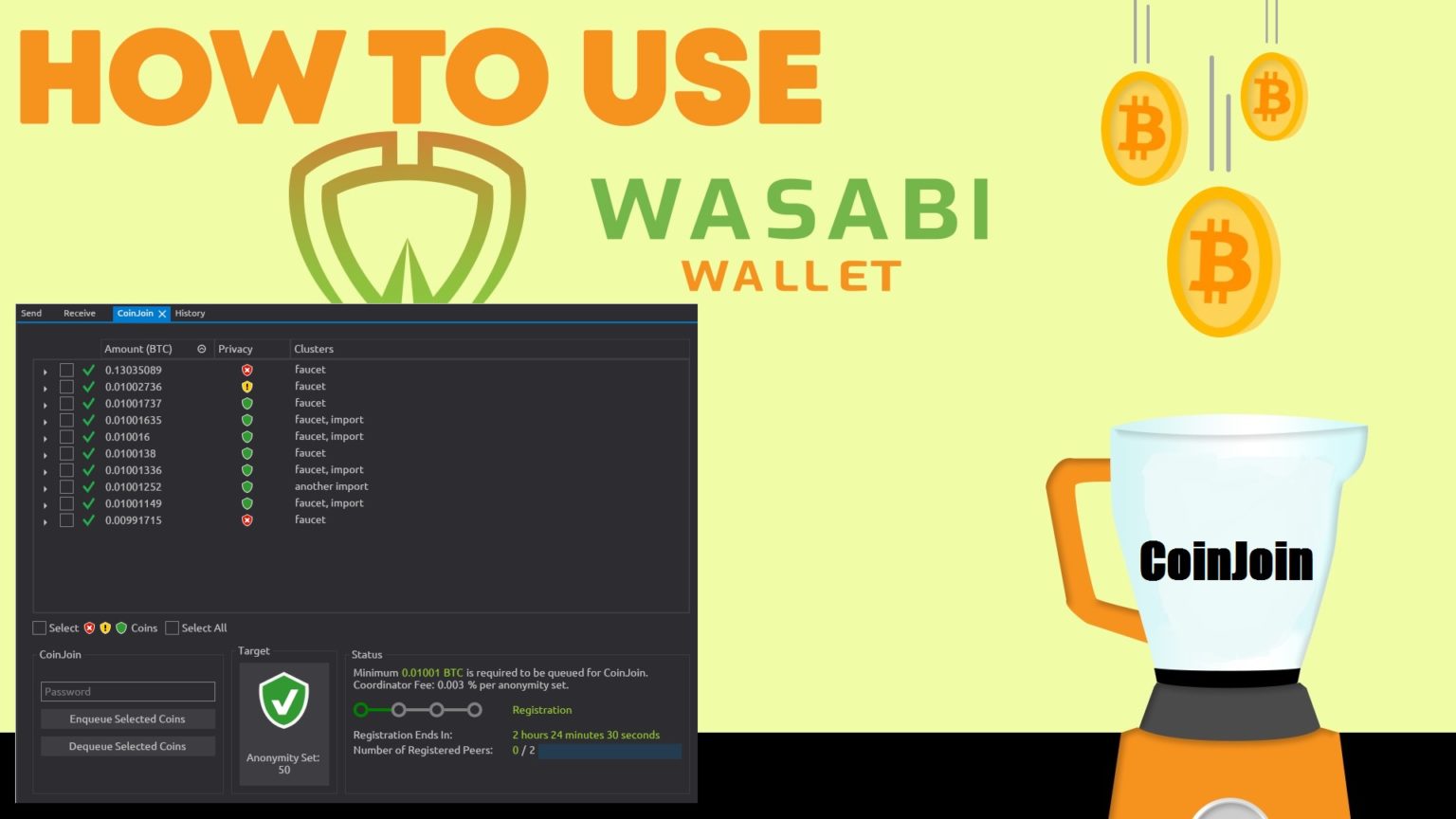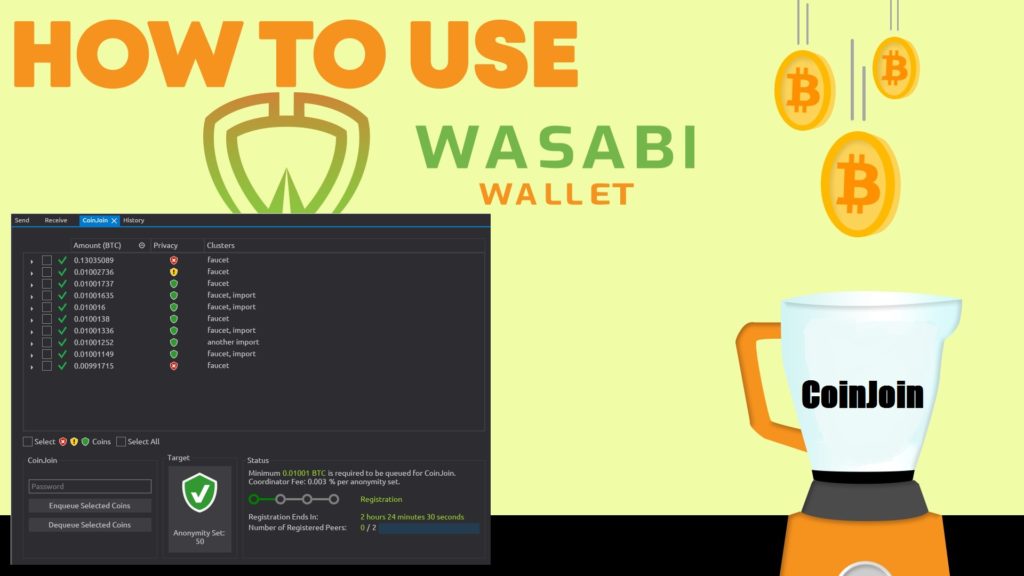 ---
WASABI WALLET: Download anonymous Wasabi Wallet – an anonymous wallet for storing Bitcoin cryptocurrency. Presented as an application for Windows, Linux and MacOS operating systems. It has a fully open source code. The wallet is suitable both for transactions of individuals and businesses, if its owner can ensure the privacy of its customers. The main feature of the service is a built-in technology CoinJoin to anonymize transactions, built-in Tor and coin control. We will talk more about it and other Wasabi Wallet features in this article.Bitcoin BTC Wallet
GitHub Wasabi Wallet: https://github.com/zkSNACKs/WalletWasabi/
Wasabi Wallet Features Overview
Wasabi is a software that runs on a computer and is designed to manage bitcoins. The wallet is quite easy to use, despite the fact that under the hood it has a serious set of features. The wallet allows you to both import existing keys and create new ones. A few important features:
CoinJoin. This is a powerful option to help obfuscate the history of transactions to make tracking coins more difficult.
Can be used in conjunction with a hardware wallet.
Open source code published under the MIT license.
Solving Bitcoin's privacy problems – address reuse, manual labeling of coins and their selection at the time of transaction, identification of coin changes.
Integration with Tor, full IP address protection from external tracking.
Wasabi comes with Bitcoin nodes (full node). This means that each user has the software required to run a full Bitcoin node on their computer, ensuring guaranteed consensus with the bitcoin blockchain. The feature is not enabled by default, but can be activated in the settings, just like the TOR feature.
How to start using the Wasabi Wallet
Step 1) Go to wasabiwallet.io and download the Windows, Linux or MacOS version.
Step 2) Then simply install the software in the usual way, just like any other.
Step 3) Launch Wasabi Wallet. Then you can create your new wallet, remember to save your password and sido phrase in a safe place, or connect your existing wallet and start using it.
Download Wasabi Wallet: https://wasabiwallet.io/#download
Receipt Bitcoin
To receive Bitcoins from Wasabi Wallet, go to the Receive tab and generate an address. It's important to mark all addresses so that you can understand who the receipt came from in the future.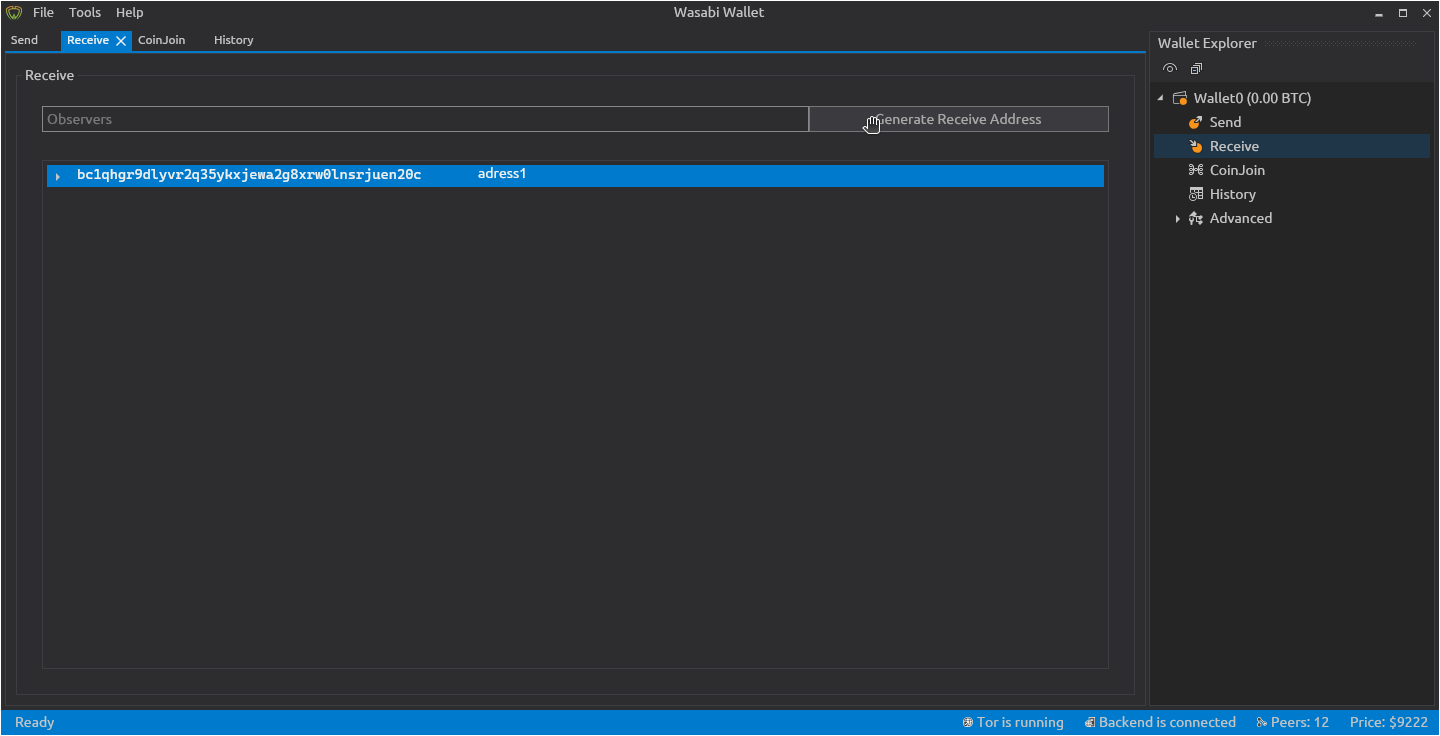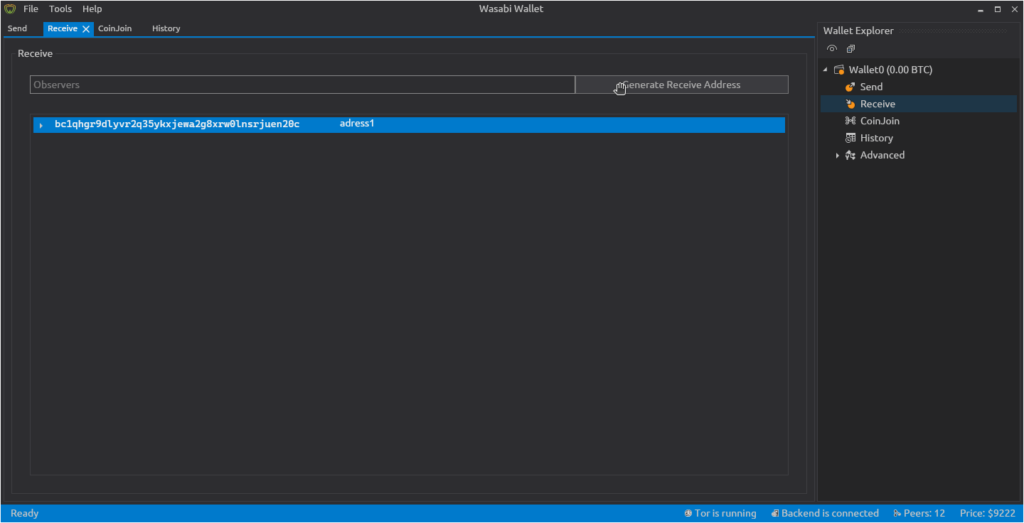 Sending coins
On the Send tab, you can send cryptocurrency. Select the coins you want to send, insert the receiving address. You can designate observers – those who are aware of this transaction. Specify the amount and adjust the commission. Enter a password to confirm.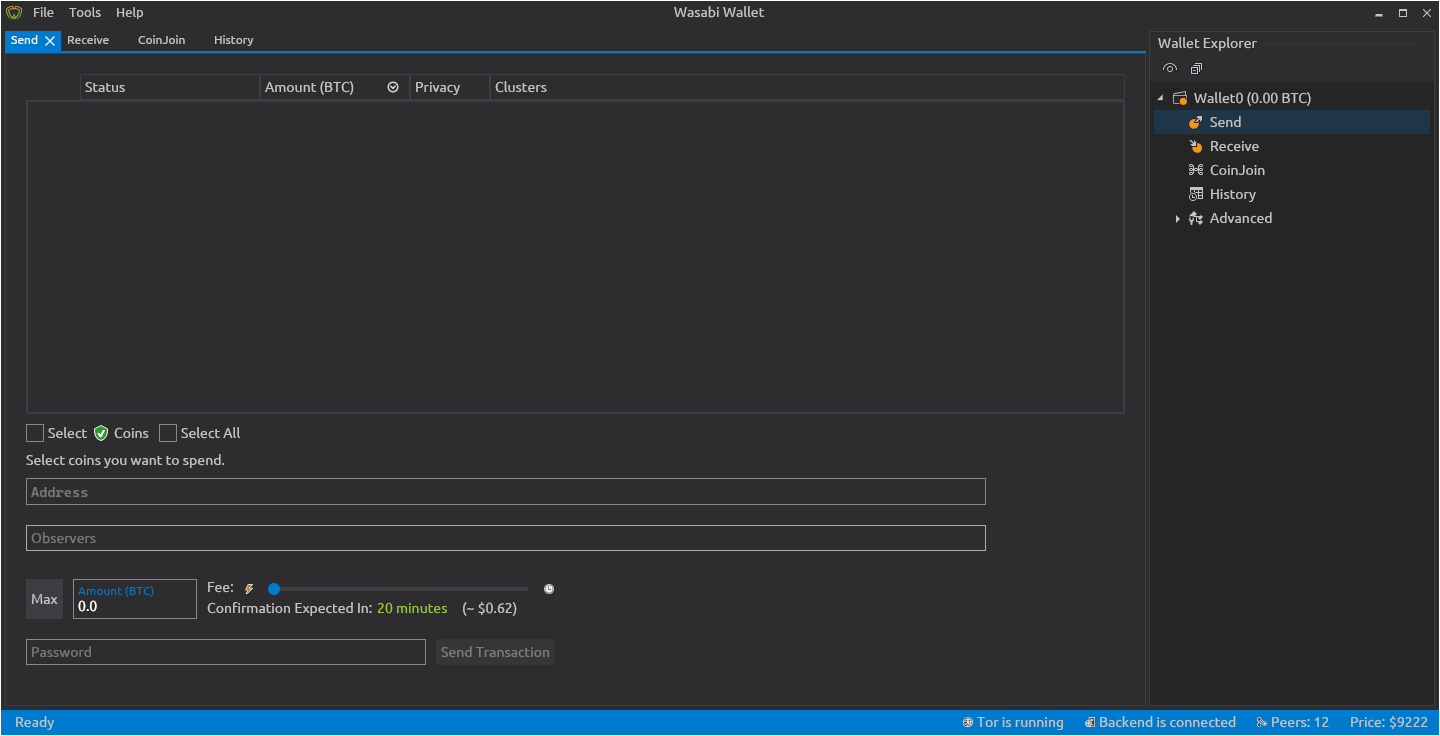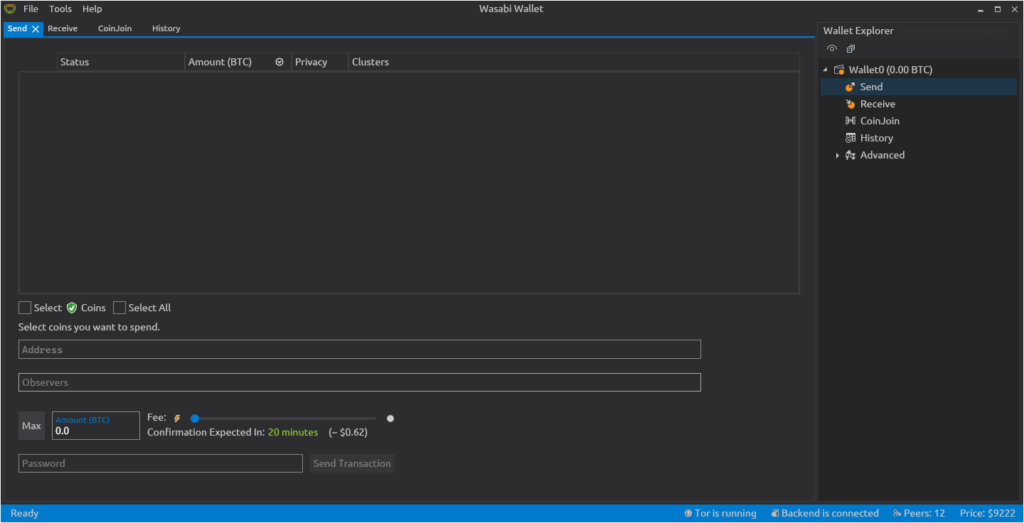 How to clear bitcoins in CoinJoin Wasabi
If you don't want anyone to be able to track your transactions or know the number of bitcoins you own, use the CoinJoin tab. This protocol acts like a bitcoin mixer, confusing coins and increasing anonymity. Despite the complexity of the protocol's inner workings, it is easy to use:
Open the CoinJoin tab.
Select the coins whose information you would like to make private.
Enter your password.
Press enqueue ("Queue").
It's enough that after a while the anonymity has increased significantly.
The minimum amount for a transaction is currently approximately 0.1 BTC, the fee for the mixer is 0.003%.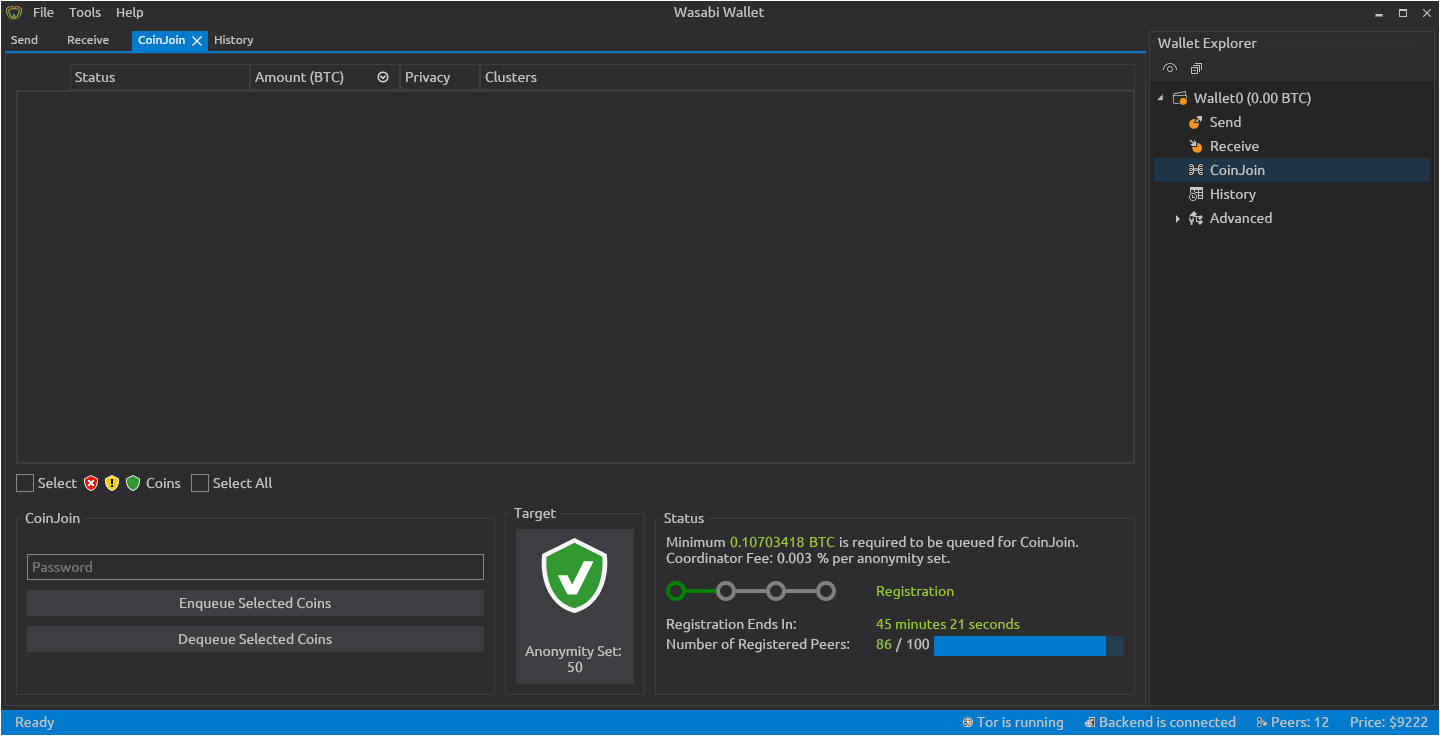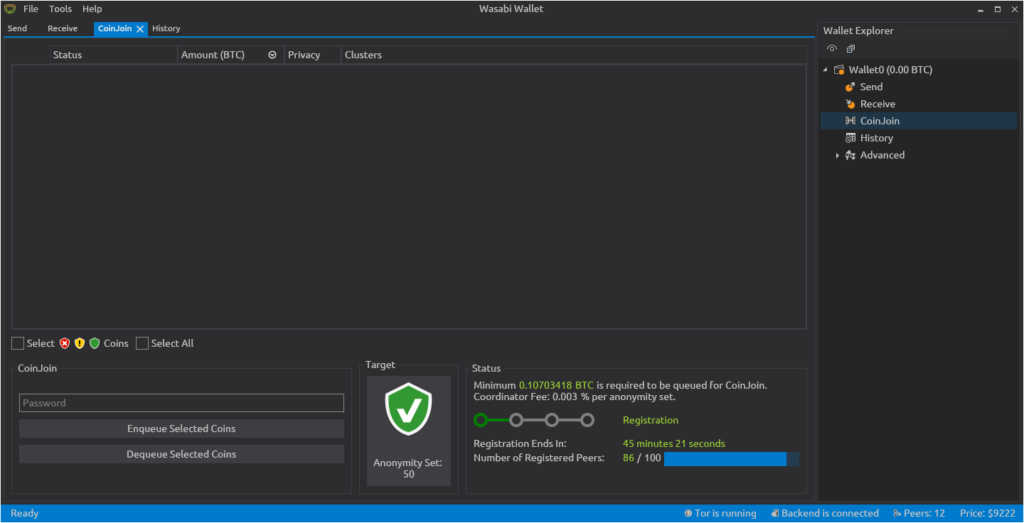 The general conclusion about Wasabi Wallet
Wasabi Wallet is not just an anonymous wallet, of which there are quite a few nowadays. For its creation the code was practically written from scratch, a lot of new features were added (blockchain synchronization, Tor support by default). Data leakage is virtually impossible here, so the wallet is considered the best option for anyone who cares about anonymity. Wasabi Wallet is one of the best in terms of anonymity and reliability. This is due to the fact that it has the following security measures:
Integration with Tor. Wasabi checks if Tor is installed on your computer, and if it is, it uses it to route inbound and outbound traffic on your network. If Tor is not installed, it is accessed automatically from the wallet. In any case, all network communications are protected by default, the IP address is confidential.
CoinJoin. The joint formation of a transaction by several nodes in order to get different coins on the output than on the input. According to the concept, there is a disconnect between payment inputs and outputs, with full preservation of values.
A solution to the UTXO interchangeability problem. Bitcoin is pseudo-anonymous – for example, if User1 sends a coin to User2, who then sends it to User3, then the latter can check the transaction history and will definitely see the previous transfer, although he will not know exactly who User1 is. Wasabi allows you to mark each coin, so that you know later what kind of cryptocurrency you are transferring. The balance is displayed as a list of individual UTXOs rather than a total amount.
A solution to the problem of reusable addresses. Wasabi Wallet is an HD (hierarchical deterministic) wallet. This means that the user has a single secret key, which with the help of hash functions can form an unlimited number of addresses linked to each other. The Wasabi interface is designed so that the client cannot reuse a bitcoin address. The address is removed from the Receive tab as soon as it receives a coin. This eliminates the problem of easy wallet clustering – that is, keeping track of all receipts to the address and, as a result, calculating a total balance protected by a private key.
Privacy at the network level. A combination of full node and use of Tor. Even if a full node is not installed, Wasabi has a light client mode based on the BIP 158 protocol. The server sends a filter of transactions contained in each block to all users. Users then locally check to see if the block contains transactions with their addresses. If not, the block is not loaded and the filter is saved for later use. If it does, Wasabi connects via Tor to a random P2P node and requests the entire block, not just one transaction. Neither the server, nor the full node, knows which addresses belong to a particular participant.
The wallet's high anonymity is of concern to authorities. Europol officials believe it helps cybercriminals exploit bitcoin transactions. According to the investigation, one-third of all cryptocurrency passing through Wasabi comes from the darknet. And as we know, that's where almost all transactions involving the purchase of illegal goods or services take place.
---
---
Read more articles about cryptocurrencies and mining at COOL-MINING.ORG.
Do you like to read similar articles about cryptocurrencies and mining, do you want to support me as an author or ask questions? Be the first to know the news, subscribe to my telegram channel CRYPTO WIKIES | Bitcoin & Altcoins Mining