One of the key questions for everyone who encounters cryptocurrency is how and where to store it. Today the market offers a huge variety of solutions for saving your savings. All of them have pros and cons, but sometimes it is difficult to choose from this abundance what is right for you. In this section, we have collected and analyzed existing cryptocurrency wallets. There are different wallets: on cryptocurrency exchanges, online wallets, extensions in a browser or as mobile applications. As well as installed on users' computers or small portable devices.
For your convenience – you can use several cryptocurrency wallets simultaneously. Several accounts on cryptocurrency exchanges for current trading. Here we recommend to keep insignificant amount of funds, as exchanges are still under hacker attacks, leading to losses of hundreds of millions of dollars of clients. It is better to keep your main savings in cold wallets, on your computers or portable devices.
Top rated crypto wallets
| # | Wallet name | Support for cryptocurrencies | Wallet rating | Website Link |
| --- | --- | --- | --- | --- |
| 1 | Metamask | ETH | 6.96809 | metamask.io |
| 2 | Bread Wallet | BTC | 5.9198 | breadapp.com |
| 3 | Darkwallet | BTC | 5.31 | darkwallet.is |
| 4 | Mycelium | BTC | 5.47314 | wallet.mycelium.com |
| 5 | Airbitz | BTC | 5.38493 | airbitz.co |
| 6 | CoinsBank | BTC, LTC | 4.78594 | coinsbank.com |
| 7 | Coinomi | BTC, ETH, ETC, LTC, ZEC, DASH, DOGE, XMR, multi+ | 5.7038 | coinomi.com |
| 8 | HolyTransaction | BTC, ETH, ETC, LTC, ZEC, DASH, DOGE, XMR, multi+ | 5.20147 | holytransaction.com |
| 9 | Myetherwallet | ETH | 5.72252 | myetherwallet.com |
| 10 | Сryptonator | BTC, ETH, ETC, LTC, ZEC, DASH, DOGE, XMR, multi+ | 5.63863 | ru.cryptonator.com |
| 11 | DigitalBitbox | BTC, ETH, ETC | 5.34046 | digitalbitbox.com |
| 12 | KeepKey | BTC, ETH, LTC, DOGE + | 4.83389 | keepkey.com |
| 13 | Ledger | BTC, ETH, ETC, LTC, ZEC, DASH, DOGE, XMR, multi+ | 5.64882 | ledgerwallet.com |
| 14 | Trezor | BTC, ETH, ETC, LTC, ZEC, DASH, DOGE, XMR, multi | 5.92267 | trezor.io |
| 15 | Coin.Space | BTC | 5.58433 | coin.space |
| 16 | Coinapult | BTC | 5.70145 | coinapult.com |
| 17 | Bither | BTC | 5.36748 | bither.net |
| 18 | Armory | BTC | 5.45364 | btcarmory.com |
| 19 | mSIGNA | BTC | 5.64498 | ciphrex.com |
| 20 | Copay | BTC | 5.8561 | copay.io |
| 21 | ArcBit | BTC | 5.07168 | arcbit.io |
| 22 | Bitcoin Core | BTC | 5.71142 | bitcoin.org |
| 23 | Bitcoin Knots | BTC | 5.30526 | bitcoinknots.org |
| 24 | KryptoKit | BTC | 5.29808 | chrome.google.com |
| 25 | JAXX | BTC, ETH, ETC, LTC, ZEC, DASH, DOGE, XMR, multi+ | 4.94918 | jaxx.io |
| 26 | Exodus | BTC, ETH, ETC, LTC, ZEC, DASH, DOGE, XMR, multi+ | 5.92623 | exodus.io |
| 27 | Electrum | BTC | 5.79728 | electrum.org |
| 28 | Xapo | BTC | 5.64208 | xapo.com |
| 29 | Hive | BTC, LTC | 5.38435 | hivewallet.com |
| 30 | GreenAddress | BTC | 5.95874 | greenaddress.it |
| 31 | BitGo | BTC | 5.20531 | bitgo.com |
| 32 | Coinbase | BTC | 5.39174 | coinbase.com |
| 33 | Coinkite | BTC, LTC, BLK | 5.24485 | coinkite.com |
| 34 | Blockchain | BTC, ETH | 5.05827 | blockchain.com |
| 35 | StrongCoin | BTC | 5.98846 | strongcoin.com |
What crypto-purses exist?
They are distinguished by the type of storage:
Cold – they store users' digital money without an Internet connection. They have a high level of security, but can't boast of operational efficiency. Cold ones include hardware and paper cryptocurrency wallets. The first are special devices that are designed only for storing coins, connected through a USB port and the size resembles a flash drive. But paper ones are considered a set of private and public addresses printed on paper.
Hot – stores users' digital money with constant access to the Internet. They allow quick payments, but are vulnerable to hacker attacks. They include online wallets – services that provide access to the coins through authorization on the site. They can also be special applications for smartphones (mobile vaults). Another option is desktop or local wallets. They are programs that allow storing private passwords in PC files.
Cryptocurrencies are also classified according to their ability to interact with assets. There are wallets designed specifically for a particular coin or algorithm (e.g., MyEtherWallet), as well as multi-purse wallets that allow you to store various coins in one place.
What wallet to get for cryptocurrency? The choice depends on what requirements apply to the wallet. If you need an option for storing a large amount with a high level of security, the choice should fall on the hardware one. For everyday use, a local cryptocurrency wallet is suitable. The online service is good for a beginner. But the trader has the right to store cryptocurrency on the exchange in order to quickly make transactions and not pay a commission for the transfer. The latter option cannot boast of a high level of security, since such sites are often hacked by hackers. Next, we propose to compare cryptocurrency wallets, which are most often used by investors.

Online cryptocurrency wallets
These platforms are suitable for beginners because they do not require the purchase of devices, installation of software and downloading of the blockchain. The only thing an investor needs to do is register on a special website. However, it is important to pay attention to the ways of protecting the account, reviews of the work and facts of hacking the service. Cryptocurrency exchanges also belong to this category. Choosing an electronic storage for cryptocurrency, find out about the possibility of exporting private keys or getting a seed phrase. If the service does not provide this possibility, it has full access to the funds. Therefore, it is worth choosing only those platforms that generate private keys on the user side and do not transfer them to third parties. These include Coinfy, Guardo, Lumi, MyEtherWallet and others.
Hardware crypto wallets
As already mentioned, these are the safest wallets. Their private keys are generated locally and are not transmitted anywhere. Special chips are used for protection against hacking and viruses, transactions are confirmed by entering a pin code, and a seed-phrase is generated to restore access. Such cryptocurrencies are produced by Ledger, Trezor, KeepKey, CoolWallet, BitLox and Digital Box.
Ledger Nano S is the most popular multicurrency wallet for cryptocurrency on a flash drive. It supports BTC, ETH, XRP, LTC, DASH, QTUM, REP, BTG and other coins. The device is compatible with 64-bit Windows 8+ PCs, macOS 10.10+, Linux and Android 7+ gadgets. It's not suitable for mining. Buy this cold storage only from the company's official website.
Top multi-currency wallets for digital currencies
Universal cryptocurrency stores include Exodus, Jaxx, Guarda, Coinomi, Kcash, Coinfy, Holy Transaction, CoinPayments, CoinVault, Ledger, Trezor and others.
Exodus cryptocurrency wallet for computer
Exodus is considered a multi-PC cryptocurrency wallet. It supports Bitcoin, Ethereum, Bitcoin Cash, Ethereum Classic, EOS, Litecoin, Qtum and other coins. The program does not charge additional transfer fees and has a built-in ShapeShift token exchange service. Closed keys are kept by the investor and the wallet can be easily recovered in case of OS failure.
You can only download a cryptocurrency wallet from officiallnoreferrer. The program is compatible with Windows, Linux and Mac. There is also a mobile app for iOS and Android. Exodus allows you to manage funds from your Trezor device.
To export a private key, open the Developer panel. To do this, press Shift+Ctrl+D or go to "Help" and select "How do I open the Developer menu" at the end of the list.
In the menu that appears, go to "Exodus" – "Developer" – "Assets", select the asset, click "Export Private Keys" and confirm the action "I'm sure". After that, the path to the csv file will be shown. It contains information such as address, path, balance and private key. After saving, delete the file.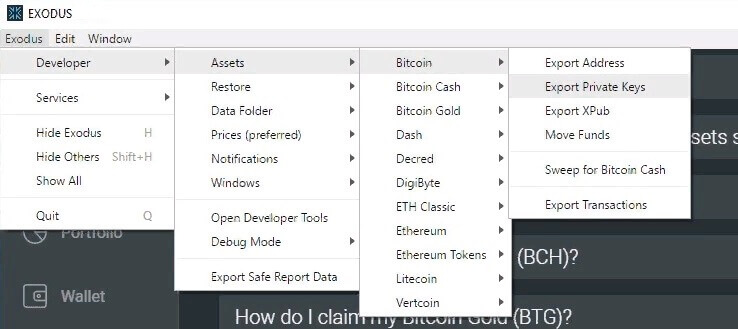 You can set a password, email and get a seed phrase in Exodus only after topping up your balance through "Backup".
Made a vault for BTC? To make transactions, go to "Wallet", select an asset and click "Receive". After that, a public address will appear on the screen in the form of an alphanumeric character set and a QR code. It is to this address you should transfer the funds. To send coins to another address, press "Send".

Multi wallet for cryptocurrency Jaxx
Jaxx is another multi-currency cryptocurrency wallet that integrates the ShapeShift exchange service. It is adapted for Windows, Linux, Mac, Android and iOS operating systems. It is also possible to install an extension for the Google Chrome browser. Access to the vault is restored using the seed phrase.
How to open a cryptocurrency wallet? To do this, go to link and select the appropriate version. During the installation process, click "CREATE NEW WALLET", which will allow you to create a new crypto wallet. If there is a recovery file, select "PAIR/RESTORE WALLET".

Then click "EXPRESS SETUP" and check the box next to the desired asset. You can change the list at a later time.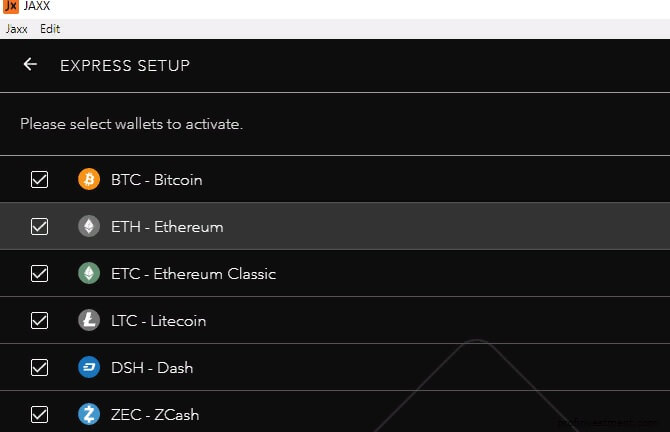 This will open the Jaxx repository.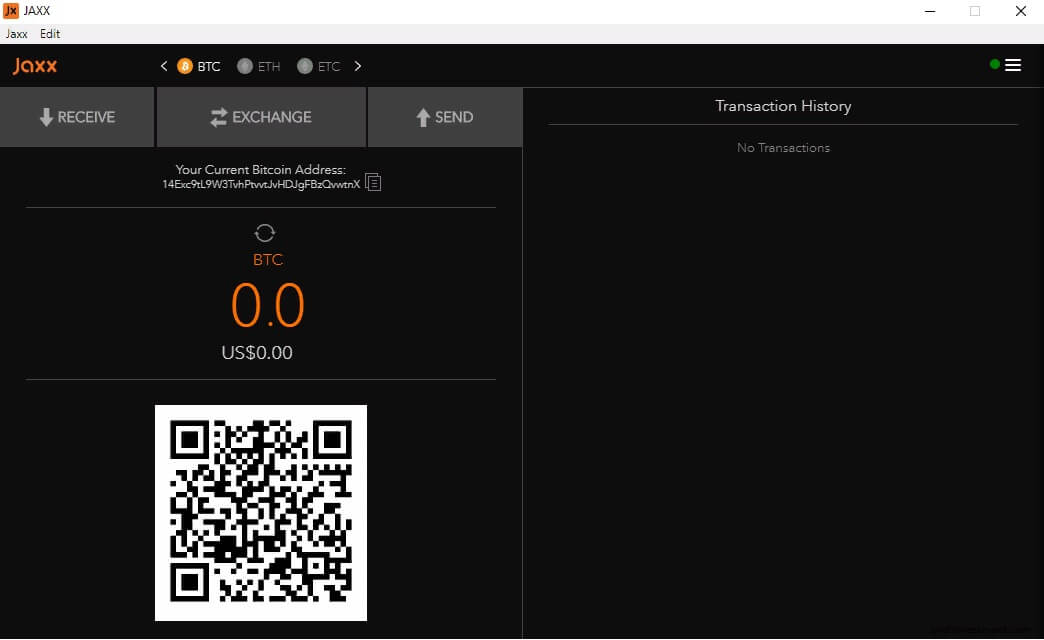 To set the password, press "Menu" – "Setting" – "Setup Security Pin" and type in a four-digit number. You will need to enter it each time you log in to the storage. To backup, click "Tools" – "Backup Wallet", check the box for consent and click "Continue". After that, a seed phrase will appear, which you should save in a safe place.
To view the private keys, go to "Menu" – "Display Private Key" – "I understand" and select the asset. Each public address will have its own private key. Press "Export", "Copy all" and save the data in a safe place.
Electrum is a cold wallet
Electrum Wallet Bitcoin is one of the best bitcoin wallets for tokens. Thanks to open source, there are options not only for BTC, but also forks (Litecoin, Bitcoin Cash, Dash). Mass payments and the use of offline, cold storage are allowed in this program. It is possible to log in in Russian in the settings.
To install this crypto wallet, you need to go to link and download the installation file. After opening it, follow the instructions of the installation wizard. If you are using Windows, the SmartScreen filter may block startup. Then it will have to be temporarily disabled. To do this, go to the "Security Center", select "Application and browser control" and turn off the check.
As already mentioned, Electrum allows you to make mass payments. To do this, go to the "Send" section and instead of one specify several recipients. Each address is written on a new line, and after the comma the amount to be sent is specified.
Online Blockchain Wallet
Blockchain is suitable for storing BTC, ETH and BCH. Coins can be exchanged using ShapeShift. Private passwords are stored on Blockchain servers. Users have the option to enable multi-signature and two-factor authentication.
How to open a cryptocurrency wallet? Registration must be done at link. To do this, the user will have to provide an email address and create a password. It is important to take care of email security, that is, come up with a complex password and enable 2FA.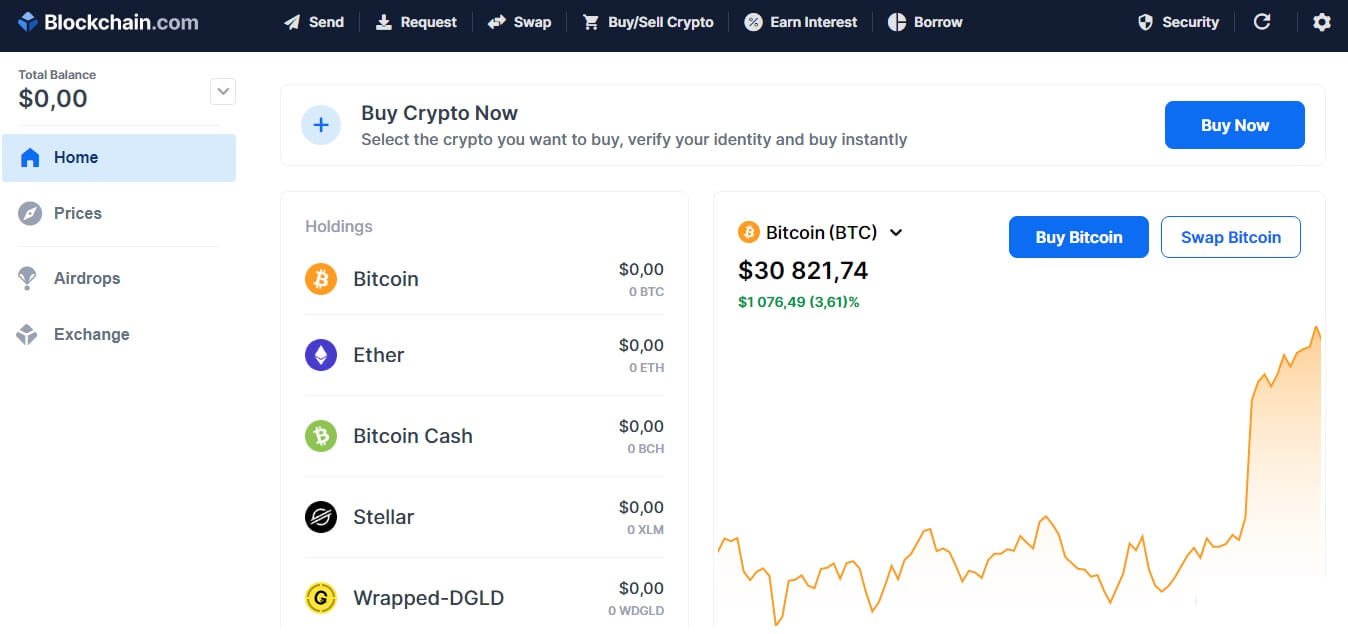 Reviews of the online cryptocurrency wallet Blockchain say that it is one of the best. The service is easy to use. For example, to send funds, you just need to click "Send", enter the recipient's address, the amount and select the commission (Regular, Customize Fee or Priority).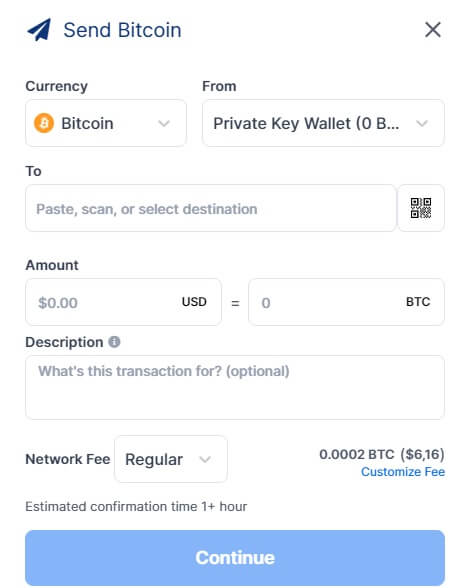 Coinfy Cryptocurrency Wallet
Coinfy also refers to online wallets. It supports Bitcoin, Ethereum and some ERC20 tokens. The investor has access to private keys generated by means of a seed phrase on his PC. To create a Coinfy wallet, go to link. This service is anonymous, so you do not have to enter personal information and email. To work, you should click "Add asset" and select an asset.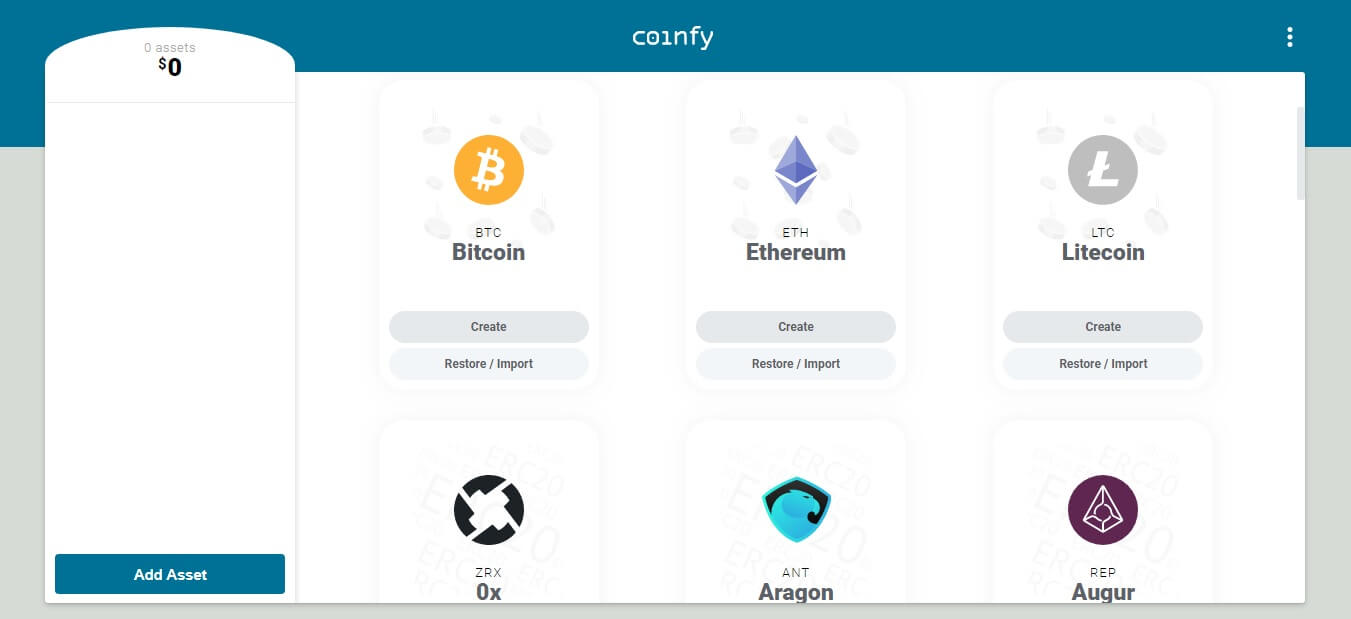 Then click "Create" to create a wallet or "Restore/Import" to restore access to the existing storage. You will also have to make up a complex password, copy and save the seed phrase.
Guarda multi cryptocurrency wallet
Guarda Wallet supports BTC, ETH, BNB, DASH, ADA, EOS, LSK and other digital currencies. There is a built-in exchange for exchanging coins. Data processing and key generation in Guarda takes place locally in a browser on the investor's device. The information is encrypted using the Advanced Encryption Standard algorithm. The service doesn't store the information on its own servers and doesn't give it to anyone. Therefore, files for wallet recovery should be placed in a safe place. How to create a wallet for cryptocurrency? To log in to Guarda, follow this link. Users have the right to choose a mobile, local or web option. Let's stop at the last one. On the main page click "Create wallet" and choose "Create a new wallet" to create a crypto wallet or "Restore or Import" to restore. Then you will have to make up a password and download the restore file.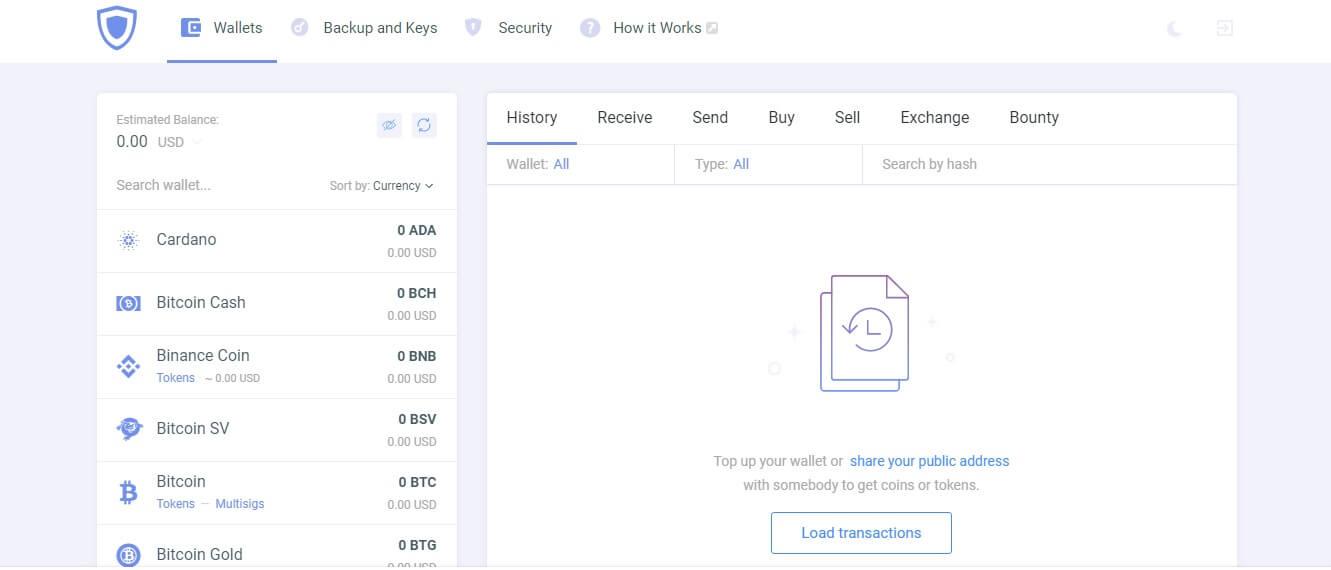 Holy Transaction
This crypto wallet is suitable for beginners, because it does not require downloading files and thinking about their security. But due to the inaccessibility of private passwords, it is considered less reliable. Also, Holy Transaction cannot boast a high level of anonymity because it asks users for additional information when registering.
Its official website is https://holytransaction.com/. Here click "Sign up" and enter the required information. To complete registration, confirm your email address by clicking on the link in the email. After that, go to the platform, click on the profile and select "Add coins". Here it is worth adding digital currencies.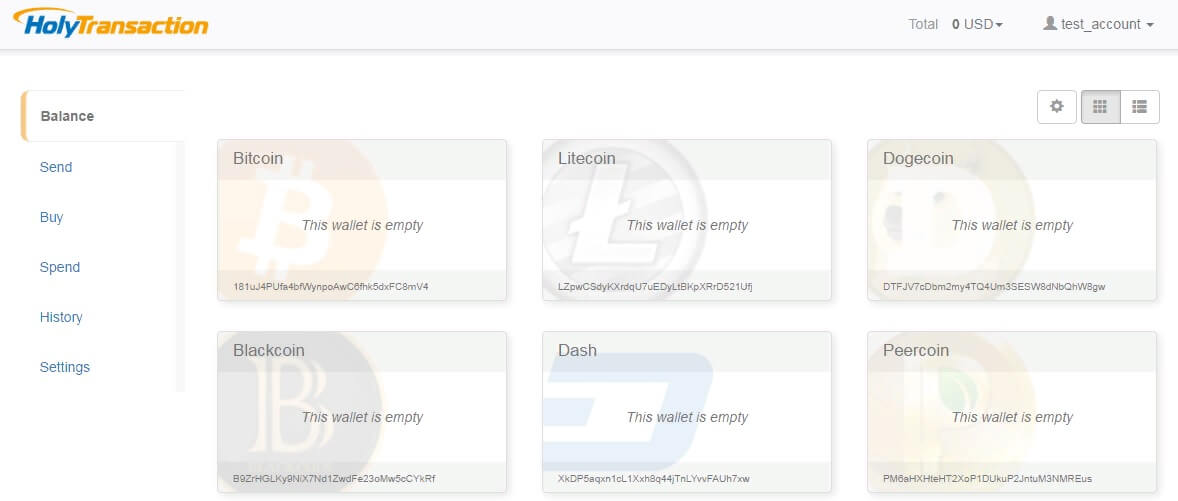 MyEtherWallet – wallet for storing Ethereum and ERC20
This is the best online wallet for tokens in Russian. It is open source and gives full access to private passwords. The service is suitable for working with Ethereum and ERC20 tokens. If MyEtherWallet storage is required, go to link. Avoid Phishing Sites! Here you can immediately switch to Russian. Then click "Create New Wallet", read the short introduction, create a password, save the Keystore/JSON file and the private key. After that, select the appropriate way to access MyEtherWallet, namely through the Keystore / JSON file, mark the file itself and click "Unlock". The storage interface will appear below.

Access is also possible through a mobile app or a mnemonic phrase.
To translate crypto, use the top menu of the site.

BitGo online cryptocurrency wallet
The BitGo platform can work with Bitcoin, Etherium, XRP, Stellar, Dash, Zcash, Litecoin, Dai, OmiseGo and other koins. Here, turning on two-factor authentication is considered a must for users. To use BitGo, go to the official website of the multi-currency platform and click "Sign Up". Here, you will have to enter your first name, last name, country of residence, email, and password. After that, you will have to connect two-factor authentication.
---
Read more articles about cryptocurrencies and mining at COOL-MINING.ORG.
Do you like to read similar articles about cryptocurrencies and mining, do you want to support me as an author or ask questions? Be the first to know the news, subscribe to my telegram channel CRYPTO WIKIES | Bitcoin & Altcoins Mining