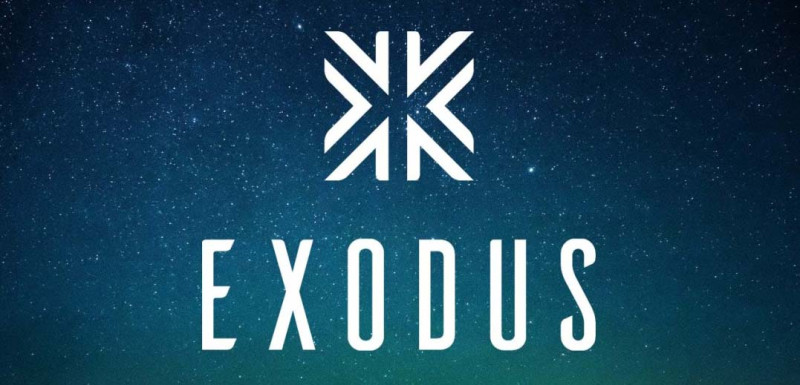 Exodus — is a versatile desktop wallet that supports a wide range of digital assets. The interface is easy to use, making it ideal for beginners and newcomers to cryptocurrencies. The platform is downloaded from the official website and locally fixed on your device. With a wealth of information and resources available, users can be assured that Exodus will provide ongoing support. Wallet addresses are displayed prominently, making it easy to use when sending and receiving digital assets. The platform provides real-time portfolio valuation and tracks the value of assets held.
Supported cryptocurrencies: Bitcoin, Ethereum, XRP, Bitcoin Cash, EOS, Litecoin, Stellar, Tron, Cardano, Chainlink and over 120 other coins.
Download Exodus Wallet
Go to the official Exodus Exodus website.
Download:
Select the operating system of your device: Windows, Mac OS or Linux and start downloading.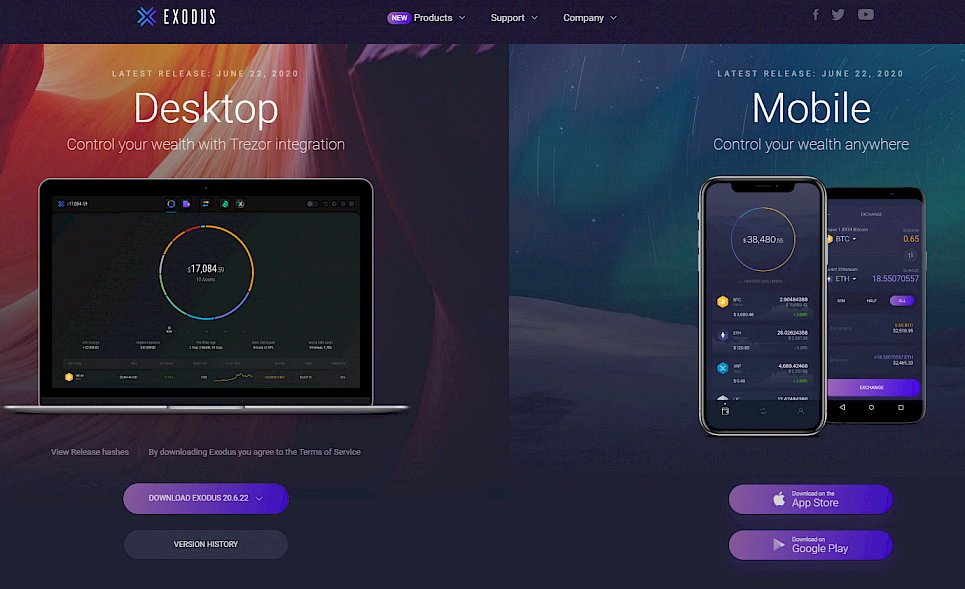 When the download is complete, install the software on your device, saving it to your desktop.
"Launch the app" that opens the platform.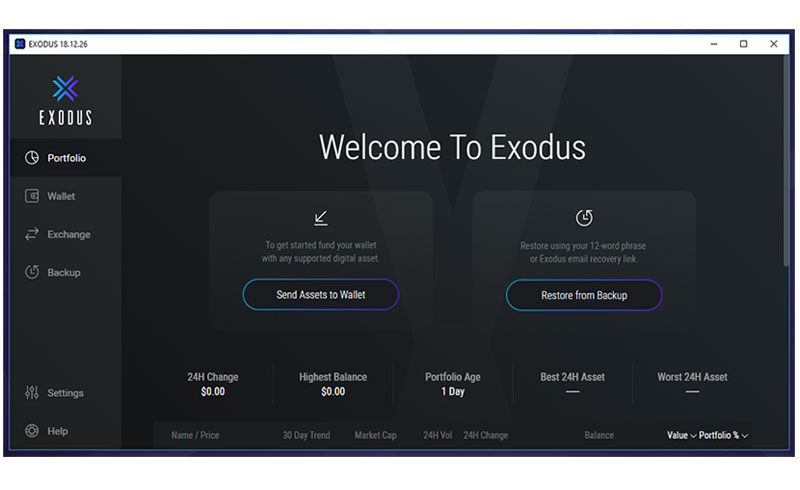 Add new wallet
Exodus comes with a set of pre-activated wallets. They can be found by clicking on the "Wallet" tab. Here you will see your activated wallets listed vertically.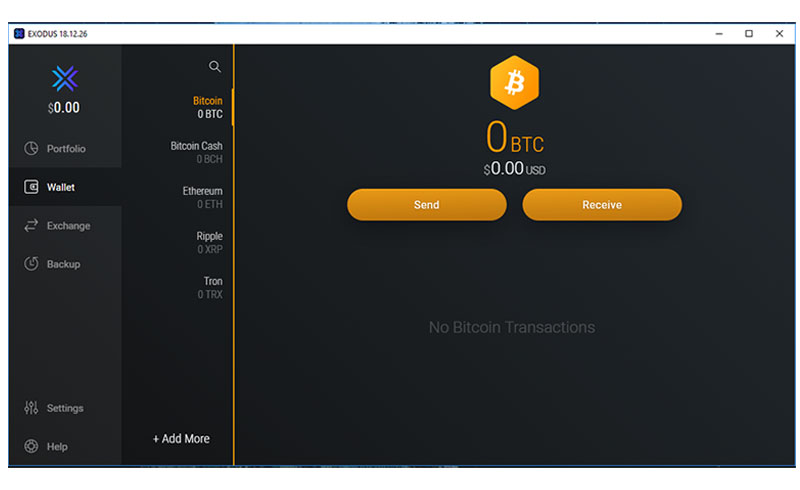 To add an additional wallet, go to Settings and under Assets, see Enable/Disable Assets. Scroll down the list and select the cryptocurrency wallets you want to activate.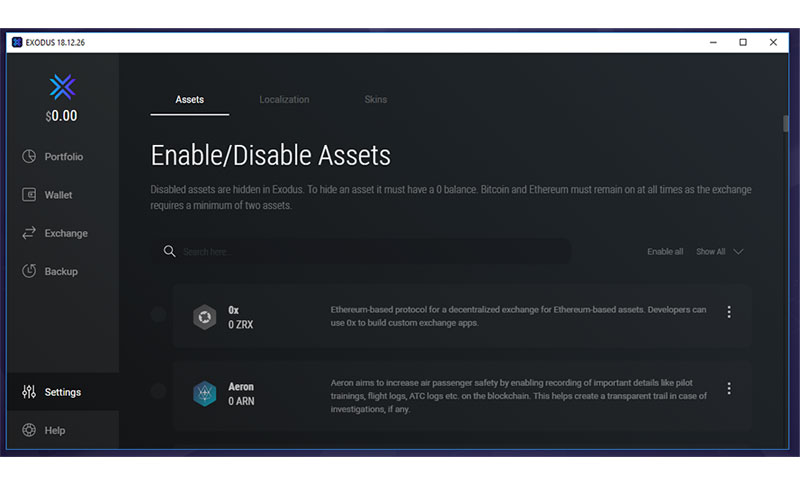 Select or search for the wallets you want to enable/disable: The following examples are for Bitcoin (BTC), Bitcoin Cash (BCH), Ethereum (ETH), Ripple (XRP) and Tron (TRX). You can also change the default currency (USD) in the Localization section.
Get wallet address
Click "Wallet" on the main home screen, all your active wallets will be displayed vertically. Select a cryptocurrency to view wallet information. (For this example, we clicked Bitcoin BTC).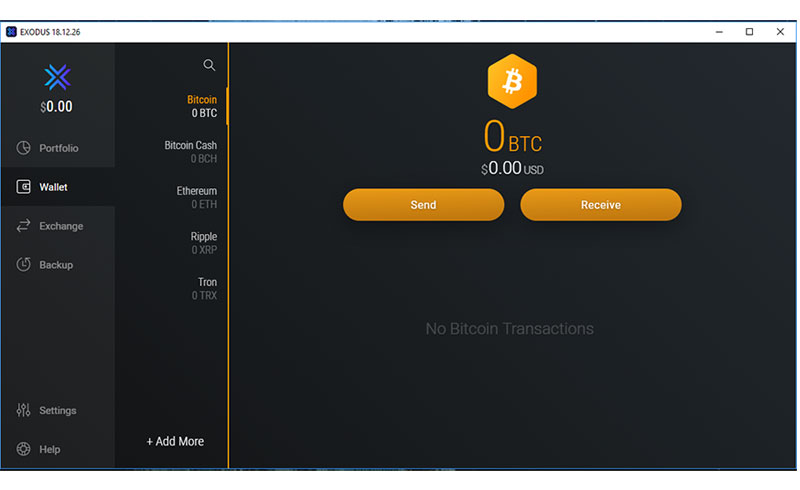 Click "Get" to display the wallet address and QR code. This is your public wallet address that is used to receive the selected cryptocurrency.
Please make sure you only send compatible assets to the correct wallet.
Here is an example of what a address for your bitcoin (BTC) wallet would look like:
Your bitcoin address: 1BfAdV1kAtynBHvXGUtbWZMqUXpQR9yfVJ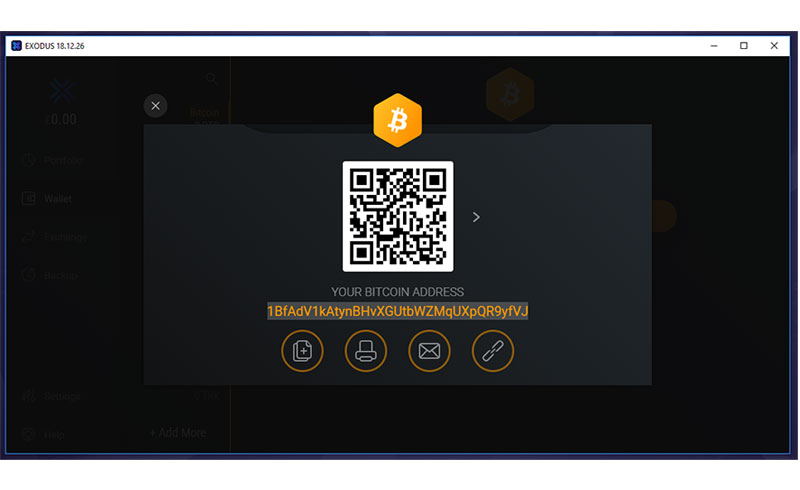 Available options are displayed below the wallet address: copy, print, send, or view on the blockchain.
Click the leftmost icon to copy your wallet address in full. You can also select the entire length, making sure all values are selected and copied.
This address is required to receive cryptocurrency. This process is the same for every cryptocurrency with wallets enabled.
Here is an example of what your wallet address would look like Bitcoin Cash (BCH):
Bitcoin Cash wallet address: qpfqwt9v602fduqhmuxvxy5qr7rc3mqaa534gkxz7x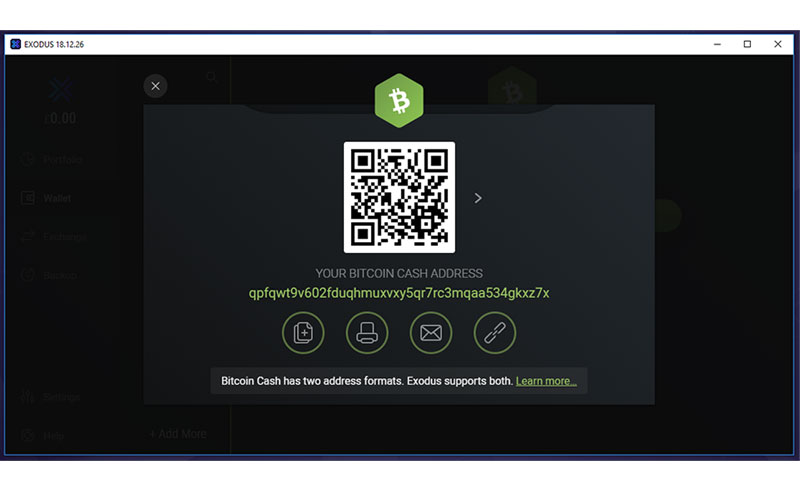 Here is an example of what your Ethereum (ETH) wallet address would look like:
Ethereum wallet address: 0x4E0Ca48b212Bece0F206c06E0F8d89f91957619e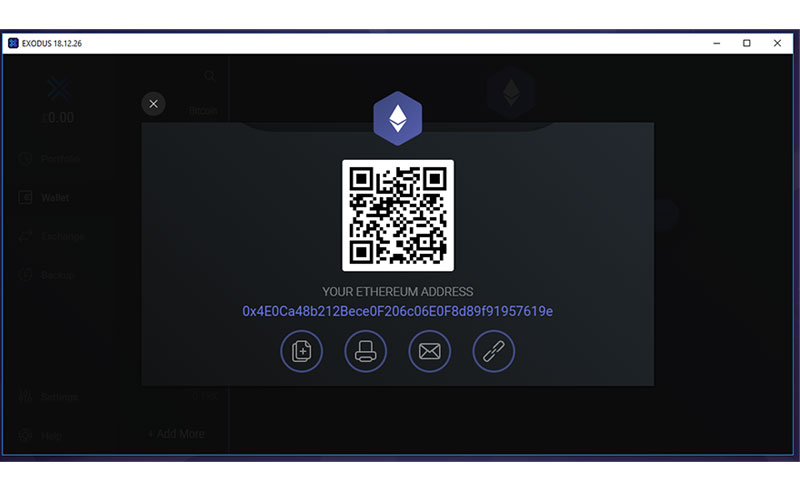 Here is an example of what your Ripple (XRP) wallet address would look like:
Ripple wallet address (XRP): rNT5H132fwkCnrYAXi7UTkAgB3KyQNNwmY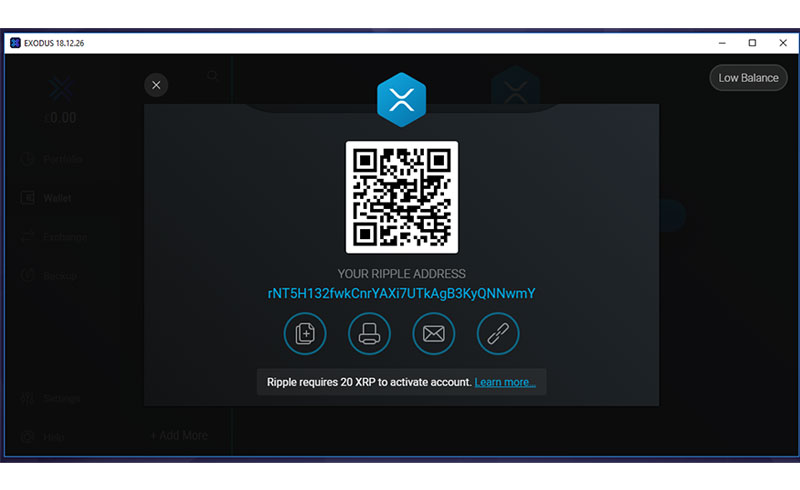 Here is an example of what your Tron (TRX) wallet address would look like:
Tron wallet address: TMGAYSpXE6tFXr6DvSsNsNzJcWuxmmvmFe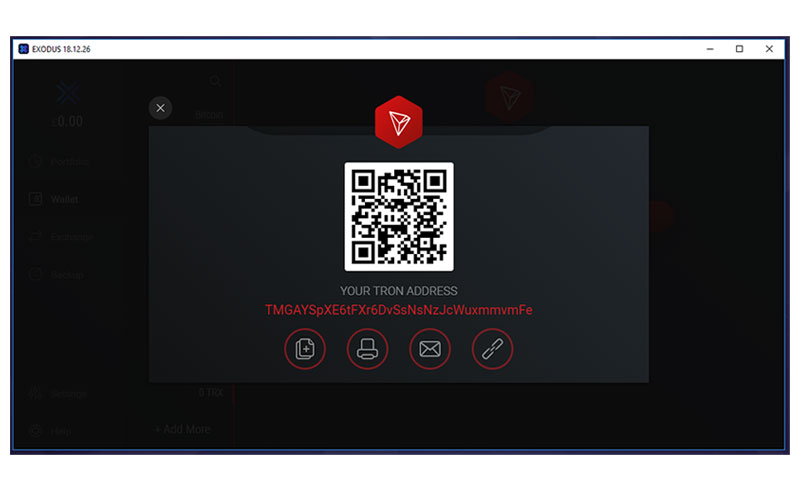 Additional wallet security
Only after making a cryptocurrency deposit to your Exodus wallet will the platform allow you to back up your wallet.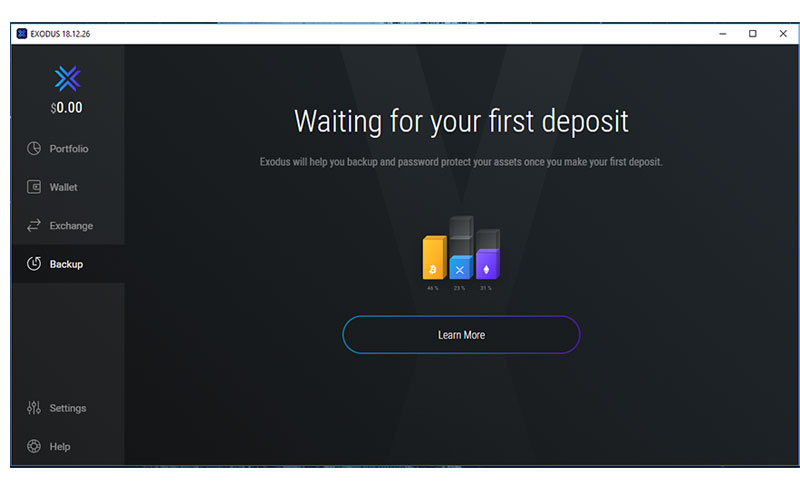 We advise you to create a backup so that you have emergency access to your wallet and the ability to restore digital assets. It is important that you keep this information safe and do not share it with anyone, as you risk losing your cryptocurrency.
Exodus Wallet Review
Advantages:
Very easy to use. Exodus is one of the most convenient interfaces.
Wide range of supported cryptocurrencies. Most major ERC 20 coins and tokens are compatible.
Tracks your portfolio and digital assets in real time.
Selective wallets, you can select cryptocurrencies to enable wallets at any time.
Excellent support. Exodus has prepared a huge amount of information, articles and videos on the platform to help users.
More secure than web wallet or hot wallet. Protected locally on your secure device.
Flaws:
Two-factor authentication is not available. Without this protection, wallet security can be compromised by device access and password.
The wallet cannot be backed up until after the initial cryptocurrency deposit has been made.
Exodus is a great platform to get started with the ability to store a wide variety of digital assets. Many blockchain experts continue to use this wallet interface to receive and store cryptocurrencies. While the platform is currently limited to desktop devices, the company will release a mobile app soon.
A desktop wallet is not the most secure way to store coins, but it is considered more secure than storing coins on an exchange or online provider. Wallet backup provides emergency access and recovery of digital assets.
---
Read more articles about cryptocurrencies and mining at COOL-MINING.ORG.
Do you like to read similar articles about cryptocurrencies and mining, do you want to support me as an author or ask questions? Be the first to know the news, subscribe to my telegram channel CRYPTO WIKIES | Bitcoin & Altcoins Mining