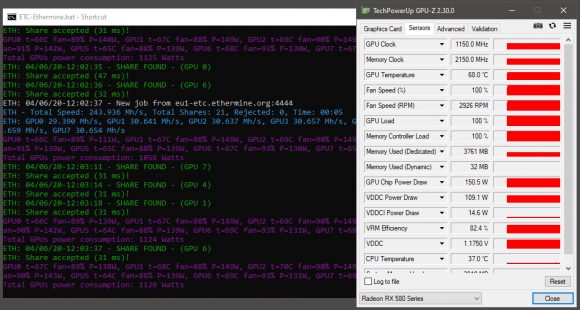 GPU miners currently using Ethereum Classic (ETC) on AMD Radeon RX 470/480 and 570/580 GPUs under Windows may start to get weird low performance on their first mining graphics card while other GPUSs work as usual. The reason for this is quite simple, despite the fact that we are still far from the DAG limit of 4 GB, since the current ETC # 337 DAG Epoch was supposed to occupy 3.63 GB according to the Claymore miner … the first GPU uses more video memory since It should display the operating system. The system graphical interface, unlike the rest, which is only mining. As a result, when using Windows, the first graphics processor takes up about 140–150 MB more video memory than others that are only in the process of mining, so the actually used video memory approaches the limit of 4 GB, and not 20-30. MH / s you can get only 1-2 MH / s for the first GPU, and soon it may even stop working.
Typically, the rest of the GPUs should currently occupy about 3745 MB of video memory in accordance with GPU-Z, while the first – about 3890 MB / s, and after a bit of mining this number may increase slightly. Obviously, at the moment, 8 GB GPUs occupy a little more video memory, but for them this is not a problem at all, they have more than enough video memory at the moment. What can you do to solve the problem if you do not have the opportunity to switch to Linux mining? Well, if your processor has an integrated graphics processor and the motherboard can use it correctly with 6-8 or more mining GPUs, you can try to turn it on and use it as the main graphics card for Windows, which will free up more resources and expand You have the time to mine Ethereum Classic without any problems. Switching to a Lunix-based OS, such as Hive OS, can also help extend the life of your ETC-mining installation with 4 GB AMD RX GPUs, since Linux usually requires less resources than Windows.
At the moment, Ethereum Classic (ETC) is still ahead of Ethereum (ETH) with 10 DAG epochs, so the same problem will appear for 4 GB of mining GPUs, which also mine ETH quite quickly. At the moment, performance has been reduced only for the first GPU, or it stopped altogether, but not too long after that the 4 GB limit will be problematic for all video cards with 4 GB of video memory, as the DAG size continues to grow. Bitmain recently addressed a similar issue with its Antminer E3 miners, releasing an updated firmware to free up a little more memory, as these miners also have only 4 GB of usable memory and thus extend their life for another couple of months for ETC and ETH mining, by at least.
Recommended New Articles:
SRBMiner-MULTI 0.4.2: Download CPU & GPU Miner for Windows
NBMiner 29.0: Download With Support for The New KAWPOW PoW Algorithm
GMiner v2.04: Download AMD/Nvidia GPu miner for Windows 7/10
TT-Miner v3.2.2 (TradeTec-Miner): Nvidia & AMD GPU miner
Bminer 16.0.7: Download the GPU miner Equihash / Ethash / Cuckaroo29 for AMD & Nvidia