This post is also available in:

Русский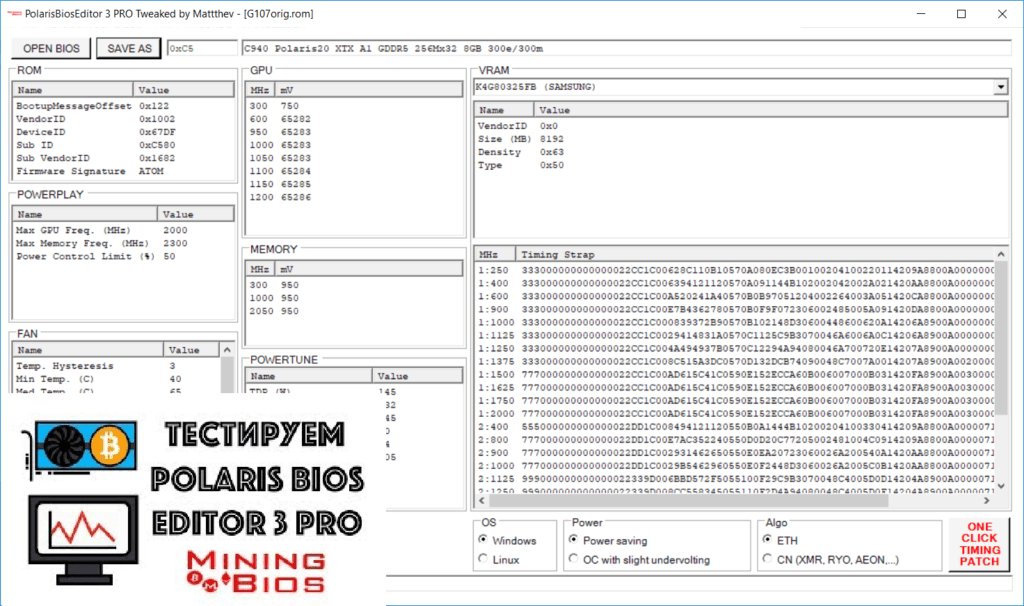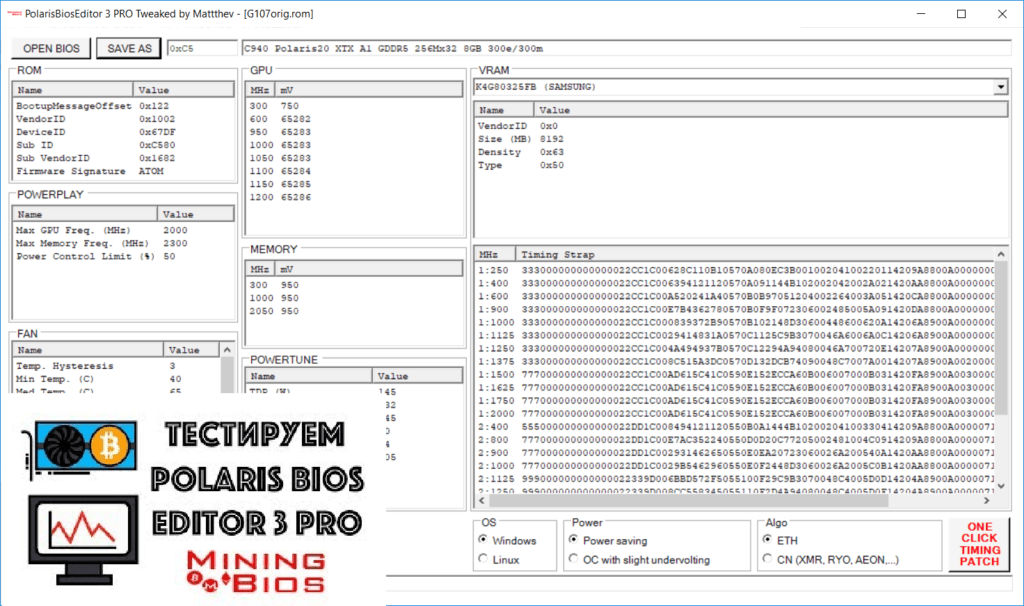 ---
Polaris Bios Editor 3 Pro is a tool with simple settings for modding AMD GPUs bios. New version of PBE 3 Pro with improved performance timings, automatic overclocking and undervoltage (power saving), ETH, XMR (CN), as well as special timings to increase mining speed for all miners. PBE 3 PRO recognizes and applies custom performance timings for more memory types (compared to PBE 1.6.7), for example H5GC8H24MJ and H5GQ4H24AJ, timings for this type are also available for mining ETH or XMR, you just select the one you need …
What else can Polaris Bios Editor 3 Pro do?
Timings are optimized for ETH and XMR or Universal, you can choose which one you want (available only for some types of memory);
Timing for 4 GB or 8 GB cards automatically selects the best time settings for the card size (available only for some memory types);
Detecting more memory types and applying appropriate timings (compared to PBE 1.6.7 and 1.7.0), new added support for H5GQ4H24AJ;
Automatic undervoltage, overclocking, overclocking (power saving option);
Gives the largest increase in hash rate compared to the standard ones, since for 100% performance you still need to manually adjust the memory clock frequency and core voltage, the editor cannot predict the quality of the card, so it is impossible to automatically use the upper values;
Supports Windows and Linux (x32 / x64 bit);
Supports almost all RX Polaris and Baffin cards (RX 460/470/480/560/570/580), (RX550 only a few of them, please contact me before buying);
More intuitive timer patcher and low voltage in future releases;
Energy saving option:

New Energy Saving Option! Automatically lower voltage in memory and core.

Авто управление OC:

Automatic memory overclocking for better hashing speed;
Instructions for PBE 3 PRO
Download archive from Polaris Bios Editor 3 Pro
Unpack the archive to a convenient location
Run PolarisBiosEditor.exe
Windows 10 is recommended (Windows 7 and 8 should be fine too), activation might not work on other OS)
Changelog:
PBE 3 PRO 2020
Новая память Samsung K4G80325FC
New 6FDF AMD Radeon RX 580 2048SP
PBE 3 PRO 2019 changes and updates
RX 590 support
New memory type H5GC8H24AJ
PBE 3 PRO changes and updates
New Micron, Hynix, Samsung and Elpida timings, better hashrate and stability
License check fixes
Some fixes and bugs (including a typo in Hynix)
New design
RX 560 detection due to need for different timing
Determine GPU Vendor (logo now displayed)
Tooltips