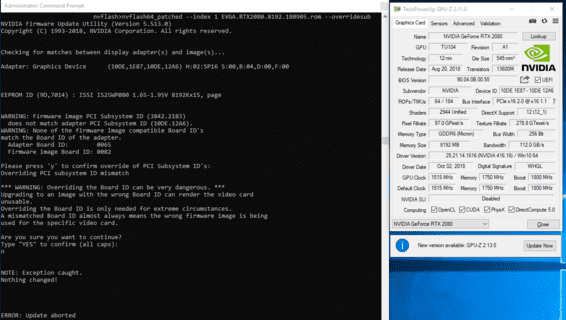 ---
NVIDIA NVFlash is used to flash the video card BIOS on Turing, Pascal, and on all old NVIDIA cards. This is a fixed half-version of NVFlash. On Turing cards, NVFlash no longer allows you to redefine the message "board ID mismatch" via command line parameters, so flashing RTX Founders Edition cards with non-standard BIOS is no longer possible. In this way, Vipeax modified the official NVFlash binary to get around this error. You do not need to enter any additional parameters to bypass the board ID verification.
NVFlash: https://www.techpowerup.com/download/nvidia-nvflash/
NVFlash supports BIOS flashing on NVIDIA graphics cards:
GeForce RTX 2080 Ti, RTX 2080, RTX 2070, RTX 2060, GTX 1660, GTX 1650
GeForce GTX 1080 Ti, GTX 1080, GTX 1070, GTX 1060, GTX 1050 and much more, including flashing BIOS on older NVIDIA GPUs.
Before flashing, make a backup copy of the current BIOS of the video card using:
nvflash --save backup.rom
To update the video card BIOS, use:
nvflash bios.rom
Changelog:
5.590.0
Added support for GeForce GTX 1650 Super and other recently released NVIDIA cards
5.513.0
Adds support for Turing GPUs
5.469.0
Adds support for Tesla V100-FHHL-16GB
5.449.0
Added support for:
Tesla V100-DGXS-32GB
Tesla V100-PCIE-32GB
Tesla V100-SXM2-32GB
Added ability to dump VBIOS for notebooks without discrete GPU EEPROM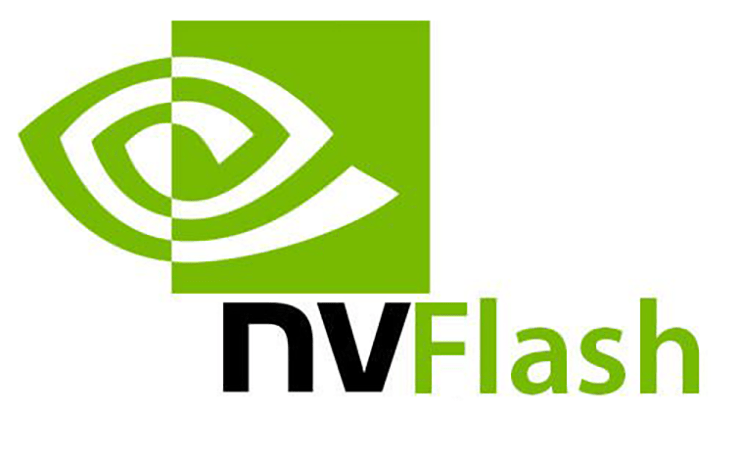 ---
Read more articles about cryptocurrencies and mining at COOL-MINING.ORG.
Do you like to read similar articles about cryptocurrencies and mining, do you want to support me as an author or ask questions? Be the first to know the news, subscribe to my telegram channel CRYPTO WIKIES | Bitcoin & Altcoins Mining
Recommended Related Articles:
New NBMINER 30.0: Download from OhGodAnETHlargementPill
Download APMinerTool V1.0.11 – Bitmain Antminer Toolkit for Windows
NPlusMiner v7.5.0: NVIDIA/AMD/CPU miner (GUI+AI+WebUI)
OhGodAnETHlargementPill (EthlargementPill) & GTX1080/TI/TitanXp
Download and Configure the new PhoenixMiner v5.0b ( AMD / NVIDIA GPU miner)
z-enemy v2.6.2 (Dk & Enemy) Download Nvidia GPU miner for Windows / Linux
The recently released lolMiner and BzMiner already offer better performance for AMD GPUs on the Nexapow algorithm, which is used in the NEXA blockchain project.

The Osprey Electronics E300 14 GH/s kHeavyHash was the first KASPA FPGA miner on the market, but other miners will follow. We can expect more KAS FPGA and ASIC miners in the near future.

Cronos is a tier one blockchain with no access rights that was created using the Cosmos SDK to ensure interoperability between the Cosmos and Ethereum networks. Its native token is CRO, which is the same native currency for the Crypto.org chain. For those who want to use CRO or access any DApps built on this chain, you need to add the chain to MetaMask for faster access.