This post is also available in:

Русский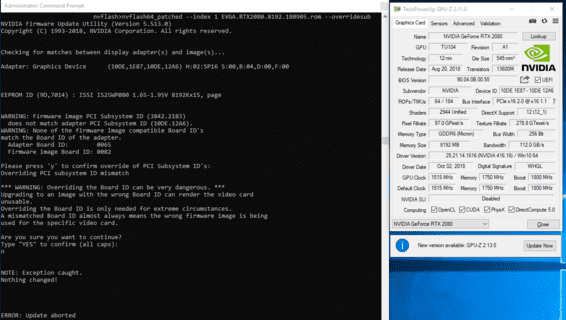 ---
NVIDIA NVFlash is used to flash the video card BIOS on Turing, Pascal, and on all old NVIDIA cards. This is a fixed half-version of NVFlash. On Turing cards, NVFlash no longer allows you to redefine the message "board ID mismatch" via command line parameters, so flashing RTX Founders Edition cards with non-standard BIOS is no longer possible. In this way, Vipeax modified the official NVFlash binary to get around this error. You do not need to enter any additional parameters to bypass the board ID verification.
NVFlash: https://www.techpowerup.com/download/nvidia-nvflash/
NVFlash supports BIOS flashing on NVIDIA graphics cards:
GeForce RTX 2080 Ti, RTX 2080, RTX 2070, RTX 2060, GTX 1660, GTX 1650
GeForce GTX 1080 Ti, GTX 1080, GTX 1070, GTX 1060, GTX 1050 and much more, including flashing BIOS on older NVIDIA GPUs.
Before flashing, make a backup copy of the current BIOS of the video card using:
nvflash --save backup.rom
To update the video card BIOS, use:
nvflash bios.rom
Changelog:
5.590.0
Added support for GeForce GTX 1650 Super and other recently released NVIDIA cards
5.513.0
Adds support for Turing GPUs
5.469.0
Adds support for Tesla V100-FHHL-16GB
5.449.0
Added support for:
Tesla V100-DGXS-32GB   
Tesla V100-PCIE-32GB   
Tesla V100-SXM2-32GB
Added ability to dump VBIOS for notebooks without discrete GPU EEPROM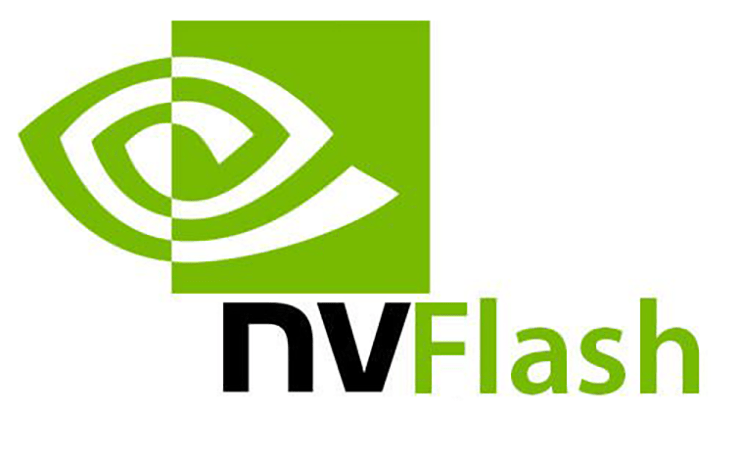 ---
Read more articles about cryptocurrencies and mining at COOL-MINING.ORG.
Do you like to read similar articles about cryptocurrencies and mining, do you want to support me as an author or ask questions? Be the first to know the news, subscribe to my telegram channel CRYPTO WIKIES | Bitcoin & Altcoins Mining
Recommended Related Articles:
New NBMINER 30.0: Download from OhGodAnETHlargementPill
Download APMinerTool V1.0.11 – Bitmain Antminer Toolkit for Windows
NPlusMiner v7.5.0: NVIDIA/AMD/CPU miner (GUI+AI+WebUI)
OhGodAnETHlargementPill (EthlargementPill) & GTX1080/TI/TitanXp
Download and Configure the new PhoenixMiner v5.0b ( AMD / NVIDIA GPU miner)
z-enemy v2.6.2 (Dk & Enemy) Download Nvidia GPU miner for Windows / Linux
Is this a complete introduction to Ethereum (ETH) mining? Mining ETH with GPU in 2022. How is Ethereum mined and what exactly is it mining? What do you need to mine Ethereum? mining processes and types of mining. Let's look at the profitability of Ethereum mining in 2022.

The Ethereum token, often known as EthereumPOW, ETHW or IOU, has undergone a split. Due to the hard fork, the currency first appeared on September 15, 2022. As some miners refused to accept the upgrade to PoS, the Ethereum network split and the ETHPoW coin emerged with a precarious future (IOU).

The cost of graphics processing units (GPUs) has risen significantly as a result of the semiconductor shortage caused by the 2020-2021 pandemic. Videocards are increasingly purchased by miners on the secondary market. Used GPUs are 30-50% cheaper than brand new ones. However, there is a chance of getting a faulty gadget that has almost used up all its resources. For this reason, you must learn how to evaluate the mining and performance of a video card. A processor that you buy on your own without first evaluating it can cost you money. The card goes through a thorough testing process that includes verification, document analysis, BIOS firmware analysis, and stress testing using specialized software.