This post is also available in:

Русский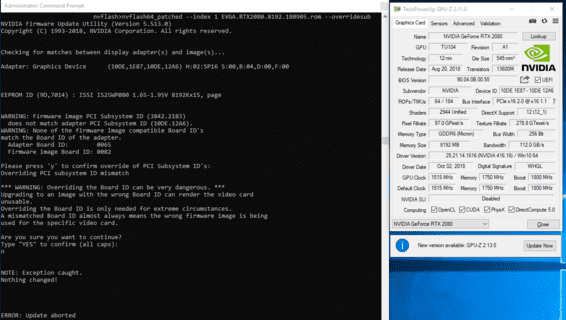 ---
NVIDIA NVFlash is used to flash the video card BIOS on Turing, Pascal, and on all old NVIDIA cards. This is a fixed half-version of NVFlash. On Turing cards, NVFlash no longer allows you to redefine the message "board ID mismatch" via command line parameters, so flashing RTX Founders Edition cards with non-standard BIOS is no longer possible. In this way, Vipeax modified the official NVFlash binary to get around this error. You do not need to enter any additional parameters to bypass the board ID verification.
NVFlash: https://www.techpowerup.com/download/nvidia-nvflash/
NVFlash supports BIOS flashing on NVIDIA graphics cards:
GeForce RTX 2080 Ti, RTX 2080, RTX 2070, RTX 2060, GTX 1660, GTX 1650
GeForce GTX 1080 Ti, GTX 1080, GTX 1070, GTX 1060, GTX 1050 and much more, including flashing BIOS on older NVIDIA GPUs.
Before flashing, make a backup copy of the current BIOS of the video card using:
nvflash --save backup.rom
To update the video card BIOS, use:
nvflash bios.rom
Changelog:
5.590.0
Added support for GeForce GTX 1650 Super and other recently released NVIDIA cards
5.513.0
Adds support for Turing GPUs
5.469.0
Adds support for Tesla V100-FHHL-16GB
5.449.0
Added support for:
Tesla V100-DGXS-32GB   
Tesla V100-PCIE-32GB   
Tesla V100-SXM2-32GB
Added ability to dump VBIOS for notebooks without discrete GPU EEPROM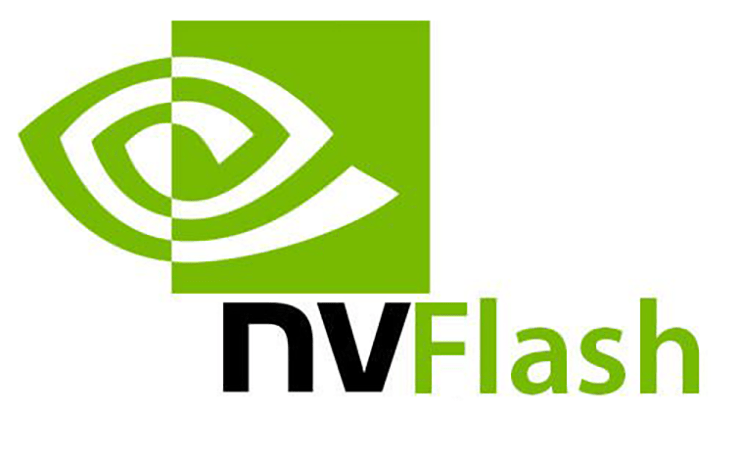 Read more articles about cryptocurrencies and mining at COOL-MINING.ORG.
Do you like to read similar articles about cryptocurrencies and mining, do you want to support me as an author or ask questions? Be the first to know the news, subscribe to my telegram channel t.me/cryptomineg.
Recommended Related Articles:
New NBMINER 30.0: Download from OhGodAnETHlargementPill
Download APMinerTool V1.0.11 – Bitmain Antminer Toolkit for Windows
NPlusMiner v7.5.0: NVIDIA/AMD/CPU miner (GUI+AI+WebUI)
OhGodAnETHlargementPill (EthlargementPill) & GTX1080/TI/TitanXp
Download and Configure the new PhoenixMiner v5.0b ( AMD / NVIDIA GPU miner)
z-enemy v2.6.2 (Dk & Enemy) Download Nvidia GPU miner for Windows / Linux
In this article we will look at how to make a long-term price forecast for Terra Luna 2.0. We will use some simple methods and tools to help us predict the future value of Terra Luna 2.0. So, if you are interested in trading or investing in Terra Luna 2.0, this article is for you.

Vitalik expressed support for Optimism's governance structure and the OP gas proposal. The Ethereum co-founder has often advocated that projects do away with coin voting in DeFi and DeGov, as this would give smaller holders a chance to actually participate in governance. Ethereum co-founder Vitalik Buterin supported Optimism's new governance structure, noting that proposals such as using the OP token to pay for gas demonstrate a "clear representation of non-tokenholder interests."

The DeFi community rallied around PoolTogether to reach the $1.4 million NFT defense funding goal. "Right now I'm speechless. I am overwhelmed by how the community has rallied around PoolTogether Inc and me," said PoolTogether co-founder Leighton Cusack. Decentralized funding platform (DeFi) for win-win lotteries PoolTogether has reached 100% of its goal of funding judicial protection through the sale of NFT.