This post is also available in:

Русский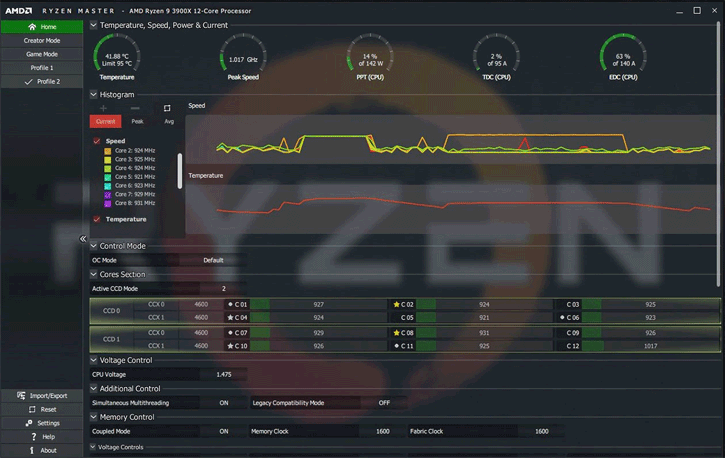 ---
Download the latest iteration of the AMD Ryzen Master Utility. Your tool to unlock AMD Ryzen Processors. Every AMD Ryzen processor is multiplier-unlocked from the factory, so you can personalize performance to your taste. AMD provides the AMD Ryzen Master utility to access this powerful advantage. AMD Ryzen Master provides for up to four profiles to store custom user-defined configurations for both the Ryzen CPU, integrated Radeon™ Vega graphics and DDR4 memory. You can adjust active cores, integrated graphics frequency and adjust memory timings, too, to optimize general performance or fine tune for your favorite applications. The integrated GPU in the AMD Ryzen with Radeon Vega graphics processor can also be overclocked for even higher gaming performance when overclocking cores and memory. Tune up your favorite game, rename the profile and you can easily return to the optimized setting. Accurate hardware status updates are vital, so AMD Ryzen Master has you covered with both real-time monitoring and a histogram of per-core clock rates and temperature, including average and peak readings.
Ryzen Master also now includes Dynamic Local Mode, an exciting new feature specifically for AMD Ryzen Threadripper WX Series processors that can automatically improve performance in select applications.
Change Info:
Release Highlights Adds support for AMD Ryzen 5000 series processors. Minimum System Configuration 3rd Gen AMD Ryzen Desktop Processors on an X570 motherboard. Windows 10 May 2019 Update (or newer) This version can be installed on top of an existing version of Ryzen Master, but it is recommended that you uninstall the previous version before installing 2.6.0.1692. Fixed Issues Includes all previous AMD Ryzen Master V2.3.x features Known Issues Not all features are visible or supported on Legacy Processors .

Download Locations:
Download Mirror EU – Germany (1000 Mbit/s)
Download Mirror EU – Netherlands 10 Gbit/s)