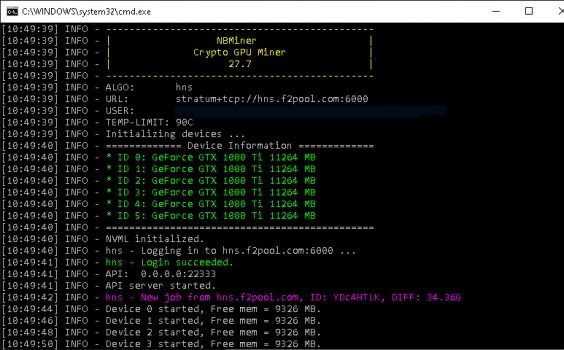 The latest NBMiner 27.7 update comes with improvements for Handshake (HNS) and HNS + ETH Dual mining on Nvidia GPUs, bringing slightly better performance, as well as some fixes such as NVML initialization failure in certain cases and ETH mining on NiceHash. With the latest performance improvement, NBMiner 27.7 is again becoming the leader in mining performance Handshake from the latest GMiner. With the latest performance improvements, the 6×1080 Ti mining rig is approaching the Blackminer FPGA with HNS support, although the GPUs are still a bit slower and consume a bit more power. However, HNS mining is now probably still worth it when the first Handshake ASIC miner is expected in June.
We remind you that NBMiner is a closed-source GPU miner for Nvidia CUDA, and now AMD, which is available for both Windows and Linux operating systems and has the following built-in board for developers:
What's New in v27.7:
Fix ETH mining on NiceHash
Fix NVML initialization failure on certain cases.
修复ETH Nicehash协议
修复部分情况下NVML初始化失败的问题
Recommended Related Articles:
TT-Miner v3.2.2 (TradeTec-Miner): Nvidia & AMD GPU miner
Bminer 16.0.7: Download GPU miner Equihash/Ethash/Cuckaroo29 для AMD & Nvidia
GMiner 2.00 (Win / Linux 32/64-bit): Download miner for AMD / Nvidia GPUs
lolMiner v0.9.8 — Download and Configure Nvidia/AMD miner forWindows
OhGodAnETHlargementPill (EthlargementPill) — GTX1080/TI/TitanXp