ASICs are now the only way to profitably mine Ethereum (ETH) because GPUs are no longer efficient enough. However, as currencies like Cardano (ADA), Conflux (CFX), Ravencoin (RVN), and Ergo (ERG) become more popular, GPU mining will remain important for a very long time to come.
The Ergo coin now costs 150 rubles. The coin has a market value of 8,739,282,568 and has 58,638,426.00 ERG in circulation.
If you want to mine ergo coins to earn extra money, this guide will show you how. Let's take a look at Ergo first to see what it is and what makes it unique in the world of cryptocurrencies.
A project called Ergo was founded in 2019 and offers a programmable blockchain with a reliable and energy efficient mining process. The project also uses Ethereum-style smart contracts for its DeFi features and Bitcoin's Proof-of-Work (PoW) consensus algorithm to secure the network.
In addition, Ergo uses the "Autolykos" mining process, a modified version of the bitcoin mining protocol. The Autolykos protocol is also more energy efficient due to its high resistance to large mining pools and application integrated circuit (ASIC) miners. To counteract the shortcomings of the Bitcoin PoW protocol, the Ergo protocol reduces the mining power of each node. In addition, Autolykos, an ASIC-resistant Proof of Work algorithm written in Scala, is the backbone of Ergo mining.
Economics Ergo.
The cost of storing an obsolete cryptocurrency is one of the features of Ergo. A miner may charge a small fee per byte stored if the digital asset remains in a non-transferable state for four years. This, however, gives the Ergo a number of advantages. First, this will enable stable mining of ERG. Again, only 21 million bitcoins are available at any given time, and the main source of income for miners will be transaction fees. Thus, Ergo miners in this situation have an additional source of income.
Again, by receiving storage fees from older cryptocurrencies, miners can replenish lost money. It also helps to avoid serious mishandling caused by misplaced keys.
Ergo Features.
Ergo uses its own smart contract language, known as ErgoScript, to implement a number of technological and financial advances that are difficult to implement on modern blockchains. A tool called ErgoScript, a protocol-friendly and powerful programming language built on -protocols, secures every currency on the Ergo blockchain.
Users can specify who can spend money, when, under what circumstances, to whom and other details using ErgoScript.
Ergo is developing revolutionary DeFi features and cutting-edge encryption capabilities with a focus on long-term viability. The main goal of Ergo is to make it easier for ordinary people to implement decentralized, insecure smart finance contracts.
The usability of Ergo has been improved with the addition of ErgoScript and support for lightweight nodes. Complex smart contracts can now be implemented and managed by users even from standard devices such as smartphones.
The idea of renting storage space is one of the distinguishing features of Ergo. By returning the currency to miners that have not been accessed for at least four years, this solves the problem of lost bitcoins. In addition, there is a product called ERGO Mixer that offers privacy coin features.
There are also some other features. Ergo promises a lot. Thus, smart contracts exist. The group is developing Ergo Dex, a Uniswap-like program based on the Ergo script. A number of other decentralized exchanges will be introduced in the near future. Registry support coming soon. Platforms for NFT are already presented. The group is also working on sidechains and interoperability with the Cardano (ADA) network. Some claim that Ergo is Chainlink Cardano, and Charles Hoskinson, the founder of the company, even backed the project. Numerous decentralized applications will soon be available on the Ergo blockchain.
Mining Ergo.
The best graphics cards for Ergo mining are as follows:
1) Best Overall – NVIDIA GeForce RTX 3070 LHR 2) Highest hashrate – NVIDIA GeForce RTX 3090 3) Best Value – NVIDIA GeForce RTX 3060 Ti LHR (GA103) 4) Better Efficiency – AMD Radeon RX Vega 56 5) Lowest Power Consumption – AMD Radeon RX 6600 XT 6) Fastest ROI – NVIDIA GeForce GTX 1060 6GB
NVIDIA GEFORCE RTX 3070 LHR.
Boost Clock: 1.725 MHz | Memory: 8GB GDDR6 | Hashrate: 169 MH/s @ 120W | Efficiency: 1.40 MH/W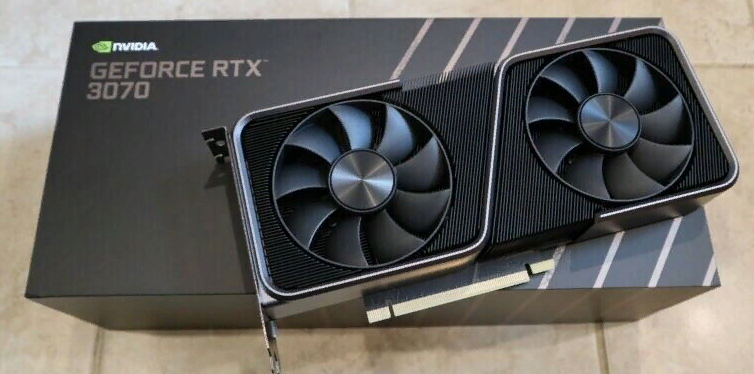 At the moment, one of the best graphics cards for Ergo mining is the GeForce RTX 3070 LHR. It has an energy efficiency of 1408 kH per watt and can generate a hash rate of 169 MH/s with a total power consumption of 120W. (highest among GeForce RTX 30 series GPUs). The card has a high resale value as it also offers superior shading and ray tracing capabilities. This card is perfect for mining Ethereum and other currencies as it has 100% LHR unlock. We highly recommend getting this card if you want to mine Ergo because the retail prices of various custom-tuned RTX 3070 cards have all but hit MSRP levels in recent months.
Advantages:
1) High mining performance 2) High extraction rate 3) Also useful for mining other currencies 4) Keeps the ideal temperature and is silent. 5) High resale value
Disadvantages:
1) The retail price is still a little more expensive.
NVIDIA GEFORCE RTX 3090.
Boost Clock: 1.695 MHz | Memory: 24GB GDDR6X | Hashrate: 279 MH/s @ 260W | Efficiency: 1.07MH/W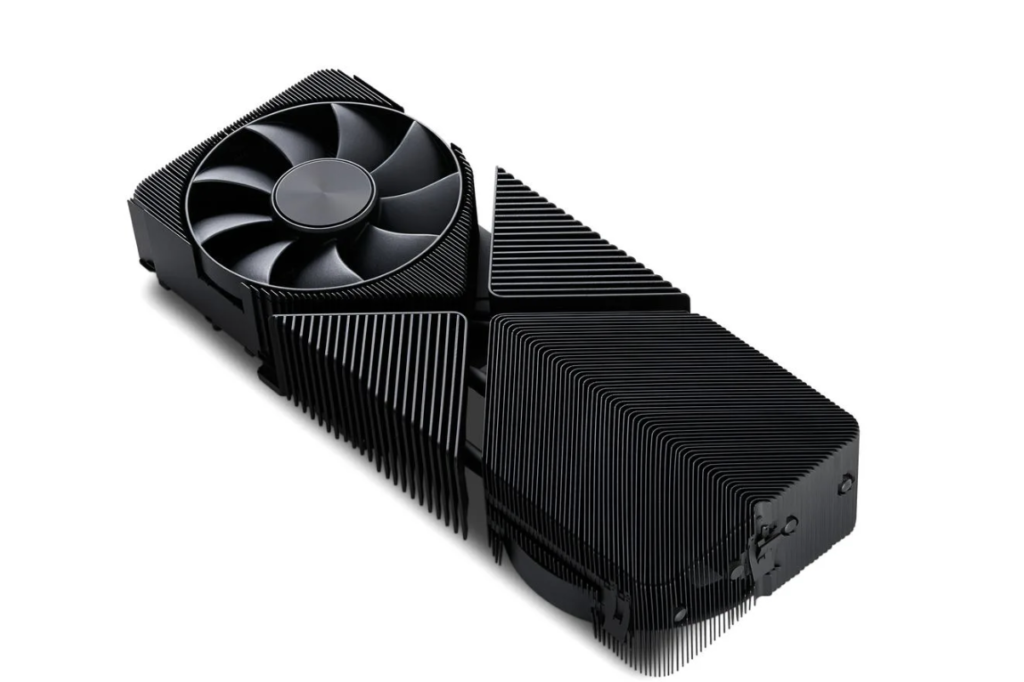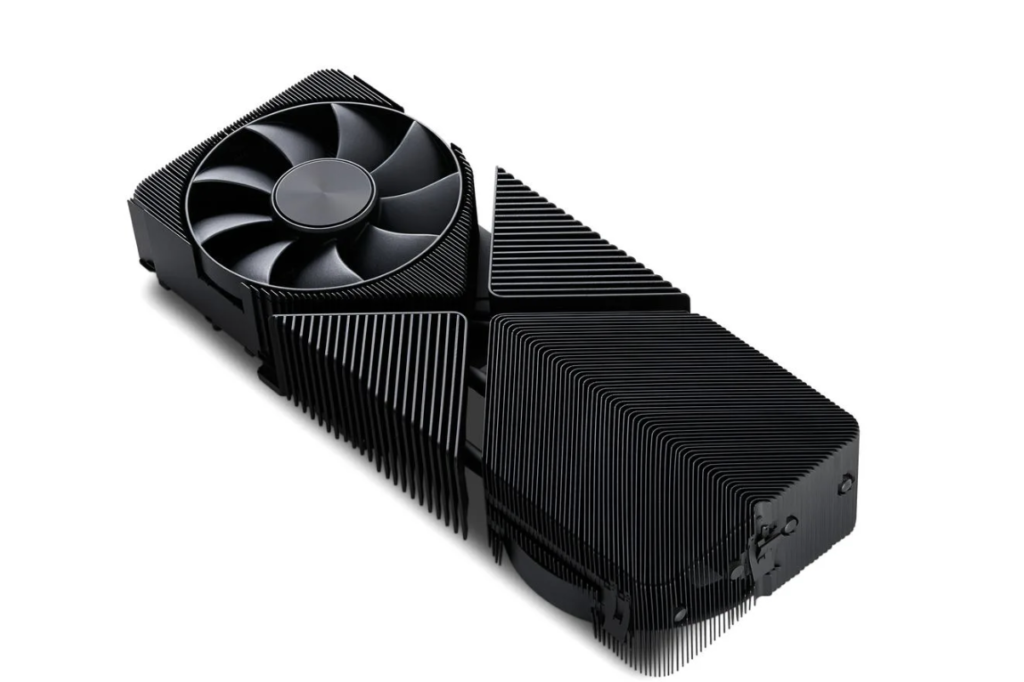 This card outperforms the competition when it comes to Ergo mining. The RTX 3090 has an outstanding efficiency of 1073 kH per watt and can produce 279 MH/s at 260W. However, you will need to use certain overclocking settings to achieve such high power efficiency, which is why we advise you to buy a high-end RTX 3090 model such as ASUS ROG Strix or Gigabyte AORUS because these cards handle high overclocking well due to for numerous power phases and high-end cooling systems.
Advantages:
1) Extremely high mining hashrate 2) Highly efficient energy use 3) Excellent 4K performance 4) Suitable place for overclocking 5) The retail price is less than the manufacturer's recommended retail price.
Disadvantages:
1) Excessive electricity consumption 2) Still very expensive
NVIDIA GEFORCE RTX 3060 TI LHR (GA103).
Boost Clock: 1.665 MHz | Memory: 8GB GDDR6 | Hashrate: 160 MH/s @ 139W | Efficiency: 1.15MH/W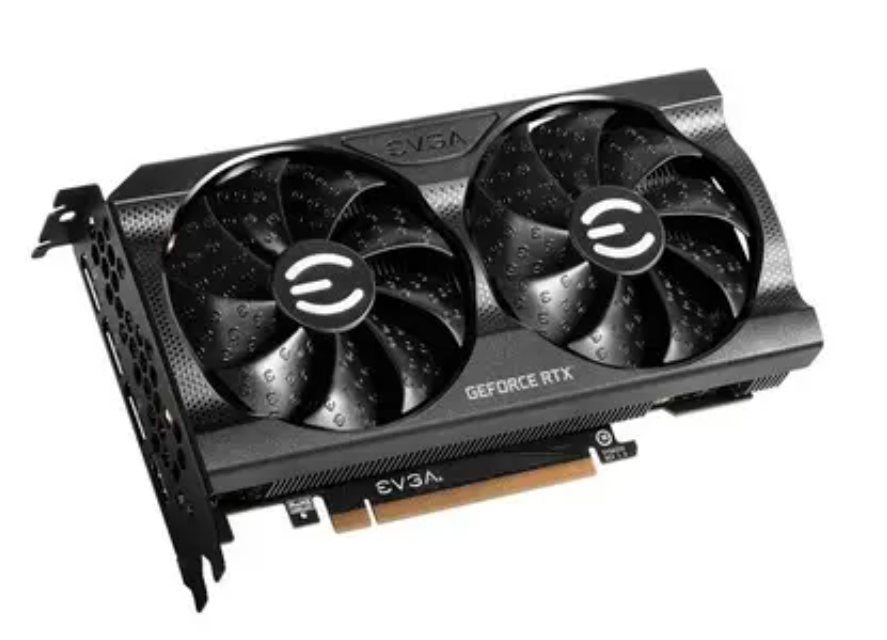 Due to the built-in mining limitation, the GeForce RTX 3060 Ti LHR was previously considered not a very suitable graphics card for mining. Fortunately, in May 2022, new bitcoin miners with 100% LHR unlocking began to appear on the network, allowing this card to operate at full capacity.
If you're on a budget, the GeForce RTX 3060 Ti is a great graphics card for mining. Its latest version, which includes the GA103 GPU, delivers an outstanding 160MHz speed on the Autolykos algorithm while consuming only 139W of power. At this speed, this card is only slightly less power efficient than the GeForce RTX 3070, but costs significantly less because it's cheaper. Overall, this graphics card is great and has very few downsides.
Advantages:
1) Excellent value for money. 2) Ideal for ergo mining 3) Extremely energy efficient 4) Small size
Disadvantages:
They don't exist.
Mining Ergo.
The first step in Ergo mining is to create a wallet where you can send and receive cryptocurrency. The next step is to link your PC to a mining pool so you can start mining. Once again, you should keep an eye on your GPU temperature to keep your computer safe.
1) Make a crypto wallet.
As already said, you need a crypto wallet before you can start mining Ergo coins. A crypto wallet is a digital version of a physical wallet where you can store your money. Digital wallets make it easy to transfer cryptocurrencies. In addition, they allow you to view and share the wallet address for a transaction and check your balance.
The best cryptocurrency wallets for 2023 are listed below:
1) ByBit 2) Trust Wallet 3) Exodus
You will be presented with several options. They are available for download on Windows, Android and iOS.
If you want to mine Ergo coins, select "Ergo". then select "Create Wallet" from the menu.
After that, enter the name of your wallet. You should also choose your "recovery phrase" and save it, as you will need it to secure any future transactions you make.
Only that. Your wallet is what you made. Connecting your hardware to the mining pool is the next step.
2) Mine a coin with Nanopool.
Ergo has two mining options: farm mining or mining pools. In this tutorial, we will be using a mining pool that you can use on your PC. Since mining rigs are expensive, we suggest using mining pools instead if you cannot afford them.
A mining pool is a collaborative organization of cryptocurrency miners who pool the computing power of their network. Each miner who joins the pool earns less money as the cryptocurrency miners share the prize among themselves. But considering how unlikely it is that lone miners (miners using mining hardware) will be able to mine even one block, this increase is actually quite realistic. Since mining pools often pay out, we thought of Nanopool. The cryptocurrency that this mining pool is focused on uses graphics cards the most. These digital currencies are supported by the pool: Ergo (ERGO), Ethereum Classic (ETC), ZCash (ZEC), Raven (RVN) and Monero (XMR). Using massive farms with powerful GPUs and video cards, it is also possible to mine two cryptocurrencies at the same time.
Therefore, to mine Ergo with Nanopool, go to the nanopool.org website and select the desired coin.
Join a mining pool by selecting "Quick Start".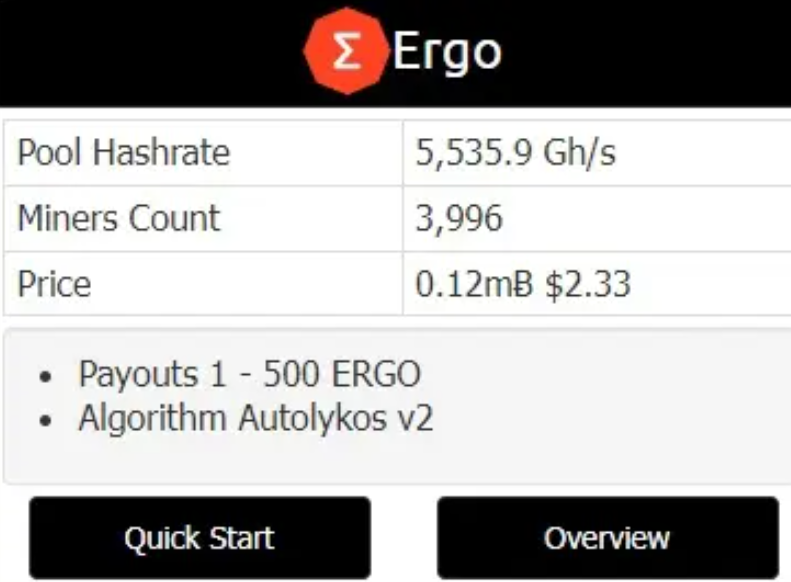 Zip the miner and download it.
Save the file you just extracted from the zip archive to any folder on your computer. Then set up the miner.
After that, open the file and substitute the address of your wallet with the specified one. After that, save the data.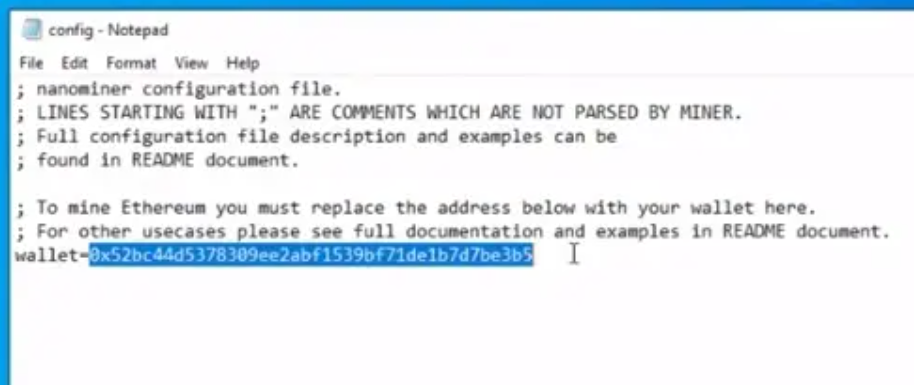 Fill out the "configure ergo" file with information about the mining rig, then save it.
Open nanominer file, run it and wait for a while.
Without mining hardware, you can efficiently mine Ergo currency on your PC.
Mining pool.
Through 2Miners Pool, you can mine Ergo on your PC in another easy way. The wallet needs to be done. mining program, download. This guide is offered by lolMiner. Nbminer, TeamRedMiner and T-rex are additional options.
AMD and Nvidia GPUs are compatible with lolMiner and nbminer. Only AMD graphics cards support TeamRedMiner. How much money can I make mining Ergo?
Finding a block is becoming more of a challenge as more people join the Ergo currency mining network. The number of Ergo coins you receive is also affected by the consistency of the hashrate. If you are using Nanopool, please use ergo.nanopool.org to determine your expected return.
Conclusion.
Recently, mining cryptocurrency has become easier. Digital assets like Ergo can be mined using simple procedures/methods like Nanopool and 2Minerspool. The procedures for using your PC to mine Ergo coins are described here.
You should be aware that your ERG stocks will increase along with the price of Ergo (ERG). Therefore, to increase the profitability of ergo mining, market monitoring is necessary.
In response to the stagnation in the blockchain industry, Ergo was developed. As a result, developers have put into practice many practical technological and financial concepts that add value while maintaining the known advantages of blockchain systems.
The main goal of Ergo is to improve the security and efficiency of financial contracts, which are the most common application of blockchain technology.
---
Read more articles about cryptocurrencies and mining at COOL-MINING.ORG.
Do you like to read similar articles about cryptocurrencies and mining, do you want to support me as an author or ask questions? Be the first to know the news, subscribe to my telegram channel CRYPTO WIKIES | Bitcoin & Altcoins Mining