This post is also available in:

Русский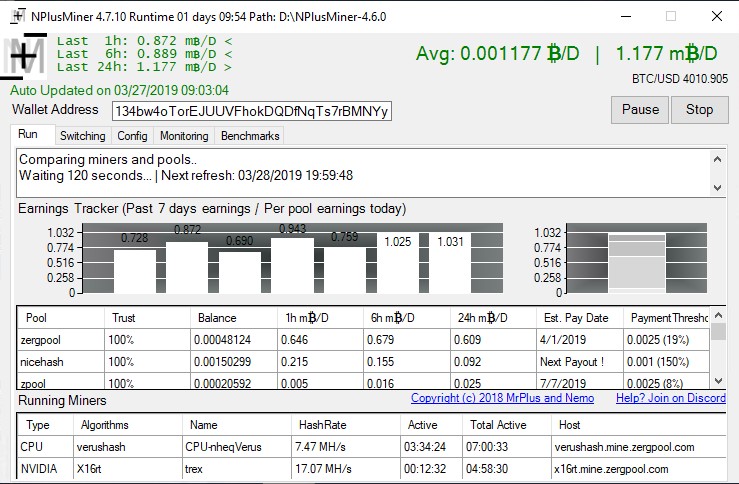 ---
NPlusMiner v7.5.0 — This is a convenient and functional miner with a GUI and a powerful backend that in real time monitors various mining pools to find the most profitable mining pool and algorithm for mining at the moment. It supports CPU mining, AMD and Nvidia GPUs and, of course, uses the most popular miner software that you usually use to manually mine for a specific pool and for a specific algorithm. The miner has a built-in development fee and it is 1% (DevFee 1%)
ChangeLog v7.5.0
Added DevFee visualization in WebUI
Improve AutoRegistration (Updates)
Fixed Logical Proc detection when multiple physical procs
Added days to Active and TotalActive time
Improved first run experience

NPlusMiner will detect if prerequisites are installed and will attempt to install them
Users have to approve UAC
For more help and HowTos please check our wiki here: https://github.com/MrPlusGH/NPlusMiner-Documentation/wiki
Please note miners are often flagged as malware by antivirus software. They are not, they are labeled simply because they are cryptocurrency miners. If you don't trust the software, don't use it!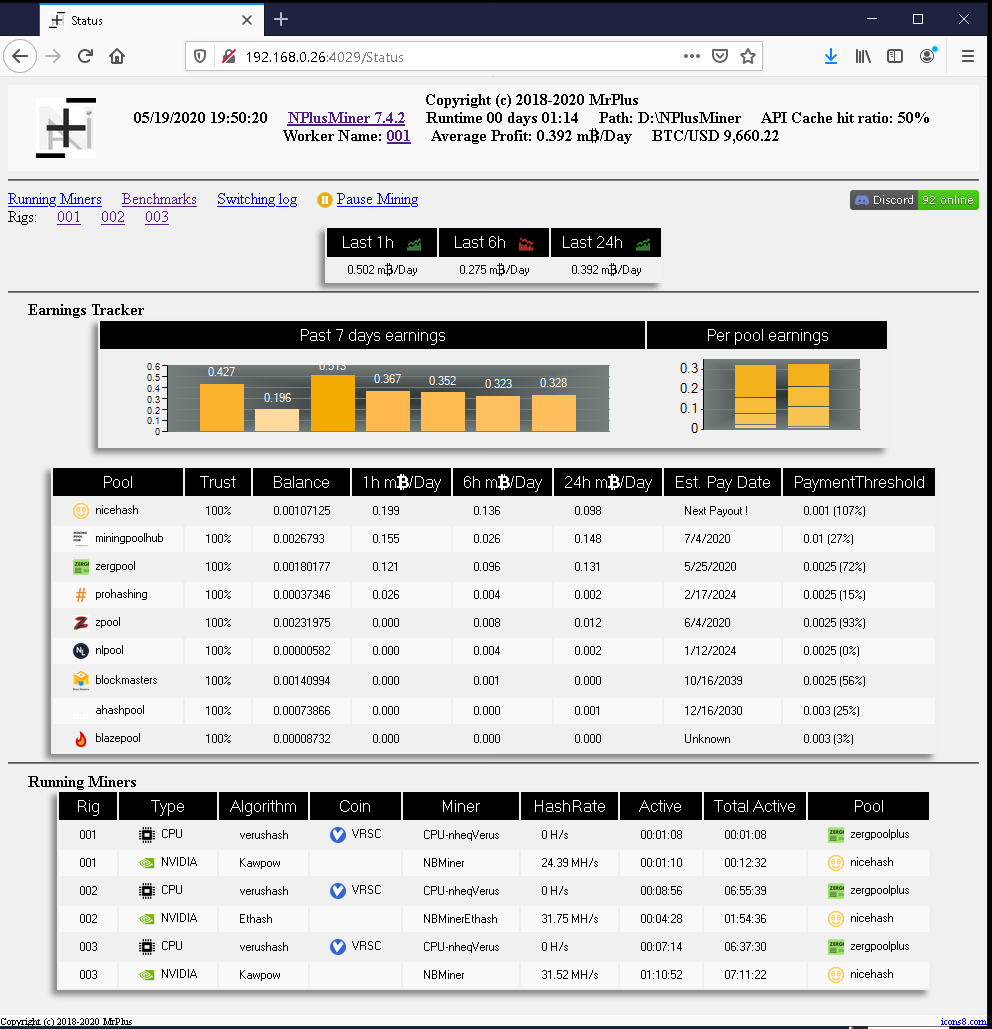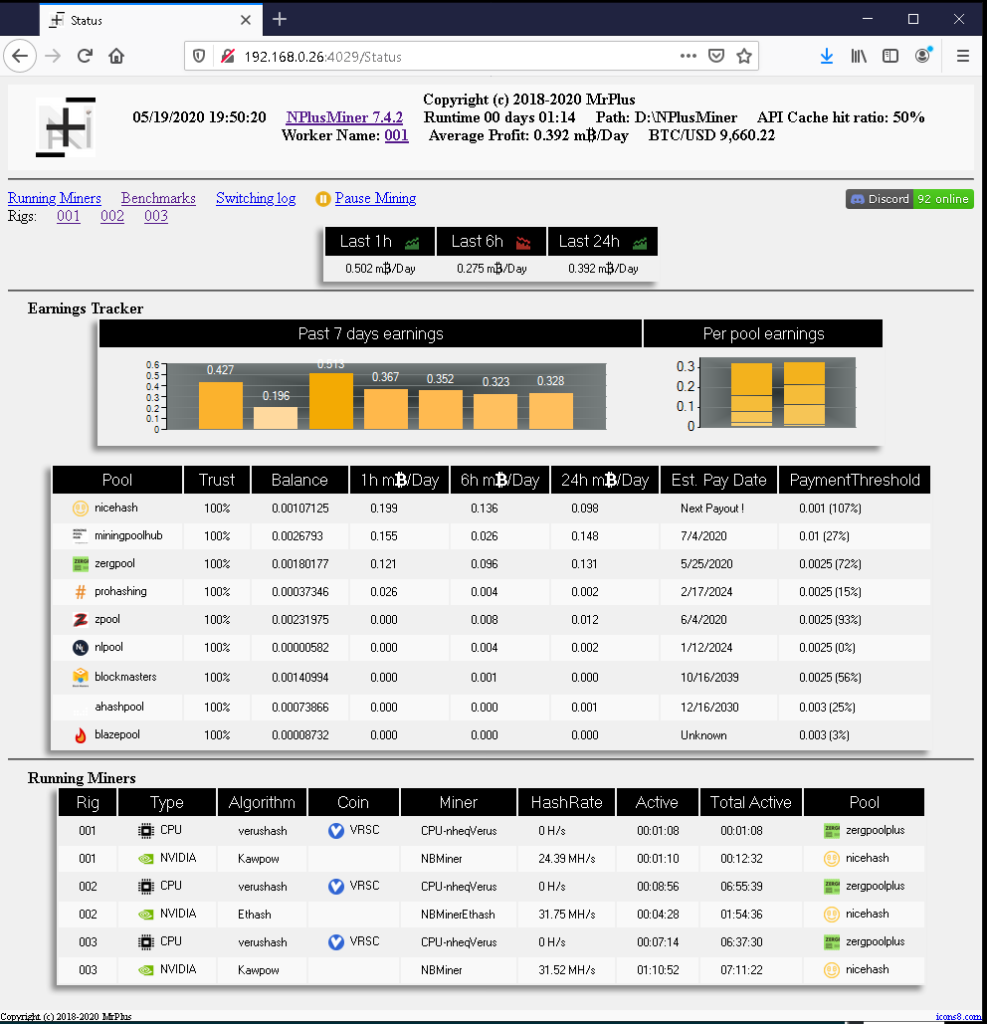 Features list
Supported pools:
---
If you have Windows 8, or 8.1, please update PowerShell: https://www.microsoft.com/en-us/download/details.aspx?id=50395
Some miners may need 'Visual C++ 2013' if you don't already have it: (install both x86 & x64) Visual C++ Redistributable for Visual Studio 2012/2013: https://www.microsoft.com/en-US/download/details.aspx?id=40784
Some miners may need 'Visual C++ 2015' if you don't already have it: (install both x86 & x64) Visual C++ Redistributable for Visual Studio 2014/2015: https://www.microsoft.com/en-US/download/details.aspx?id=48145
Some miners may need 'Visual C++ 2015 update 3' if you don't already have it: (install both x86 & x64) Visual C++ Redistributable for Visual Studio 2015 update 3: https://www.microsoft.com/en-us/download/details.aspx?id=53587
running multiple cards its recommended to increase Virtual Memory 64gb is optimal
Requires Nvidia driver 431.86: https://www.geforce.com/drivers
Made For & Tested with 6×1070 6x1070ti 6×1080 6x1080ti 9x1660ti 6×2060 6×2070 6×2080 6x2080ti(users have reported up to 12cards working have not tested myself) Some miners do not support more that 9 cards
---
Licensed under the GNU General Public License v3.0 Permissions of this strong copyleft license are conditioned on making available complete source code of licensed works and modifications, which include larger works using a licensed work, under the same license. Copyright and license notices must be preserved. Contributors provide an express grant of patent rights. https://github.com/mrplusgh/NPlusMiner/blob/master/LICENSE