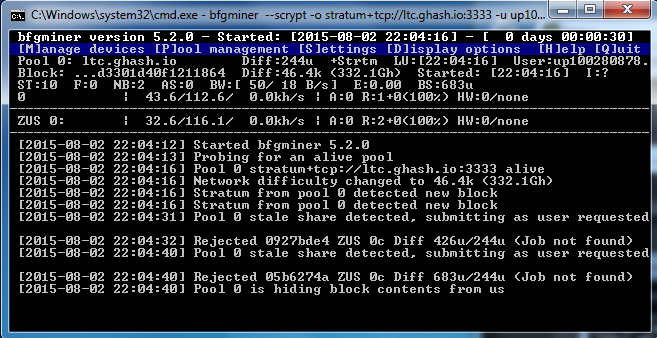 ---
Cryptocurrency mining is one of the most effective ways to make money. Someone buys coins cheaper in order to sell them for a good amount in the future. Others do not try to find standard ways. And honestly, trading or investments can take a much larger part of the funds than classic mining. BFGMiner is one of the most efficient mining software out there. The software is controlled by entering commands.
What are the main features of this program? How is she different from others? What are the distinguishing features today? Today we will talk and analyze how to use BFGMiner.
Features of BFGMiner
The BFGMiner program is very popular among all types of market players: both professionals (who have been "tied" to mining for a long time and consistently produce coins), and beginners. What is the reason for such great popularity? On the one hand, this is the simplest console program, but it has a very interesting feature – the ability to interact with FPGA devices. And not every program can boast just such characteristics.
Miner Features
Let's look at the main advantages of the BFGMiner miner:
Allows you to work (perform mining) on devices of a different spectrum: central processors, graphics adapters, ASICs and FPGA systems;
A very large selection of keys with which you can configure the program for yourself correctly;
BFGMiner is a real opportunity to control the frequency of operation of coolers, as well as the speed of rotation of them, to the maximum. The efficiency of the cooling system is very important, the quality of mining depends on it. If you follow these questions, you can earn quite a lot of tokens;
High performance. If you look at other programs (alternative format), you can draw a very simple conclusion: BFGMiner offers, indeed, a very high efficiency of its work.
You can download the BFGMiner program on the developer's website.
How to configure the BFGMiner program correctly?
Setting up any mining program is a rather complicated process (especially if you are doing it for the first time). First of all, you will need to create your own cryptocurrency wallet, and then register on the mining pool. To do this, simply enter the name of the wallet (any) + pool into the search engine. You can choose what you like.
Immediately after you have registered, you should download the program from the official website. After downloading, we get a zipped folder, from which we must "get" all the files and save them to our own separate folder. Next, we create a file that will have the *.bat extension. The file name is arbitrary (the main thing is that in the future you yourself do not forget what kind of file it is).
Next, we open the created file in notepad. In the same place we will need to enter the code in the following format:
bfgminer --scrypt --o stratum+tcp://POOL ADDRESS:PORT NUMBER --p PASSWORD --u LOGIN --S opencl:auto --intensity 9 --w 512
Now we need to adjust this code file a little.
We will need to replace the following values:
POOL ADDRESS – here you should enter the value (address of the pool) in which you are registered;
PORT NUMBER – here you should enter the value of the port with which you are working;
PASSWORD – here you should enter the password that you specified during the registration of your pool;
LOGIN – here you should specify the login (license number of the miner program itself).
What to specify in the intensity parameter? There we should specify a number (value) from 1 to 20. It all depends on the type of device with which you will be mining. This value is determined by simple selection.
Thus, we have only a few steps: we register in the wallet where our coins will go; register in the pool; download the program BFGMiner (miner); we create our own file, in which we specify all the necessary values.
If you have started mining and are trying to find some program, then BFGMiner is the best option.
NEW VERSION 5.5.0, JANUARY 3 2018
Human readable changelog:
Support for Alcheminer using a USB->UART dongle
openwrt: Binary packages for (LEDE) 17.01 "Reboot".
Update bundled dependency libraries (including bundled libblkmaker, for out-of-the-box Segwit support).
Full changelog:
Update official Win32/64 build compiler and libraries:

Win64 compiler (GCC) from 5.3.0 to 7.2.0 (Win32 remains at 4.7.4)
c-ares from 1.10.0-r1 to 1.11.0
libjansson from 2.7 to 2.10
libcurl from 7.47.1 to 7.57.0
libevent from 2.1.5-r4 to 2.1.8
libusb from 1.0.20 to 1.0.21
libmicrohttpd from 0.9.48 to 0.9.58
zlib from 1.2.8-r1 to 1.2.11-r1

Update copyrights
AUTHORS: Update
README.ASIC: Update Alcheminer
alchemist: Reset using DTR as well
alchemist: Experimental USB->UART Dongle Support on RPi
make-release: Add crypt32.dll to OS-provided library list
README: Expand on –set-device documentation
Update libblkmaker to 0.6.0
openwrt: Update for LEDE 17.01
ccan: Update to latest version (which fixes musl libc support)
Bugfix: probe_device_thread: Fix threadname buffer size
Bugfix: appdata_file_call: Fix buffer size and loop
Bugfix: SSM: Clear desired_default_share_pdiff when initialising desired_share_pdiff before authentication
cpu: Avoid relocations for x86_64 assembly that interfere with building BFGMiner as a PIE
Bugfix: SSM: We already hold the pool lock when we need to call stale_work, so avoid trying to lock it a second time inside the function
Bugfix: Hold the control lock when updating the generate-to script
Bugfix: Hold the pool lock when updating lp_id
Bugfix: icarus: Explicitly specify type wide enough for bitshift in icarus_proc_for_nonce
configure: BFG_FIND_INCLUDE_PATH: Handle more unusual syntax correctly
Bugfix: SSM: Handle network problems safely, and use thread-safe libevent
---
Read more articles about cryptocurrencies and mining at COOL-MINING.ORG.
Do you like to read similar articles about cryptocurrencies and mining, do you want to support me as an author or ask questions? Be the first to know the news, subscribe to my telegram channel CRYPTO WIKIES | Bitcoin & Altcoins Mining